Or – Why Spooks! Was a Hit and Pardon My Backfire Was a Miss
(All opinions are of the author and don't reflect the entirety of The Stooges fanbase)
By Tony Nash
In the 1950's the Three Stooges were experiencing the early phases of difficulty and decline. Moe and Shemp's beloved little brother Curly died of stroke complications, emotional and personal issues plagued the current trio's families, and their producer Jules White was getting cheap in film and script quality. The cheapness lied solely in attempted "new" material with 80-90% stock footage and 10-20% percent new footage, either in remakes of Curly era material, or reworking of some of Shemp's earlier work. This laziness by White, studio boss Harry Cohn, and even the writers showed how uninterested Columbia was in continuing the shorts in spite of the Stooges being their biggest moneymakers. Only a handful of good new shorts came out of this period, even some of the remakes were well done, but it was with the brief fascination of 3-D that left an impression on the decade.
Spooks! (1953) ****
Starring:
Moe Howard: Moe
Shemp Howard: Shemp
Larry Fine: Larry
Norma Randall: Mary "Bea" Bopper
Philip Van Zandt: Dr. Jeckyl
Tom Kennedy: Mr. Hyde
Written by: Felix Adler
Produced & Directed by: Jules White
Synopsis: The Stooges, working as private detectives, are hired by George "Bea" Bopper to find his missing daughter Mary. When the trio discover strange goings on at an abandoned house, they endure zaniness to save Mary from the maniacal Dr. Jeckyl, intent on transplanting her brain into a gorilla.
The Stooges first effort at 3-D is quite good and has held up well over the years. Since 3-D required certain images to appear like they were coming right at the audiences, the sight gags and stunts by the Stooges were perfect for the medium. Eye-pokes, pies & other various objects to the face, kicks & punches, and a cavalcade of hocus-pocus make for excellent in your face action. If one wasn't aware of the 3-D process and saw this short in 2-D for the first time (as this reviewer did at the tender age of 5 or 6), viewers might be keen to think Jules White made fairly poor camera angle choices in the editing room when in reality too low and too close-up shots were done to make the 3-D realistic looking. The story and pacing of the action allow the 3-D to mold in with the whole of the short and create a seamless blend that doesn't leave the viewer feeling it was a cash-in on a popular novelty act. Another reason for this short holding up so well is that the Stooges style of comedy made for 3-D effects not coming off as being played to the camera and looking as natural as they did in their other shorts.
The Stooges are at their best as always, never really giving bad performances, save for the really sub-par Joe Besser years (though that lay more with their advanced ages and the laziness of the writers). These guys truly don't need any introductions. Shemp era heavies Philip Van Zandt and Tom Kennedy are in fine form as the duo Jeckyl and Hyde (a cleaver play/pun on the Robert Louis Stevenson Sci-Fi Horror classic), Van Zandt with the smiling menace and Kennedy the hulking brute. Oddly enough, Van Zandt's 3-D close-up with the syringe is the only flaw/overkill of the whole piece. Norma Randall is good as the damsel in distress and easily gives Fay Wray (of King Kong fame) a run for her money in the Scream Queen department. Not as prolific as the other ladies of the Stooges shorts, but still quite good.
(Author's note: This was probably my all time favorite Stooges' short as a little boy and I still like it even now, though I have to say their Great Depression to WWII era material is the best)
A truly good usage of a popular, but briefly employed, gimmick that will never become dated.
Pardon My Backfire (1953) *** ½
Starring:
Moe Howard: Moe
Shemp Howard: Shemp
Larry Fine: Larry
Benny Rubin: Charles, Gang Leader
Frank Scully: Algernon, Gang Thug
Phil Arnold: Shiv, Gang Thug
Barbara Bartay: Charles' Moll
Fred Kelsey: Papa
Diana Darrin: Bettie
Ruth Godfrey: Nettie
Angela Stevens: Hettie
Written by: Felix Adler
Produced & Directed by: Jules White
Synopsis: The Stooges are forced to work overtime in their garage to earn enough money to marry their sweethearts. After hearing on the radio a group of on the run criminals and the leader's girlfriend are in the area, the boys decide to catch them for the offered reward. When the criminals show up looking to get their stolen car fixed, a rollercoaster of mayhem ensues.
Now this 2nd 3-D outing could've been a big hit, and while it indeed is a laugh out loud riot, it sadly falls behind the mark. The 3-D effects are certainly impressive and look good, but unfortunately it's so easy to see the deliberate play to the camera, the effects at times border on the ridiculous. The story and action are wonderful and could've been used to great effect, but it never seems to go beyond a play-up showcase of the novelty. The eye-pokes, punches, objects in the face tossing, and even a nice effect with a flamethrower are wonderful and were even cooler in 3-D, but because of the obviousness in that it was in 3-D, make them almost like an overused joke that's gotten painfully stale. Not that the 3-D isn't fun, (it's a blast) but it leaves most viewers wondering if Felix Adler and Jules White didn't bother with trying to make it more than a promotional gimmick for the new medium. It's almost sad to think they were just going through the motions just to get a paycheck and wasting such great talent in The Stooges. It's really a shame because it's a delightful and funny short, but really could've been more had a little extra time and effort been truly put in.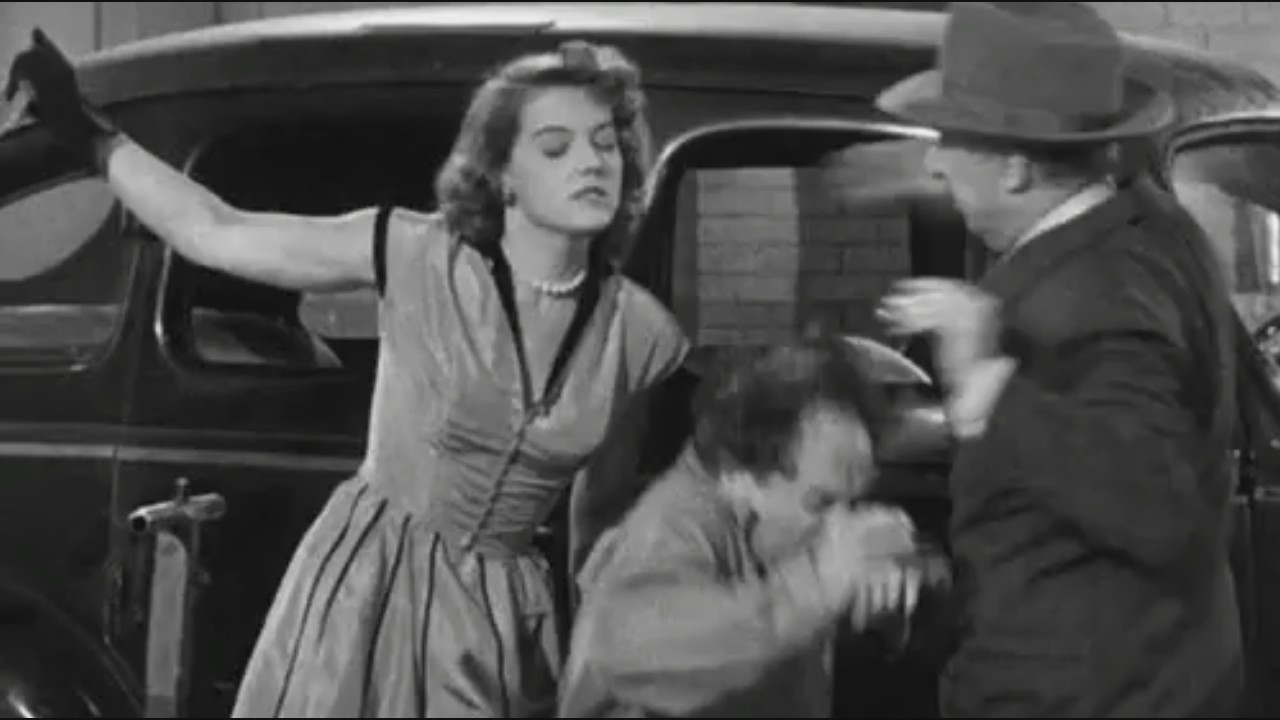 The Stooges and their supporting cast are good as always, in spite of the sub-par material and deliberate plays to the camera effects that had to deal with. Phil Arnold's knife throwing sequence for the time is good even if it's clear he's playing up to the camera. Benny Rubin's 3-D punch is the only natural looking effect that viewers can't say is a play-up. Moe and Shemp's usage of a flamethrower and oil can are quite fun to see and one can't help be give Moe credit for allowing his pants to be set on fire (and facing health scares as asbestos was applied to his clothes for protection). Even if it's clear that some of the 3-D items are on wires, the short doesn't feel dated, given that most of what was done couldn't have had more done with it.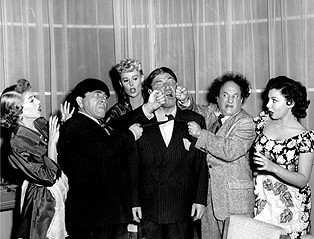 While certainly not in the top 5, 10, 50, or 100 of any Stooge enthusiast's list, the trio is able to take less than stellar material and make it work better than what the writer put in the script.
In what was the beginning of a steady decline in work for The Stooges, the trio was still giving it their all in the midst of a lazy producer, end sales caring only studio head, and writers on the brink of burnout and idea blockage, fans can still find something to love and enjoy of this time, especially the 3-D, even when it's clear the Stooges are working with material that was an insult to them. While probably not as successful as the Curly era or Shemp's earlier efforts, there's still something fun and wonderful about them.
All images courtesy of Google.com/images
For more information
IMDB/Spooks!
Wikipedia/Spooks!
Stooges-Wikia/Spooks!
IMDB/Pardon My Backfire
Wikipedia/Pardon My Backfire
Stooges-Wikia/Pardon My Backfire
For more information The Stooges, visit threestooges.com, check out their Wikipedia page, or Stooges.Wikia Fanpage
I highly recommend every era of the Stooges on DVD, even the Joe Besser years had a couple of good shorts
https://www.amazon.com/Three-Stooges-Ultimate-Collection/dp/B006WN5W5M/ref=sr_1_3?ie=UTF8&qid=1531764186&sr=8-3&keywords=the+three+stooges+collection&dpID=41JOKv5KYrL&preST=_SX300_QL70_&dpSrc=srch
I'm also including a link to Hey Moe! Hey Dad!, a very fine and loving tribute  documentary of the comedy team by Paul Howard, Moe's son. It features interviews with comedy icons like Whoopi Goldberg and Billy West, historian Leonard Maltin, and the surviving children, grandchildren, etc. of The Stooges.
https://www.amazon.com/Three-Stooges-Hey-Moe-Dad/dp/B00T5DYV6M/ref=sr_1_1?s=movies-tv&ie=UTF8&qid=1531764280&sr=1-1&keywords=hey+moe+hey+dad&dpID=61Jtee0E5XL&preST=_SX300_QL70_&dpSrc=srch
Filed under: Film: Analysis/Overview, Film: Special Topics