Great Film Adaptations of Literature
By Tony Nash
(Note: Some spoilers may be present, but most readers will have either seen these films or variant remakes of them)
(All opinions are of the author and his thoughts only)
With the advent of motion pictures, filmmakers realized they could visualize some of the better of novels of the subsequent generations into films. Viewers flocked to this works in particular because they often wondered if what they played out in their minds is what would show up on screen. Granted many films came about long after many authors of good books had long passed, audiences and critics alike more often than not liked the adaptations very much. From Dickens, Dostoevsky and Tolstoy to Christie, Hammett, and Spillane, Classic to Dime Paperback, many novels do make good films.
Honorable Mentions:
The Hound of the Baskervilles (1959) **** – Directed by: Terence Fisher, Written by: Peter Bryan, based on the novel by Sir Arthur Conan Doyle, Starring: Peter Cushing, Christopher Lee, Andre Morell, Marla Landi, David Oxley, Francis De Wolff, and Ewen Solon
While certainly one of the better adaptations for the famed Hammer Studios, this one falls a little short in making it to the major list. Key elements, mainly the reasons behind the actions of the criminal, the part in the scheme played by one of the characters, and how the villains meet their ends were drastically changed in the screenplay. Now while these changes don't necessarily hurt the film, and don't ruin things too much for Conan Doyle enthusiasts, that Peter Bryan changed a perfectly fine finale and revelation when he didn't really need to is what knocks this work down from being a great adaptation to a moderate one. Good storytelling make up for the change in plot. Peter Cushing, Christopher Lee, Andre Morell, and a stellar cast of British character players make this a worthwhile view for any fan of Horror, Mystery/Suspense, and Detective/Crime Thriller.
Evil Under the Sun (1982) **** – Directed by: Guy Hamilton, Written by: Anthony Shaffer & Barry Sandler, based on the novel by Agatha Christie, Starring: Peter Ustinov, James Mason, Roddy McDowell, Diana Rigg, Maggie Smith, Colin Blakely, Jane Birkin, Nicholas Clay, Denis Quilley, and Sylvia Miles
On the whole, a very fine adaptation of one of Christie's many great Mystery Thrillers. The only drawback is that it takes a little time for the plot to unfold, but because it allows for character development and allows the audience ample opportunity to learn why who gets killed and why the motives are plausible for the remaining suspects it can be forgivable, provided the viewer watching has the patience to see these developments through. An all-star cast including Peter Ustinov, James Mason, Maggie Smith, and a cavalcade of popular British and American character players make this one a definite viewing pleasure and must see for those interested and curious.
The List:
The Prisoner of Zenda (1937) ***** – Directed by: John Cromwell, Written by: John L. Balderston, Edward E. Ross, Wells Root, & Donald Ogden Stewart, based on the novel by Anthony Hope, Starring: Ronald Coleman, Douglas Fairbanks Jr., Madeleine Carroll, David Niven, Mary Astor, C. Aubrey Smith, Raymond Massey, and Montagu Love
The one swashbuckler Epic that Errol Flynn or Douglas Fairbanks Sr. didn't do. A timeless tale of love, intrigue, and adventure, this film is one of the earliest examples of a film adaptation done right. One of the best Epic Adventure/Romances to ever grace the screen, the film boasts a great story, great acting and great atmosphere. Interesting enough, Warner Bros. wanted an opening and closing scene that would show the lead male character recounting his adventure, thus making the majority of the film a flashback. Though not needed to boost the film, it would've been interesting to see how those scenes would've looked.  Ronald Coleman and Douglas Fairbanks Jr. are the highlights of the film, Coleman playing a loveable hero and Fairbanks as a surprisingly likable, albeit slimy, villain. It really should have won an Academy Award as it was near perfect in all aspects.
The Maltese Falcon (1941) ***** – Written & Directed by: John Huston, based on the novel by Dashiell Hammett, Starring: Humphrey Bogart, Mary Astor, Sydney Greensreet, Peter Lorre, Gail Patrick, Elisha Cook Jr., Ward Bond, Barton MacLane  Gladys George,  and Jerome Cowen
What makes this classic unique is that very little to none of the source novel was changed by John Huston, the characters reciting word for word Hammett's dialogue. Initially a "B" film with an ensemble cast of character actors, the film was able to rise above where it started and is considered up there with the many great films of the ages. The simple story of a treasure hunt driven to murder, betrayal, sex, love, and intrigue got such a boost from great performances, script, cinematography, and direction, that it couldn't help but amaze the masses and critics who saw it. Humphrey Bogart, after a series of supporting and minor lead roles, finally achieved star status with this film, though The Petrified Forest and High Sierra were good starting points. Sydney Greenstreet, a British stage actor, became a great late bloomer to movies with his role as the suave and slimy villain Gutman. Mary Astor was able to revive a career beset by bad marriages and hardships. Support players Peter Lorre, Gail Patrick, and Elisha Cook Jr. benefitted more job offers thanks to this film.
Double Indemnity (1944) ***** – Directed by Billy Wilder, Written by: Billy Wilder & Raymond Chandler, based on the novella by James M. Cain, Starring: Fred MacMurray, Barbara Stanwyck, Edward G. Robinson, Jean Heather, Tom Powers, Porter Hall, Byron Barr, & Richard Gaines
Early sleaze laden literature never looked better. James M. Cain's lurid bestseller (that was actually banned in some places as lewd) got the star treatment by Billy Wilder and became one of the first great Noir features of the War/Post War era. While some changes were made, including Phyllis Dietrichson going from cold Angel of Death in the novel to heartless Black Widow in the film, and an original ending having Phyllis kill Walter and throw him off a boat, the changes actually made the film better. Many Noir enthusiasts, including critic and author Eddie Muller, have stated that the genre was the only place a director could get away with sexual innuendo, and they were right. Scenes in which flirtations occur just ooze sensual and sexual overtures and underscores, and just make the film that much more unique. Fred MacMurray, Barbara Stanwyck, and Edward G. Robinson are great in their respective roles, Robinson almost stealing the show from the main leads. A classic that might be a little overrated, but is still very deserving of its status.
The Killers (1946) ***** – Directed by Robert Siodmak, Written by Anthony Veiller, based on the short story by Ernest Hemingway, Starring: Burt Lancaster, Ava Gardner, Edmond O'Brien, Albert Dekker, Sam Levene, Jeff Corey, Jack Lambert, Donald MacBride, William Conrad, & Charles McGraw
The only film adaptation Hemingway ever liked of his work. Producer Mark Hellinger intended to make his name as an Independent entity with this film, and he certainly succeeded. Taking Hemingway's original concept of a doomed man welcoming his own death, and heavily expanding on it, (Hemingway only wrote about the diner and character Nick Adams warning the Swede of the killers) Hellinger and his nicely assembled team made a wonderful little film that re-established Noir as a viable genre, particularly with its stark light to dark cinematography. Taking a cue from Orson Welles and Citizen Kane, Hellinger and his crew decided to tell the story as a series of flashbacks, as an investigator probes the murder of the main character. Burt Lancaster, in his debut film role, gives a wonderful performance as the fatalistic Swede, and shows early on the great actor he would soon become. A nice stable of character actors, including Edmond O'Brien, Sam Levene, Albert Dekker, and Jeff Corey help make up a great ensemble that help move the story along. An underrated film that deserves more exposure than it's gotten.
Strangers on a Train (1951) ***** – Directed by Alfred Hitchcock, Written by Raymond Chandler, Czenzi Ormonde, & Whitfield Cook, based on the novel by Patricia Highsmith, Starring Farley Granger, Robert Walker, Ruth Roman, Leo G. Carroll, Patricia Hitchcock, Marion Lorne, Jonathan Hale, & Kasey Rogers (credited as Laura Elliot)
A screen adaptation the author flipped and flopped on whether they liked it or not. Like Billy Wilder, Alfred Hitchcock was able to do the pulp novel justice, but on a much different, tensioned style. The "Average Joe" who gets unwittingly involved in a murder swap ploy with an unstable maniac never looked better than Hitchcock's take on it. Author Patricia Highsmith initially praised Hitchcock's take on her work, but years later as a recluse in Paris and Zürich, claimed she wasn't happy Hitchcock changed Guy Haines from an architect to tennis pro, and that Guy didn't kill Bruno's father as he had in the novel. Despite Highsmith's claims, both fans and critics look at this as one of Hitchcock's greater features, and some of the best work Farley Granger and Robert Walker ever did as actors. Had Walker not died from an accidental overdose, this film would've reignited his career and made him a top draw again.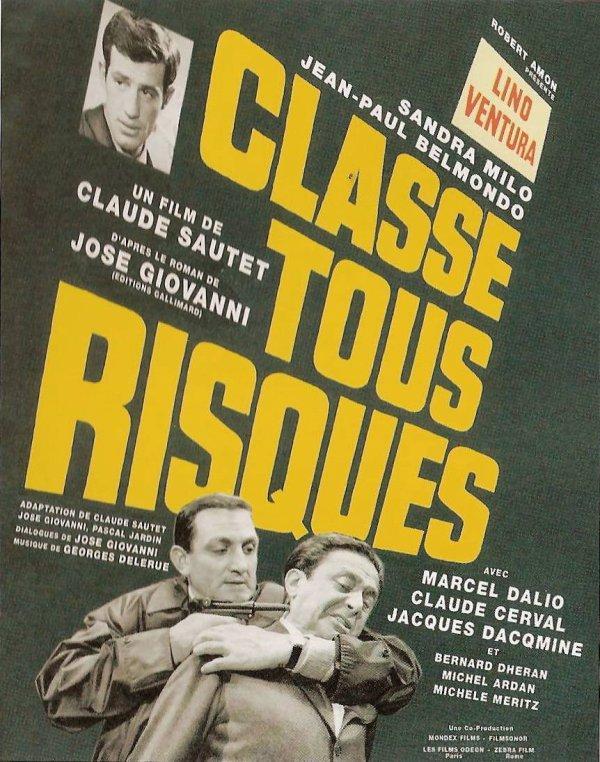 Classe Tous Risques (The Big Risk) (1960) **** – Directed by Claude Sautet, Written by: Claude Sautet, José Giovanni, & Pascal Jardin, based on Giovanni's novel, Starring: Lino Ventura, Jean-Paul Belmondo, Sandra Milo, Marcel Dalio, Claude Cerval, Michel Ardan, Philippe March, Charles Blavette, and Jacques Dacqmine
One of the earliest examples of an ex-criminal showing the world that being in "The Life" is not at all glamorous. An interesting note to this film is that it's based on a real life criminal, Abel Danos, who, like his onscreen counterpart, was sentenced to death in absentia for several variant offences, though both author José Giovanni and director Claude Sautet omitted he briefly acted as a Gestapo collaborator in WWII. The film gives an accurate account of the criminal life, and shows that it's hardly the glamorous one seen in many Warner Bros. films of the 1930's and 40's, and reveals the desperation, paranoia, and betrayals that come with living such a life and traits once cherished, like honor and loyalty, have been cast aside for survival. Lino Ventura, an Italian who later became a Naturalized Frenchman, became a star with the role of Abel, and joined the ranks of Humphrey Bogart, Robert Ryan, and Lee Marvin as a guaranteed tough guy. Jean-Paul Belmondo, who started out as a Nouvelle Vague (New Wave) actor, showed he was far more suited to genre style roles and is excellent as the up and comer, who thanks to Abel, is able to find he can have happiness and not be sucked into a seedy existence. A good Revisionist take on the gangster film.
Plein Soleil (Purple Noon) (1960) **** – Directed by René Clément, Written by: René Clément & Paul Gégauff, based on the novel The Talented Mr. Ripley by Patricia Highsmith, Starring: Alain Delon, Maurice Ronet, Marie Laforet, Erno Crisa, Billy Kearns, Ave Ninchi, & Frank Latimore
Another instance of an author liking the majority of what the filmmaker did with the story, but still had complaints. A European take on an American pulp novel led to nice results with this well done adaptation. In a star making turn, Alain Delon sizzles on screen as the deceptive, crafty, and devious Tom Ripley, who steals his rich friend's identity after cold bloodedly killing him while the police are on the trail. René Clément weaves a nice Mystery/Suspense Crime Thriller out in the Mediterranean to great effect. Star Delon and others give good performances. Patricia Highsmith, by this time a highly popular author throughout Europe, didn't waiver as she had with Hitchcock, on René Clément's take on one of her more popular books. Her only gripe was is that in the novel, she had Ripley escape capture so she could continue to write exploits of him, and in the film, he's caught. This caving to public sensibilities on murder and crime in general caused Highsmith to be hesitant when being offered film adaptations of her work for years until Wim Wenders got her personal permission to make Der Amerikanische Freund (The American Friend), an adaptation of one of her Ripley sequels.
Il Gattopardo (The Leopard) (1963) ***** – Directed by: Luchino Visconti, Written by: Suso Cecchi D'Amico, Pasquale Festa Campanile, Enrico Medioli, Massimo Franciosa, & Luchino Visconti, based on the novel by Giuseppe Tomasi di Lampedusa, Starring: Burt Lancaster, Alain Delon, Claudia Cardinale, Paolo Stoppa, Serge Reggiani, Rina Morelli, Romolo Valli, Mario Girotti, Pierre Clémenti, Leslie French, & Ivo Garrani
The Italian variation of Gone with the Wind.  A fictitious family's viewpoint of Italy's Risorgimento makes for an interesting slice of history and the changing of times. Two generations of aristocrats, an uncle and nephew, take variedly different approaches to the downfall of the Monarchy and the rising of Democracy. The Uncle accepts he'll be an old relic and his time as the Elite Class is over, while his Nephew seeks the ambitions and social power he would've otherwise been denied should his Uncle's Class have remained in power. Vividly and beautifully filmed piece that near 100% captures the times and how the people of that age lived. Viewers get the pleasure of near first hand vision in witnessing how nations were formed way back when and how ideologies came and were replaced. Burt Lancaster shows once again why he was a powerhouse of an actor with the role of a Prince slowly seeing his world fade into a new one, with Alain Delon equally shining as the Prince's Nephew, transitioning from an idealistic rebel to a cold diplomat. Visconti forgoes Neo-Realism in favor of historical accuracy and a sense of Romanticism that goes into the tragic at times, but still makes for a very beautiful and rousing piece of Cinema.
Le Deuxieme Souffle (Second Wind or Second Breath) (1966) **** – Directed by Jean-Pierre Melville, Written by Jean-Pierre Melville & José Giovanni, based on Giovanni's novel, Starring: Lino Ventura, Paul Meurisse, Raymond Pellegrin, Marcel Bozzuffi, Christine Fabréga, Paul Frankeur, Michel Constantin, Denis Manuel, Pierre Grasset, and Pierre Zimmer
Another example of a real life felon showing a true to life depiction of the criminal underworld. Jean-Pierre Melville, the Master of the Neo-Noir film, takes another classic story by José Giovanni and makes it in his image of a glorious film. This time a pure fiction story, but still containing the real life coda Giovanni knew gangsters to live by, tells the story of a doomed, on the run criminal looking for one last score to help those he loves live better, on to seek revenge when he's betrayed by a rival and sought by equally corrupt police. Melville makes Giovanni's story his own, but retains what Giovanni intended it to be as the duo shared the same thoughts – honor among thieves, loyalty, and friendships. What makes this one a Melville moniker is the boldness to say during that period of time that those in authority could be corrupt. Excellent turns by Lino Ventura and Paul Meurisse as the gangster and cop respectively, who not only learn much about each other, but also learn their respective fields have been perverted by individuals who aren't even worthy to be in the same room with them.
Some on this list may not be the best of the best in terms of authenticity, story and direction, but are still worthwhile takes on some of the better Classic and Genre Literature of the times. All are on DVD and Blu Ray and are highly recommended for viewing as entertainment and as a study in intellectualism.
All images from Google.com/images
For more information
IMDB/The Prisoner of Zenda 1937
Wikipedia/The Prisoner of Zenda 1937
IMDB/The Maltese Falcon 1941
Wikipedia/The Maltese Falcon 1941
IMDB/Double Indemnity 1944
Wikipedia/Double Indemnity 1944
IMDB/The Killers 1946
Wikipedia/The Killers 1946
IMDB/Strangers on a Train
Wikipedia/Strangers on a Train
IMDB/The Hound of the Baskervilles 1959
Wikipedia/The Hound of the Baskervilles 1959
IMDB/Classe Tous Risques
Wikipedia/Classe Tous Risques
IMDB/Purple Noon
Wikipedia/Purple Noon
IMDB/The Leopard
Wikipedia/The Leopard
IMDB/Le Duexieme Souffle
Wikipedia/Le Deuxieme Souffle
IMDB/Evil Under the Sun
Wikipedia/Evil Under the Sun
(Here are some links of where to buy them on DVD or Blu Ray)
https://www.amazon.com/Prisoner-Zenda-1937-1952-Versions/dp/B000KJU13C/ref=sr_1_1?s=movies-tv&ie=UTF8&qid=1531526865&sr=1-1&keywords=prisoner+of+zenda+1937
https://www.amazon.com/Maltese-Falcon-Blu-ray-Humphrey-Bogart/dp/B0020MMRC0/ref=sr_1_2?s=movies-tv&ie=UTF8&qid=1531527209&sr=1-2&keywords=the+maltese+falcon&dpID=41oeG–GGAL&preST=_SY300_QL70_&dpSrc=srch
https://www.amazon.com/Maltese-Falcon-Dashiell-Hammett/dp/B003ZEQMH8/ref=tmm_dvd_title_0?_encoding=UTF8&amp&qid=&amp&sr=
https://www.amazon.com/Double-Indemnity-Fred-MacMurray/dp/B0087ZG7OI/ref=sr_1_2?s=movies-tv&ie=UTF8&qid=1531527094&sr=1-2&keywords=double+indemnity&dpID=51r0xL%252BbzIL&preST=_SY300_QL70_&dpSrc=srch
https://www.amazon.com/Double-Indemnity-Blu-ray-Fred-MacMurray/dp/B00U8O6IE0/ref=tmm_blu_swatch_0?_encoding=UTF8&qid=1531527094&sr=1-2&dpID=51ygHp6%252BoRL&preST=_SY300_QL70_&dpSrc=detail
https://www.amazon.com/Killers-Blu-ray-Burt-Lancaster/dp/B00W69F2VA/ref=sr_1_1?s=movies-tv&ie=UTF8&qid=1531525933&sr=1-1&keywords=the+killers+criterion&dpID=51i0vsTD7cL&preST=_SY300_QL70_&dpSrc=srch
https://www.amazon.com/Killers-Burt-Lancaster/dp/B00W69F3DC/ref=tmm_dvd_swatch_0?_encoding=UTF8&qid=1531525933&sr=1-1
https://www.amazon.com/Strangers-Train-Blu-ray-Farley-Granger/dp/B008DMQDZS/ref=sr_1_5?s=movies-tv&ie=UTF8&qid=1531527537&sr=1-5&keywords=strangers+on+a+train&dpID=51sDmDlQ1PL&preST=_SY300_QL70_&dpSrc=srch
https://www.amazon.com/Strangers-Train-Patricia-Highsmith/dp/B004GJYRLO/ref=tmm_dvd_swatch_0?_encoding=UTF8&qid=1531527537&sr=1-5
https://www.amazon.com/Classe-Tous-Risques-Criterion-Collection/dp/B0016B6ZEC/ref=sr_1_1?s=movies-tv&ie=UTF8&qid=1531527471&sr=1-1&keywords=classe+tous+risques+criterion&dpID=51DDjWS0ssL&preST=_SY300_QL70_&dpSrc=srch
https://www.amazon.com/Purple-Noon-Criterion-Collection-Blu-ray/dp/B009D0050I/ref=sr_1_2?s=movies-tv&ie=UTF8&qid=1531527600&sr=1-2&keywords=purple+noon+criterion&dpID=41PFjkih6AL&preST=_SY300_QL70_&dpSrc=srch
https://www.amazon.com/Purple-Criterion-Collection-Alain-Delon/dp/B009D004TA/ref=tmm_dvd_swatch_0?_encoding=UTF8&qid=1531527600&sr=1-2
https://www.amazon.com/Leopard-Criterion-Collection-Burt-Lancaster/dp/B004M66YUS/ref=sr_1_2?s=movies-tv&ie=UTF8&qid=1531527766&sr=1-2&keywords=the+leopard+burt+lancaster&dpID=51z13svOECL&preST=_SY300_QL70_&dpSrc=srch
https://www.criterion.com/films/790-the-leopard
https://www.amazon.com/Deuxi%C3%A8me-Souffle-Lino-Ventura/dp/B001CW7ZSU/ref=sr_1_2?s=movies-tv&ie=UTF8&qid=1531528586&sr=1-2&keywords=le+deuxieme+souffle&dpID=41cwhHbVYOL&preST=_SY300_QL70_&dpSrc=srch
https://www.amazon.com/Evil-Under-Sun-Peter-Ustinov/dp/B001KZOVJK/ref=sr_1_2?s=movies-tv&ie=UTF8&qid=1531602044&sr=1-2&keywords=evil+under+the+sun+dvd&dpID=612x7Mva%252BYL&preST=_SY300_QL70_&dpSrc=srch
And for any viewers in the UK and Europe
https://www.amazon.co.uk/The-Killers-Blu-ray/dp/B00NQ29DFC?SubscriptionId=AKIAIY4YSQJMFDJATNBA&tag=bluraycom-21&linkCode=xm2&camp=2025&creative=165953&creativeASIN=B00NQ29DFC&m=A3P5ROKL5A1OLE
https://www.amazon.co.uk/Hound-Baskervilles-Blu-ray-Peter-Cushing/dp/B00UCBOYY0/ref=tmm_blu_title_0?_encoding=UTF8&qid=1531529166&sr=1-1
https://www.amazon.co.uk/Double-Indemnity-Masters-Cinema-Blu-ray/dp/B007196UZM/ref=sr_1_1?s=dvd&ie=UTF8&qid=1531529216&sr=1-1&keywords=double+indemnity+blu+ray
https://www.amazon.co.uk/Evil-Under-Blu-ray-Peter-Ustinov/dp/B0757Q1LH6/ref=sr_1_1?s=dvd&ie=UTF8&qid=1531602427&sr=1-1&keywords=evil+under+the+sun+blu+ray
Filed under: Film: Special Topics