A Look at Tomas Milian
by Tony Nash
(all opinions are of the author alone)
In here…in here, is everything, from A to Z. Okay? I could be…a good person, I could be an evil son of a bitch, I could be anything. I could be funny, I could be very dramatic, I can make you cry, if you want.
Tomas Milian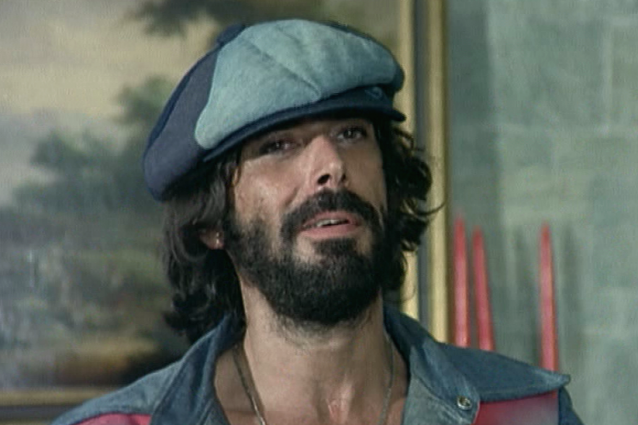 The old saying goes There's a method to the madness, and that saying is no truer than with Tomas Milian. The son of a soldier, and brought up in a privileged household, Milian would learn how to thrive on his own after the Cuban Revolution of 1957. It was after seeing James Dean in East of Eden that Milian decided he wanted to be an actor, because he related to the rebellious nature of Dean's character, something he'd been going through himself. With help from an understanding Aunt, Milian then made the trek from Cuba to Miami, where he began studying English for acting. After some ups and downs, Milian finally succeeded in getting into the famous Actor's Studio, studying under Lee Strasburg. Unlike contemporaries Marlon Brando, Karl Malden, and Eli Wallach, Milian put what he learned in the Actor's Studio to good use, utilizing facial expressions, body gestures, etc to make his characters the most believable. Milian never put less than 100% for every role, and would give it his all every time. It was after performing in a theater festival in Paris that offers from Italian filmmakers started coming in. After a series of intellectual roles that eventually became tiresome to the actor, Milian seriously considered relocating back to the States and starting afresh in acting.
After accepting a role in the Spanish Western El Precio de un Hombre (The Bounty Hunter/The Ugly Ones), Milian found himself a growing icon in the burgeoning "Spaghetti Western" genre that would lead to a series of successful roles. As Cuchillo in La Resa de Conti (Settling of Accounts/The Big Gundown) and Corri Uomo Corri (Run Man Run), Solomon "Beauregard" Bennet in Faccia a Faccia (Face to Face), Jesus Maria "Tepepa" Moran in Tepepa, El Vasco in Vamos a Matar, Companeros (Companeros), and Chaco in I Quattro dell'Apocalisse (The Four of the Apocalypse), Milian created numerous memorable characters, all Mexican or Mexican Indian due to his Cuban heritage, but very different, and very unique. At first it was thought he would crash and burn in the Westerns due to his being primarily associated with intellectual films, but his talent and likability had him packing in theaters and soon becoming one of the top talents and draws of the Italian film industry. For Milian, the Westerns were a fun genre to perform in and preferred them to the intellectual films he had previously made, stating he found he could do more with his training at the Actor's Studio than he could in the other films.
When the Westerns started phasing out in the seventies, and the Giallos and Polizioteschi's were becoming the new fad, Milian started spreading the word he would do these films at half his normal salary and was once again a top draw at the theaters, primarily in the Cop Action films. More memorable characters like Giulio Sacchi in Milano Odia: La Polizia Non Puo Sparare (Almost Human), Inspetorre Ravelli in Squadra Volonte (Emergency Squad), Vincenzo "Il Gobbo" Moretto in Roma a Mano Armata (Rome Armed to the Teeth/The Tough Ones), Luigi "Chinaman" Miaetto in Il Cinico, L'infame, Il Violento (The Cynic, the Rat, and the Fist), and Stefano Augenti in La Vittima Designata (The Designated Victim) followed in this era, and showed Milian as a capable performer who would try anything at least once. His most prolific time in the seventies was as two characters in two series of films: Nico Giraldi, based off of Al Pacino's Serpico character, in 12 films over the span of a decade and Sergio "Er Monezza" Marazzi in three films over a five-year period. So identical were these characters the public often confused them with each other. While Milian preferred his Western roles to his Police Action roles, he enjoyed them nonetheless and found more diversity in his roles.
When the Italian film industry changed in the 80's, Milian, though still very popular, found roles were less and less in demand, and decided the time had come to return to the States and begin a new chapter in his career. Character parts in series like Murder, She Wrote, Oz, Law & Order, LA Law, and Miami Vice gave him a second career which later led to roles in JFK, Traffic, and Fools Rush In and introduced him to a new audience that would later check out his work in Italy and reignite the popularity he enjoyed in the 60's and 70's. Ill health plagued the very later part of his life and he sadly passed away on March 22, 2017 at the age of 84 at his home in Miami. Still very popular in Italy where he spent so many years of his life and finding new audiences in the States and the UK where he films are being restored on DVD and Blu Ray. While he's gone, he will never be forgotten thanks to a quirky, but lovable personality, and an eclectic body of work that had his face change every time.
What I want to do is to become the part – to leave Tomas Milian wherever he is and become the character
Tomas Milian
(Tomas Milian is one of my all time favorite actors whom I feel has never given a bad performance. I highly recommend seeking out any of Milian's films on DVD and Blu Ray, he's well worth seeing in every film he's in. Almost Human is one of his best films, but is the hardest to watch because of how evil and despicable his character is. He's an actor worth rediscovery in the States.)
All images courtesy of Google.com/Google images and their respective owners
All quotes courtesy of Milian's quote section on his IMDB profile.
For more information
IMDB/Tomas Milian
Wikipedia/Tomas Milian
TomasMilian.it. (if your Italian is good)
Filed under: Film: Actor/Actress Spotlight