The Brain
by Tony Nash
(All opinions of the author alone)
Le Cerveau (The Brain) (1969) **** ½ PG-13
Jean-Paul Belmodo: Arthur Lespinasse
David Niven: Col. Carol Matthews
Bourvil: M. Anatole
Eli Wallach: Frankie Scannapieco
Silvia Monti: Sofia Scannapieco
Trevor A. Stephens: John, Matthews' Valet/Butler (as Trevor Stephens)
Jacques Balutin: Commissaire Pochet
Jacques Ciron: Commissaire Duboeuf
Tommy Duggan: Superintendent Cummings
Fernand Guiot: Inspecteur Mazurel
Frank Valois: Bruno (as Fernand Valois)
Written by: Marcel Jullian, Gerard Oury, & Daniele Thompson
Directed by: Gerard Oury
Synopsis: A plan to heist a fortune in NATO funds is complicated by two separate interested parties: dashing gentlemen thief Colonel Matthews, funded by exiled Mafia boss Frankie Scannapieco, and 2nd story crook Arthur Lespinasse, accompanied by his pal Anatole. Things get even more complicated when Scannapieco decides to double cross Col. Matthews after catching him seducing his sister Sofia. When both parties run into each other the day of the heist, all comedic mayhem and hell burst out.
A unique international comedy featuring a quartet of popular stars is a very entertaining and funny piece. French sex symbol Jean-Paul Belmondo gets to share the spotlight with British sex symbol David Niven as two thieves who inadvertently take on the same job of stealing millions in NATO money. That neither knows of the other's interest in the job makes for great laughs as it's a constant wonder as to who will find out about the other first. The combination of British and French physical slapstick comedy is an interesting one as it equals to a laugh out loud riot in many scenes. Not the first heist comedy ever made, it's one of the more ingenious affairs as while it takes itself seriously to an extent, the dialogue exchanges and situations the characters find themselves in are completely off the wall and hilarious like something out of a Tex Avery or Warner Bros. Looney Toons short, sans the impossible gag spectacle. That the actors speak their lines and handle said situations with completely straight faces makes these moments and quotable lines all the more funny. Not as madcap as Monty Python or manic as Fawlty Towers or as sophisticated as French Satire, this unusual mixture of various comedic styles offers a 100% potent cocktail for hours of enjoyment without boredom.
Jean-Paul Belmondo, a boxer athlete turned actor, and a sex symbol from the 1960's to the 1980's is a blast as Arthur. Showing he was equally adept at comedy as he was at drama, Belmondo is a series of smirks, one-liners, and physical comedy stunts. It's easy to see this was a fun project for Belmondo as he moves through his scenes with ease and is clearly having the time of his life with jokes and the like. A small time crook with ambitions to be set for life, Arthur, in true comedic fashion, decides to use an ostentatious means of escape when he only had four days left on his sentence. His ambition and greed so high, Arthur has no idea the hornet's nest he's run into, and Belmondo portrays this naivety to great effect. Belmondo's background in sports allows for great physical stunts that the actor does all himself (a feat he continued well into his 50's), and harkens back to the time of great physical comics like Buster Keaton and Harold Lloyd and was possible inspiration for Jackie Chan. A good bit of his dialogue has him going fast and telling puns and jokes almost a mile a minute and Belmondo does it well, almost better than his dramatic outings. All this zaniness makes for great comedy and Belmondo plays every bit of it to the hilt.
David Niven, the suave British leading man/character actor proved he was still in fine form as the dashing Colonel Matthews. Similar to his role of Sir Charles Litton in The Pink Panther franchise, Niven as Matthews is a gentleman with a penchant for elaborate thievery. Unlike Litton, who had to gamble on his lifestyle keeping people from thinking he was a crook, Matthews is able to utilize his place as a Colonel in the British Army to cover his involvement in crime. Niven plays up Matthews as a man who loves the excitement and danger of the job more than the payoff he gets later on. A nice comical feature Niven adds that gives spice to the character of Matthews is that his incredible brain, the result of a birth abnormality, is at times unable to support his head and neck, and forces his head sideways, particularly in moments of tension. This defect is the only clue to his character's identity, something that also differs from the Litton character. Niven, like Belmondo, is clearly having fun with the role, and takes every moment he can to take his character's personality and traits to the hilt in comedic thrills, spills, and buffoonery. In true Niven fashion, the Matthews character, even when faced with utterly inane situations and jokes that would have anyone else thinking they were losing their minds, manages to always maintain his composure, sanity, and class. Even more characteristic of Niven in his older years was to fall for a beauty who was 15 years his junior, and he does that with even more ease with Silvia Monti's character than with every other leading lady he had previously. What makes Matthews just as likable is that he doesn't have a superiority complex like Litton in that it offends his vanity to have people knowing his secret, but still wishes to maintain his dual identity. Niven, who reached an age for character parts, still has appeal even at his age and does it well as always.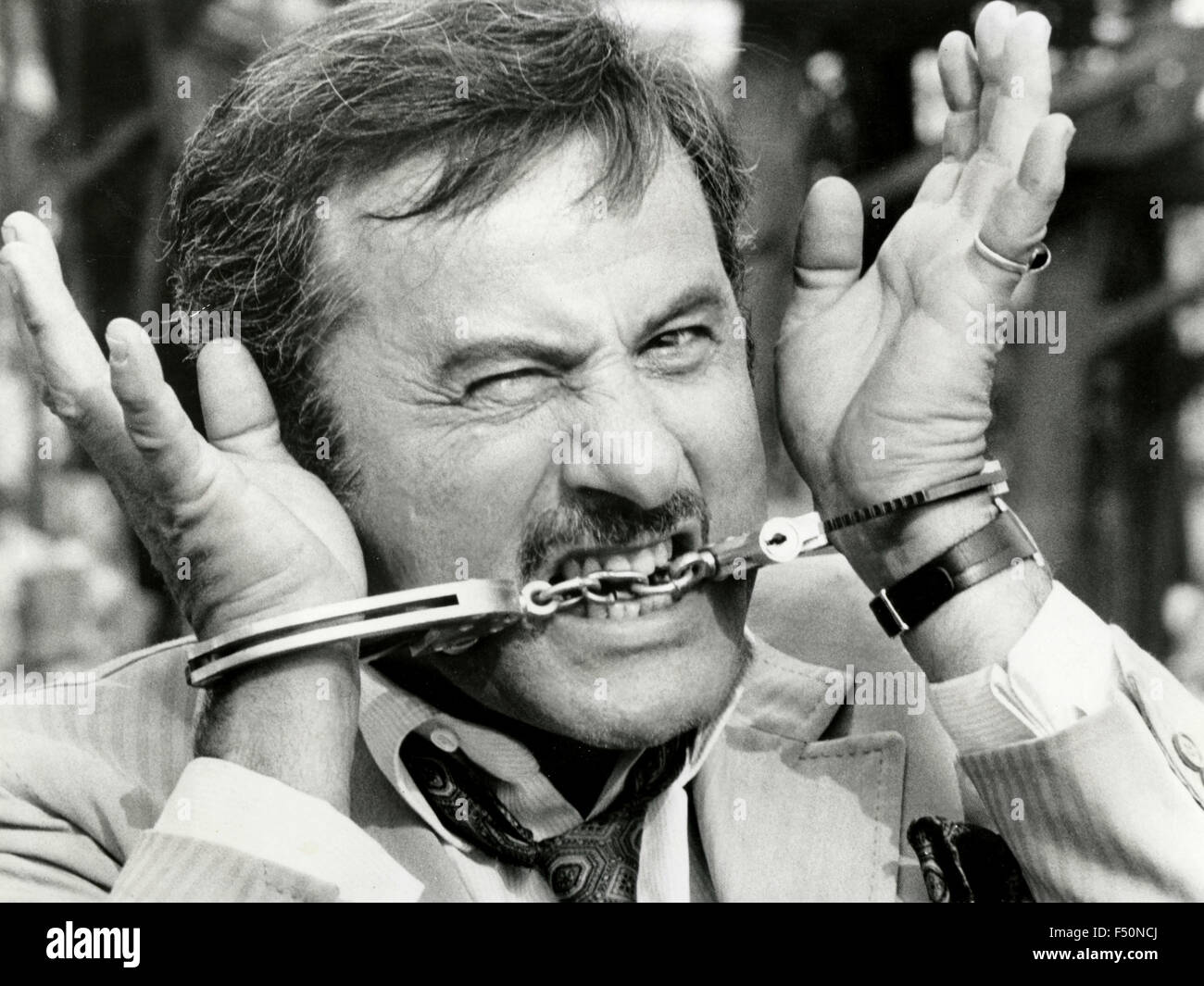 Eli Wallach, one of the few non-ego inflated character actor graduates of the Actor's Studio is a riot as Frankie Scannapieco, the Mafia Don behind Col. Matthews NATO plans. Wallach plays Scannapieco as a very "old-school" Italian who'll kill any suitor who would take his sister's virginity without marrying her and would kill his partners even if their schemes and deals were on the level. Wallach adds a level of the neurotic to the character in that Scannapieco is so set on keeping on the old ways that it's made him practically paranoid to anyone who so much as looks at his sister. Granted a Mafia Don in real life wouldn't go so far as to try to hijack a NATO funds trunk, but since the film goes into the realm of absurdity, works very well with the character's paranoia. He's a double dealer like any other organize crime figure, but his temper and attitude is what ends up being the character's weakness and downfall when he tries  Wallach has just as much zaniness in his role as Belmondo's does, but while Belmondo plays it up for laughs, Wallach tries to keep his character as straight and realistic as possible. His role as Tuco will always be his best, but Wallach as Scannapieco is just as funny with a bit more craziness.
The only flaw with the film is the accents of Niven and Wallach. While he speaks good French, Niven utilizing his natural British accent makes him seem like a foreigner trying to fit in. While indeed the film does take place abroad, the whole of Niven's dialogue delivery sounds a little funny and uneasy, and while that may certainly have been the intention of the filmmakers, to viewers unfamiliar (this reviewer isn't one of them), with how language is spoken in other countries it might be off-putting. Eli Wallach's Brooklyn accent doesn't do him much favors here in that he's supposed to be a born-and-bred Italian native in exile. Wallach's dialogue delivery in French and the occasional Italian is very good, the lack of an accent might make it a little hard for newcomers to take him seriously, though viewers familiar with this type of film work will get the feel of it. This doesn't hinder either Niven's or Wallach's work, but can easily be misinterpreted to novices who may want to do their research just in case.
It might have plot flaws and some of Niven and Wallach's dialogue may be stiff and wooden at times, this is still a good film that's loads of fun and can be enjoyed by anybody. The physical comedy, along with the gags, and even some the jokes are easy to catch and are worth a chuckle or two. The plot mechanics are quite good, and even with some items that would be impossible in real life is interesting and exciting to look at. All the cast, even the bit players, are excellent and play their parts well. An all around good time will be had by all with this one.
(Even if you're not a fan of European comedies, this one comes highly recommended and is a fun time. The humor won't go over anyone's heads and the sight gags harken back to the classic period of the comedy teams. The Blu Ray or DVD is well worth looking at and while it's a bare-bones release, the lack of extras isn't a bad thing.)
All images courtesy of Google.com/Google images
For More information
https://www.imdb.com/title/tt0064146/?ref_=nv_sr_4?ref_=nv_sr_4
https://en.wikipedia.org/wiki/The_Brain_(1969_film)
https://www.amazon.com/Brain-Blu-ray-Jean-Paul-Belmondo/dp/B008U3PHJI/ref=sr_1_16?s=movies-tv&ie=UTF8&qid=1537738495&sr=1-16&keywords=The+Brain+blu+ray
As a bonus, here's a YouTube upload of the title song by 60's rock band The American Breed (later known as Rufus) (this was one of their last minor hits before they changed their name)
Filed under: Film: Analysis/Overview