A Common House Cat
by Tony Nash
(The Month of Hammer Horror Intermission #1)
(Spoilers may follow)
(All opinions are of the author alone)
Gatto Nero (Black Cat, The Black Cat) (1981) R *** ½
Patrick Magee: Prof. Robert Miles
Mimsy Farmer: Jill Tevers
David Warbeck: Inspector Gorley
Al Civer: Sgt. Wilson
Dagmar Lassander: Lillian Grayson
Bruno Corazzari: Ferguson
Geoffrey Copleston: Inspector Flynn
Daniela Doria: Maureen Grayson (as Daniela Dorio)
Written by: Biagio Proletti & Lucio Fulci, based on the short story by Edgar Allan Poe
Directed by: Lucio Fulci
Synopsis: A British Police Inspector and an American Journalist team up to find the answers to several mysterious and sometimes gruesome murders that seem connected, but no motive or suspects exist. Circumstantial findings lead them to the home of a local professor of the Occult and supernatural who has a very nasty and violent house cat.
Lucio Fulci, known mostly for his violent gore films, takes a huge retrained step back with this loose rendition of Poe's classic story. What Fulci does to make this version exceptionally unique is that the cat itself becomes a character in the film, and like with Poe's story, is the key to the eventual outcome. Keeping with uniqueness, the film boasts a true supernatural feel, characters realizing there is something clearly beyond human rationale going on. Filmed entirely on location in England, the moody atmosphere Fulci intended the film is very realistic and visible ten fold as England is very famous for its fog-filled nights and early mornings. These hints at the otherworldly marks totally new territory for Fulci, as he was fairly famous for his use of dreamlike atmosphere, which is totally absent here, but does maintain the essence of something beyond man's comprehension.
The Black Cat, as stated earlier, is one of the primary characters of the film and Fulci uses it to the best extant he can. Whether this cat was genuinely ill-tempered or not will never be known, but if it was indeed "acting", it was some of the most convincing behavior ever caught on camera/film. Initially used by its Master Professor Miles as a means of revenge for those who wronged him, subjecting his pet to a series of hypnotic suggestions that lead it to a world of darkness and shadow, the Cat slowly begins to gain independence from its owner, and starts wielding the dark forces Miles exposed it to for its own purposes. Like with Poe, Fulci decides to have his Cat slowly build up means for a vengeance all its own, using its new found abilities to pull those looking to connect Miles to those tragic deaths towards it, guiding them to the truth. Before it fully betrays its owner, the Cat decides to have a little fun with its new found power and create a little more mayhem to put more heat on the evil Professor, thus having any and all sole responsibility taken off it. That Miles knows his pet will one day want to pay him back for all the vicious things he made it do, and the exposure to things that would drive others to the brink of madness makes the Cat's independent thought of its powers all the more scary and evil, as it knows everything.
Irish actor Patrick Magee, American expat actress Mimsy Farmer, and English-Welsh actor David Warbeck are all excellent in their respective roles of Prof. Miles, journalist Jill, and Police Inspector Gorley. Magee, most noted for his stage work-especially his collaborations with Samuel Beckett, oozes sinister essence as the deranged Professor. Clearly unstable from his usage of hypnosis and telepathy, he chooses to use his gifts to hurt the people he believed did him injustices. Little does he know the forces he invokes to aid him will also be his downfall. Farmer, an American who found fame and love across Europe shows both courage and fear as the Journalist trying to figure out the strange goings on in a quiet English village. Normally playing the love interest of the lead or the doomed woman, Farmer is able to convey well someone who isn't afraid to find out the truth, but at the same time can't help but fear her life may be in peril. Warbeck, who was briefly considered for James Bond does well as the experienced cop trying to solve a series of murders. Skeptical at first when it comes to the idea that the supernatural is at play, he later changes his mind when strange occurrences start affecting his life. When coincidences stop looking like such, Gorley must tackle what might lie beyond the natural realm of the world.
Now most Fulci fans tend to dismiss this film for its lack of violence and gore effects. The truth is, is that this lacking actually helps the film a great deal. By making subtle hints that what the characters are dealing with lies solely in the beyond, it allows the viewer to appreciate the story, pacing, and suspense, and not be caught up in blood soaked set pieces that often went into overkill. Peter Cushing, who was Fulci's first choice for the Professor Miles role, turned down the chance to work with Fulci because of his gore reputation, which greatly harmed the otherwise talented director's chance to work with some great people. There are only three violent looking scenes in the film, but in keeping with the supernatural ideas, the scenes are brief, but effective, and are short enough for people who don't care for those scenes to look away and look again. Hardcore Fulci fans might be disappointed by this, but those who want to see what the filmmaker was capable of without the blood effects will be very happy with the result.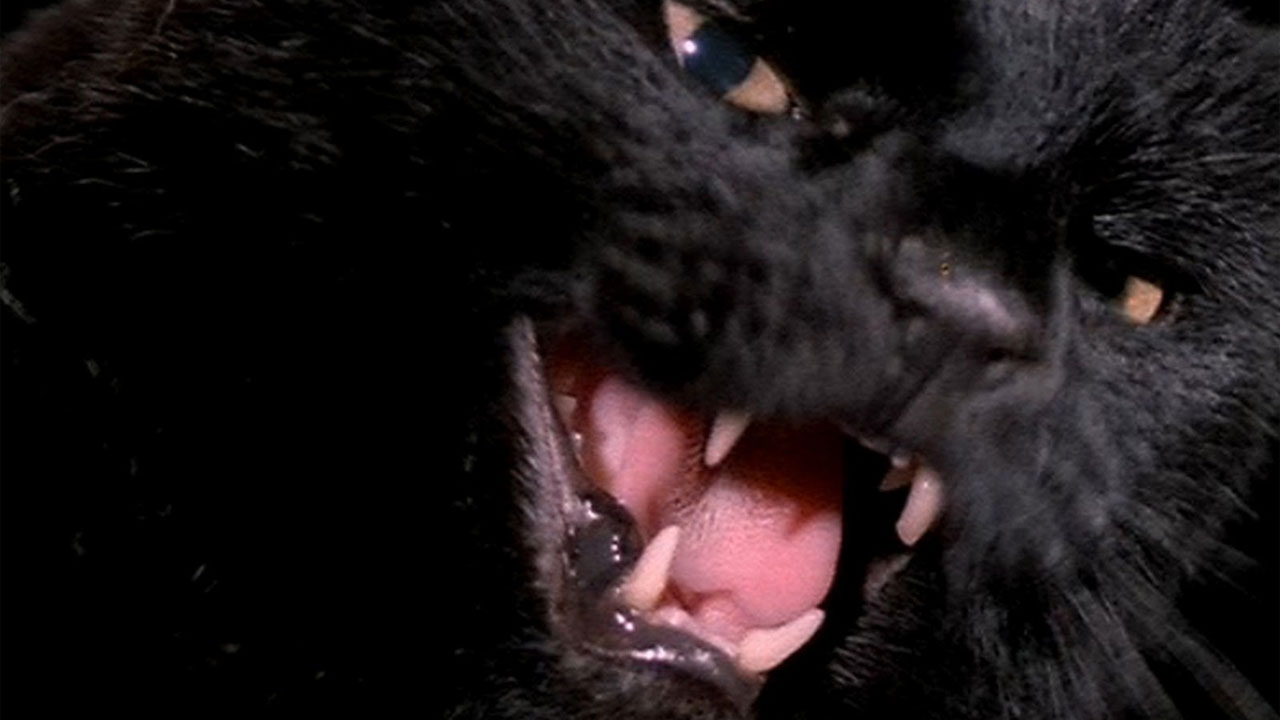 With a Cat as one of two antagonists and profiting well from a focus on the psychological aspects of Horror instead of blood/gore effects, The Black Cat is a good little Horror film. Not overtly great, but not poor as many fans might think it is, the Cat itself as a character helps the film very much in uniqueness and creativity, and shows the depicted events as might truly be revolving around the supernatural. These aspects might not look like much, but work very well in an era to where violence was the key to success, and proved this was not a dead art, but still thriving, if only used by a handful of filmmakers. In spite of a majority of fans not liking this film, Fulci gives one of his greatest efforts with this film and shows he wasn't just a master of splatter gore.
(Now I know I said I would normally avoid Horror films made in the 80's, but I'm making an exception here as this film isn't overtly gross and violent and sports a very well done story. The atmosphere and characters work well and the actors give exceptional performances. I recommend the Blu Ray of the film in either its solo release or the Edgar Allan Poe's Black Cats Black Cats Box Set, both from Arrow Video that sport their usual fine transfers and audio, along with translated subtitles)
All images courtesy of Google.com/Google images and the IMDB and their respective owners.
For more information
https://www.imdb.com/title/tt0080440/?ref_=nv_sr_4?ref_=nv_sr_4
https://en.wikipedia.org/wiki/The_Black_Cat_(1981_film)
Mondo-Esoterica/The Black Cat 1981
https://www.amazon.com/Edgar-Allan-Poes-Black-Cats/dp/B011CMJJQK/ref=sr_1_1?s=movies-tv&ie=UTF8&qid=1538759676&sr=1-1&keywords=Edgar+Allan+Poe%27s+Black+Cats
https://www.amazon.com/Black-Cat-Special-Blu-ray/dp/B01AGOTP6O/ref=pd_sbs_74_3?_encoding=UTF8&pd_rd_i=B01AGOTP6O&pd_rd_r=262883b1-c8c2-11e8-b2bf-cf80deb9a4ab&pd_rd_w=7CoaG&pd_rd_wg=sXnj8&pf_rd_i=desktop-dp-sims&pf_rd_m=ATVPDKIKX0DER&pf_rd_p=7d5d9c3c-5e01-44ac-97fd-261afd40b865&pf_rd_r=A6DRMGRS8GXTWGNYYKEG&pf_rd_s=desktop-dp-sims&pf_rd_t=40701&psc=1&refRID=A6DRMGRS8GXTWGNYYKEG
For any UK Fans
https://www.amazon.co.uk/Black-Cat-Blu-ray-David-Warbeck/dp/B01AD87N5I/ref=pd_sbs_74_3?_encoding=UTF8&pd_rd_i=B01AD87N5I&pd_rd_r=ffadf080-c8c2-11e8-831f-f1f9855f992c&pd_rd_w=QvHbw&pd_rd_wg=CdEzA&pf_rd_i=desktop-dp-sims&pf_rd_m=A3P5ROKL5A1OLE&pf_rd_p=85d62760-2a0e-407d-aa36-f3c03afc01c3&pf_rd_r=15MB43NRG6JY3DN5NFKB&pf_rd_s=desktop-dp-sims&pf_rd_t=40701&psc=1&refRID=15MB43NRG6JY3DN5NFKB
Filed under: Film: Analysis/Overview, Film: Special Topics