by Tony Nash
(The Month of Hammer Horror Special)
(All opinions are of the author alone)
(Spoilers may be present)
(This one I dedicate to my Mother, who gave me my love of the series, whom I binge watch this with from time to time, and is one of her own childhood favorites)
Dark Shadows (1966-71) ***** TV-PG
Jonathan Frid: Barnabas Collins, Bramwell Collins (Parallel Time)
Joan Bennett: Elizabeth Collins Stoddard, Naomi Collins, Judith Collins, Elizabeth Collins Stoddard (Parallel Time), Flora Collins, Flora Collins (Parallel Time)
Alexandra Isles: Victoria "Vicki" Winters #1 (as Alexandra Moltke)
David Selby: Quentin Collins II, Grant Douglas, Quentin Collins II (Parallel Time), Quentin Collins I, Quentin Collins I (Parallel Time)
Grayson Hall: Dr. Julia Hoffman, Countess Natalie Du Pres, Magda Rakosi, Julia Hoffman (Parallel Time), Dr. Julia (Hoffman) Collins, Julia Collins (Parallel Time), Constance Collins (Parallel Time)
Nancy Barrett: Carolyn Stoddard, Millicent Collins, Charity Trask, Pansy Faye, Carolyn Stoddard Loomis (Parallel Time), Letecia Faye, Melanie Collins (Parallel Time), Amanda Collins (Parallel Time)
Louis Edmonds: Roger Collins, Joshua Collins, Edward Collins, Roger Collins (Parallel Time), Joshua Collins (Parallel Time), Daniel Collins, Amadeus Collins, Brutus Collins (Parallel Time)
Kathryn Leigh Scott: Maggie Evans, Josette Du Pres Collins, Rachel Drummond, Lady Kitty Soames Hampshire, Maggie Evans Collins (Parallel Time)
Lara Parker: Miranda Duval/ Angelique Duval Brochard Collins Rumson/Cassandra Collins/Valerie Collins, Angelique Stokes Collins (Parallel Time) Alexis Stokes (Parallel Time), Catherine Harridge Collins (Parallel Time)
Thayer David: Matthew Morgan #2, Ben Stokes, Professor T. Eliot Stokes, Sandor Rakosi, Count Andreas Petofi, Timothy Eliot Stokes (Parallel Time), Mordecai Grimes, Ben Stokes (Parallel Time)
Jerry Lacy: Tony Peterson, The Reverend Trask, Reverend Gregory Trask, Mr. Trask (Parallel Time), Lamar Trask
John Karlen: Willie Loomis #2, Carl Collins, William H. Loomis (Parallel Time), Desmond Collins, Kendrick Young (Parallel Time)
Diana Millay: Laura Murdoch Radcliffe Stockbridge Collins
Dennis Patrick: Jason McGuire, Paul Stoddard
David Ford: Sam Evans #2, Andre Du Pres
Roger Davis: Peter Bradford, Jeff Clark, Ned Stuart, Dirk Wilkins, Charles Delaware Tate
Joel Crothers: Joe Haskell, Lt. Nathan Forbes
Don Briscoe: Thomas "Tom" Jennings, Christopher "Chris" Jennings,  Timothy "Tim" Shaw, Chris Collins (Parallel Time)
Humbert Allen Astredo: Nicholas Black, Evan Hanley, Charles Dawson, Great-Grandfather Dawson
Lisa Richards: Sabrina Stuart, Sabrina Stuart (Parallel Time)
Mitch Ryan: Burke Devlin #1 (as Mitchell Ryan)
Anthony George: Burke Devlin #2, Jeremiah Collins
Robert Rodan: Adam
Clarice Blackburn: Mrs. Sarah Johnson, Abigail Collins, Minerva Trask
Dana Elcar: Sheriff George Patterson #1
Christopher Pennock: Jebez "Jeb" Hawkes, Dr. Cyrus Longworth (Parallel Time), John Yaeger (Parallel Time), Sebastian Shaw, Gabriel Collins, Gabriel Collins (Parallel Time)
Michael Stroka, Aristede, Bruno, Bruno Hess (Parallel Time), Laszlo Ferrari
Marie Wallace: Eve (Danielle Roget), Jenny Collins, Megan Todd
Addison Powell: Judge Matigan, The Voice of Jeremiah Collins, Dr. Eric Lang, Judge Wiley
Robert Gerringer: Dr. David "Dave" Woodard #2
Jim Storm: Gerard Stiles (Ivan Miller), Judah Zachary (while possessed), Gerard Stiles (Parallel Time) (as James Storm)
Kate Jackson: Daphne Harridge, Daphne Harridge Collins (Parallel Time)
Terry Crawford: Beth Chavez, Edith Collins
David Hennesy: David Collins, Daniel Collins, Jamison Collins, Count Andreas Petofi (while possessed), Daniel Collins (Parallel Time), Tad Collins
Denise Nickerson: Amy Jennings, Nora Collins, Amy Collins (Parallel Time)
Virginia Vestoff: Samantha Drew, Samantha Drew (Parallel Time)
Keith Prentice: Morgan Collins (Parallel Time), James Forthsye (Parallel Time)
Frank Schofield: Bill Malloy
Written by: Dan Curtis, Art Wallace, Ron Sproat, Malcolm Mamorstein, Sam Hall, Gordon Russell, & Francis Swann
Directed by: Dan Curtis, Lela Swift, Henry Kaplan, John Sedwick, & Sean Dhu Sullivan
Synopsis: Vampires, Witches, Warlocks, Werewolves, Ghosts, Occultists, and Satanists all ascend on the great estate of Collinwood, where the Collins family suffers a series of curses for past misdeeds. Only distant relation Barnabas Collins, afflicted with the Vampire Curse, is able to save his family from those who would destroy them.
Long before Stephanie Myers conceived highly romanticized and enticing vampires and werewolves in her Twilight saga, there was the highly popular and well loved ABC Soap Opera Dark Shadows. Created by Dan Curtis as a homage to Gothic Literature, Gothic Films, Folklore, and Classic Movie Monsters, Dark Shadows was the only Soap Opera of the 1960's to have an audience made up of teenagers and young adults due to its relevance of the re-emerging popularity of Horror films. Oddly enough the series started out as standard Soap Opera Melodrama with hints of the Gothic and Supernatural, but with encouragement from family and friends, Curtis slowly directed his writers into pure Horror based story-lines and characters. While the heroes and heroines remained the same, the villains were now vampires, witches, warlocks, werewolves, and ghosts, all still in the tradition of Simon Legree, Frankenstein's Creature, and Larry Talbot.
Originally the main focus of the series was Victoria Winters and her search for her true identity. Curtis always maintained his initial concept was a dream of a young woman entering a castle on a foggy night, with smatterings of Jane Eyre thrown in for good measure. As time progressed and more emphasis was put on homages to Universal Horror films, Victoria Winters primarily acted as the damsel in distress characters had to save from the machinations of evil characters. When actress Alexandra Moltke left the series to get married and have her son, the character was written out as deciding to live in the past with love interest Peter Bradford, seemingly stuck in suspended animation. Years after the series itself ended actress Joan Bennett told an interviewer that Victoria was to be revealed as her character's daughter, whom she gave up for adoption. When the surviving cast gathered together for a special radio style drama reading to celebrate one of the show's anniversaries,  in Elizabeth Collins Stoddard's will, she confesses Victoria is in fact her oldest daughter and implores her other daughter Carolyn to find her and return her to Collinwood.
What ended up making the show a hit, in spite of it's initial star deciding to leave the series, was the casting of Canadian stage actor Jonathan Frid as the remorse-filled Vampire Barnabas Collins. Frid's portrayal of Barnabas as a genuinely good man who made a brief series of poor decisions that led to his eventual predicament made him not only a romantic figure for a generation of young women, but a cultural icon for generations to come. While many may hold Frid responsible for vampires losing their fear appeal and turning them into Romantic personas, Frid never-the-less started a new trend of vampires who didn't lose their humanity and retained a sense of sympathy from the audience. Ironically Frid had originally signed on only for a 13 Week stint as Barnabas and at the end was to be killed off, but the audience reaction to him was so positive that he was changed from a Soap Opera version of Dracula to a lovable and heroic selfless man who spent everyday atoning for his sins and mistakes.  After Frid's introduction, a wave of other monsters graced the halls of Collinwood including witches, two Frankenstein like creatures, warlocks, Satanists, werewolves, etc. and made the show what it is today.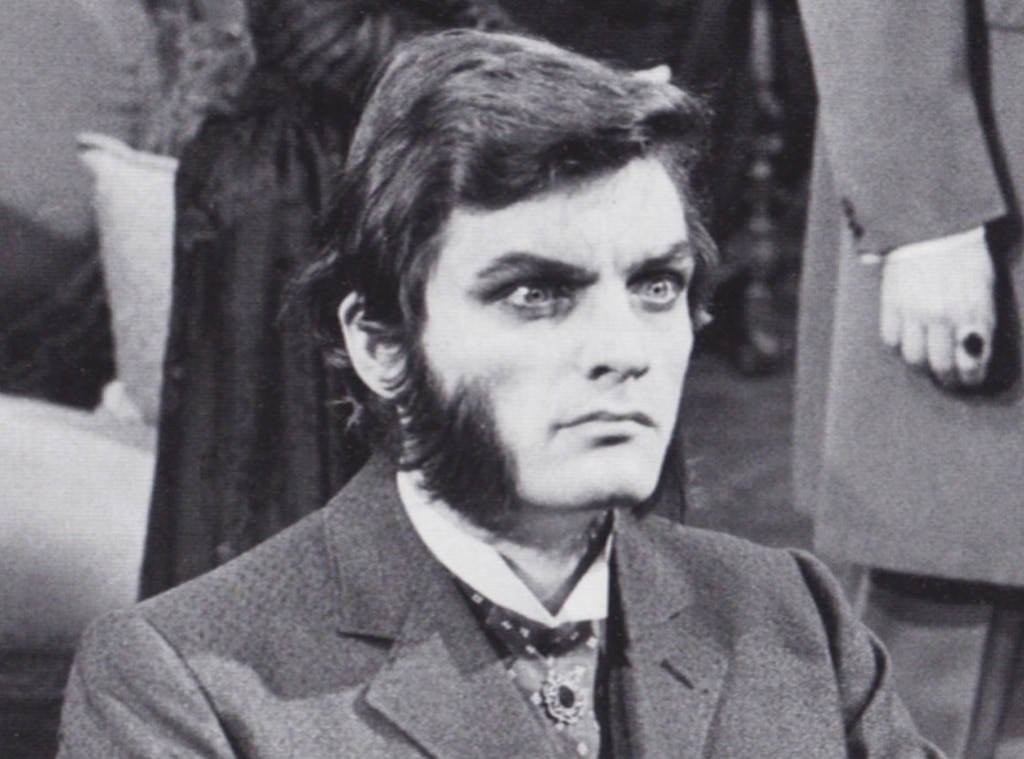 Many venerable film and TV actors, previously well known and later well known, graced the series with their presence including Hollywood great Joan Bennett, Mitch Ryan, Dennis Patrick, Thayer David, John Karlen, Dana Elcar, Abe Vigoda, and Anthony George. Most of the cast however was made up of Theater performers like Nancy Barrett, David Selby, Jerry Lacy, Grayson Hall, Joel Crothers, David Ford, Lara Parker, etc, looking to branch into Television, some making it into other roles, others known only for the series itself. Kathryn Leigh Scott and Alexandra Molkte were recent graduates of the New York Academy of Dramatic Arts and Dark Shadows was literally their first acting roles ever. While some continued to later successes and others fizzled not long after the series ended, they are all still admired by fans past and present, and make appearances at the many conventions held yearly in honor of the series.
With a cast made up of a plethora of Theater actors, the show developed a kind of repertoire feel and a continuous feel as well to it.  As Dan Curtis only had so much in terms of money to work with, the cast often found themselves playing their own ancestors or other characters in general when they entered into the past or other dimensions, which lended  to the show's success in a big way. By having the actor's play multiple roles, it made the universe they were in feel very real and very authentic. This also led people who enjoyed Theater as well to feel like they were watching a continues play that came on 5 days a week on TV, again giving more nostalgia as the years progressed. No other series, Soap Opera or otherwise had done it before or since, with the occasional exception here and there , and again adds to the uniqueness that has made it the classic it is.
Time Travel, Science Fiction, Horror, Gothic Romance, and even some Comedy permeated the series and were used to great effect. The story-lines taking characters to the 1790's, 1890's, 1840's, and even the 1680's and 1660's allowed viewers to get as realistic an interpretation as possible how people of those eras and periods behaved, interacted with each other, and even to certain extant, spoke. Everything from the clothes to the lighting, even certain euphemisms were done with as much authenticity without having the actors be in any kind of discomfort and disadvantage. The use of other dimensions, mad science, raising the dead, and creating new species all bring to life the world of Sci-Fi/Horror hybrid.  Science going in directions that would to man's enslavement or demise wasn't tackled too much within Dark Shadows, but was done enough that it allowed something different from the standard Horror affair. The works of the Bronte sisters, Stoker, Poe, Lovecraft, Stevenson, James, and even Wells abound in plot elements of the series, and offer their own unique twist on the classics.
The only thing really to complain about with the series was the consistent continuity errors in terms of the historical timeline of it and the reference to past events. Things were constantly changing in terms of the character's past, and events & lives changed as a result of what Barnabas and company was able to prevent happening in the past that directly affected the current state of the Collins family. With so much being fooled around with and changed, viewers and even the cast themselves were uncertain as to the proper history of the characters and of the events that occurred within. These errors tended to have the series get made fun of a little, but for those truly entranced by the series, these issues and glitches fade away and the show's fine essence is all that matters.
Whether people love it or hate Dark Shadows has withstood the test of time and brought new meaning and new ideas to the world of Horror and Gothic Drama and Fantasy. Rich characters and stories kept viewers tuning in every week for five years. Even when its decline became apparent with poor rehashing's of previously successful plots, viewers still wanted to see what would happen to the residents of Collinwood, and remained loyal to the end. Syndication and fans wanting to see episodes on home media brought the show back from obscurity and has garnished an entire new generations of viewers and devoted fans. Actresses Kathryn Leigh Scott and Nancy Barrett have stated in interviews that the fans they meet always amaze them, some even going as far as legally changing their names to that of a member of the Collins family and in one woman's case getting permanent fang implants from her dental surgeon. The fan base might be a little crazy, but it's a love they don't go overboard with.
(This is one series I can watch for hours and hours and not be bored with. I highly, highly recommend it for anyone looking for something totally different and unique that's also a love letter to Classic Horror and the Gothic. The entire series is on DVD in single editions, and a giant boxset. I normally list the items for purchase below, but given there are over 30 sets of 40 episodes apiece, it would take too much time to sort it all, but feel free to check out Amazon, where the sets are between $25-$30. I also recommend checking out the first 209 episodes which pre-date the arrival of Barnabas, and are just as good. I also highly advise avoiding Tim Burton's 2012 film version, as while he's an admirable fan, his version does little justice to the classic original, and changes the backstories far too much)
All images courtesy of Google.com/Google Images
For more information
IMDB/Dark Shadows 1966-71
Wikipedia/Dark Shadows 1966-71
The Dark Shadows Wikia
http://www.DarkShadowsOnline!.com
I also recommend checking out Kathryn Leigh Scott's books about the series. She has chronicled her own life within the series, the series itself, and the popularity it has enjoyed throughout the years. The books are very good and Scott has some amazing stories to tell about her fellow cast members.
Filed under: TV: Analysis/Overview, TV: Special Topics