by Tony Nash
(A Part of The Cycle of the Melodic Gialli)
(A Spoiler Free Review)
(This review is of the Italian language version of the film)
Il Dolce Corpo di Deborah (The Sweet Body of Deborah) (1968) **** ½ R
Carroll Baker: Deborah Boileau
Jean Sorel: Marcel Boileau
Ida Galli: Suzanne Boileau (as Evelyn Stewart)
George Hilton: Robert Simack
Luigi Pistilli: Philip
Michel Bardinet: The Police Commissioner
Written by: Ernesto Gastaldi, with collaboration from Luciano Martino
Directed by: Romolo Guerrieri
Synopsis: Newly weds Marcel and Deborah, on an international honeymoon, make their first stop Geneva, Marcel's birth place. When a contemptuous old childhood friend accuses Marcel of being responsible for his first wife's death and strange noises and frightening phone calls begin, the couple feel someone is looking for revenge. Even when feeling safe in France, the couple are again bewildered, this time by an American painter with voyeuristic tendencies.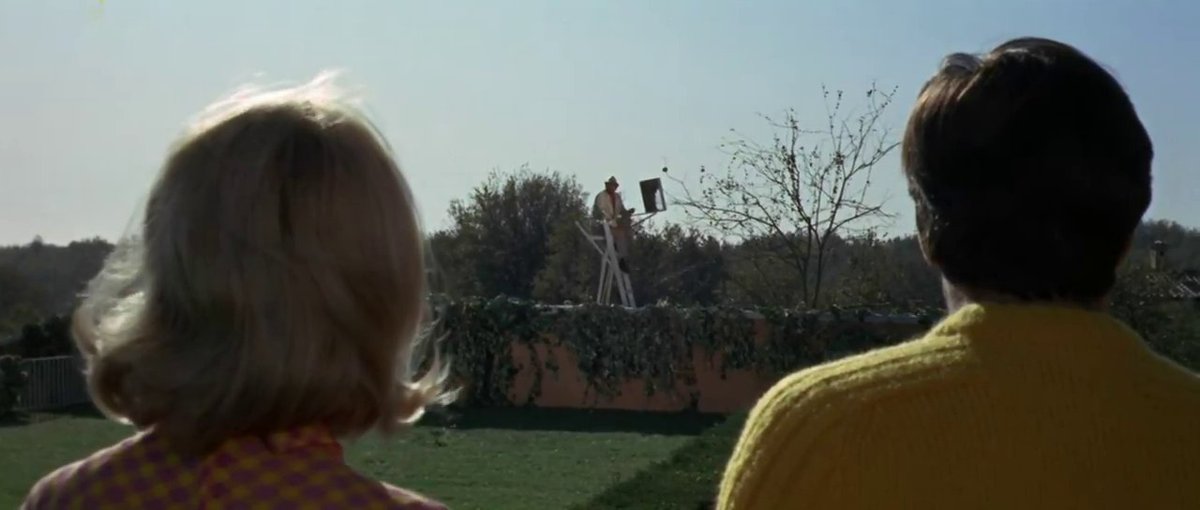 One of the earliest Giallos after La Ragazza Che Sapeva Troppo (The Girl Who Knew Too Much), Il Corpo sports a complex and twist laden story that would extend what La Ragazza and Sette Donne per un Assassino (Six Women for the Murderer/Blood and Black Lace) started, and become a starting point for future work. Taking the popular Noir element of the couple being tormented by someone from the past, director Romolo Guerrieri and screenwriter Ernesto Gastaldi mix surreal lighting and imagery, unique camera angles, and only having characters give hints as to what might really be going on to keep the audiences guessing as to what the truth is. That all the audience is given is that the husband, Marcel, owing a large amount of money, left more America so he could come back clean to his first wife, who died a year prior under unusual circumstances. With this in mind, suspicions automatically fall on Marcel, who stands a lot to gain by two dead wives, but then again Deborah has a policy on Marcel. Having the action set in the beautiful countries of Switzerland and France make for a nice juxtaposition to the tense atmosphere surrounding the main characters, who aren't able to fully enjoy their new life together with the fear of someone out to destroy them for a crime that's never been proven the husband's guilty of.  That every character could be guilty of being the one tormenting the couple, including one or the other of the couple, makes for a very intriguing mystery, as the audience isn't sure of who to believe and what exactly it is that individual is after.
The usage of flashbacks plays a necessary role in the film, as it attempts to sway viewers to the possibility that an unknown third party is playing a role in driving the couple into uncertainty and fear. With Marcel's life with Suzanne seemingly normal, save for Marcel's financial difficulties, there's no  indication whatsoever he's in the kind of position that would make killing her a necessity to save his own skin from danger. That both main leads don't have anything (that the audience can sense or indicate) to hide, that there's another person unknown to everyone else pulling the strings makes for a very likely idea.
Surprisingly, for a couple that are apparently in a constant state of tension and unease, Deborah and Marcel have quite a few sex scenes in the film. Now while they might seem like overkill on the onset, they in fact play a very important part in the film's latter structure. The act of making love brings couples closer together, creating the ultimate bond between them, and with a constant state of doubt between them, initial conceptions being that the consistent love scenes are the two's attempt to re-discover the passion that brought them together. Another idea is that either Deborah or Marcel has something to hide and the love making is a ruse to keep suspicion off of themselves. Either is a plausibility.
Carroll Baker, an American actress who ended up expatriated in Europe for fighting back against Hollywood's sexist film offers, is quite excellent in the role of Deborah. Little of the character's background is given, but from a comment she makes to Marcel about how her mother feels about him, it's not hard to imagine she comes from an affluent family. Unlike most American heiress characters, Baker plays Deborah as someone who doesn't flaunt her wealth around in a bid to find a man or show-off, but rather is someone who uses her wealth wisely. She's shown as clearly in love with Marcel and would do anything for him, but at the same time feels she is unworthy of him and is uncertain if she knows enough about him. Like with some wealthy people, Deborah suffers a nervous condition with requires medication, an Achilles Heel, which will come into major play later on in the film. Baker's range and use of emotion allows for the character to come off as very real, especially in scenes when Deborah clearly can no longer take the strain of what's happening around her. Baker's talent as an actress who gives the audience a nice mixture of is she the damsel in distress or is she a black widow playing a very intriguing and complex game.
Jean Sorel, a French actor who spent much of the 60's and 70's working between Italy, Spain, and Germany, does very well in the role of Marcel. A poor man's Alain Delon in appearance, he was able to evoke that similar cold, distant look that made reading his characters inner thoughts impossible. This aura of mystery as to how honest he's been with Deborah and how much of his past is true or a lie makes who the guilty party might be all the more of a headscratcher. That he appears to be just perplexed by all that is going on just like his wife adds to this idea all the more. That both he and Deborah have life insurance policies on each other is one of the many twists that make deduction by audiences difficult because it signifies Marcel may have gotten back on his feet to a degree that he left the policy as a sign of good faith, or there could be something else altogether to it.
Ida Galli, credited under her US pseudonym Evelyn Stewart, plays a small, but very important part as Marcel's purportedly dead first wife Suzanne. Again, little is known of the character's background, but given her sight-unseen agreement to Marcel's plea to pay off a debt, she, like Deborah, came from an affluent family. Because it's never learned if Marcel would benefit if she were to die, and no explanation other than the photo of a crashed car give any indication that she could be dead. Luigi Pistilli's role as Philip falls under the same category as very little is known about him as well, save for what Marcel has stated about him, and his own unrequited relationship with Suzanne.
George Hilton, a Uruguayan actor who found success in Italy via the Westerns, would make his first appearance in the genre that he, and Jean Sorel, would become the actors most associated with, as Robert Simack. While he comes into the film midway through, his first scene leaves an indelible impression as to how he'll get caught up in the strangeness. An artist with something of a voyeur like fetish, he takes an interest in newlyweds Deborah and Marcel, but are his reasons completely eccentric, or is he looking for more? Hilton's almost consistently smiling face adds a kind of unease to the character, automatically putting him in as a suspect, though what interest he could possibly have remains vague.
On the Internet Movie Database (IMDb), the film is listed as a mixture of Drama, Horror, Mystery, and Thriller. The Horror element is really nonexistent, unless the director and writers were looking to convey a sense of Psychological Horror, which if that is the case, the effect comes off very well. With Horror only playing a very minuscule role, the traditional Mystery Thriller seems to be the correct category to list it under as.
The complexity and intricacy of the film makes going into the story a little difficult with giving too much away and ruining the surprise ending. With the actors doing such a good job keeping viewers in the dark with what's really going on and what secrets they could or might be hiding, the atmosphere and intensity works very well. The ending is so off guard catching and totally unique that viewers will have to see to believe it. All in all, a very fine early entry into the Traditional Giallo canon.
(This early Giallo effort comes strongly recommended for longtime fans and newcomers looking for somewhere to start. The complexity of the film and the mysteriousness of the characters and situations make for a consistent guessing games that leave the viewers guessing right until the finale 20 minutes. The Blu Ray from Germany's X-Rated/ELEA-Media label is very high quality in visual transfer and audio quality. The only downside is the English subtitle translation when viewing the Italian track. At times it's difficult to tell whether the subtitles are translations of the Italian audio, or dubtitles from a lost English dubbed track. This luckily doesn't hinder the film much, but can be a little confusing to people who have a good grasp of Italian.)
Please check out the Grindhouse Cinema Database to see a condense version of this review
All images courtesy of Google.com/Google images and their respective owners
For more information
IMDb/The Sweet Body of Deborah
Grindhouse Cinema Database/The Sweet Body of Deborah
DVDBeaver/The Sweet Body of Deborah
https://www.amazon.de/gp/offer-listing/B01857M98U/ref=tmm_blu_new_olp_sr?ie=UTF8&condition=new&qid=1546463772&sr=1-12
https://www.amazon.de/sch%C3%B6ne-K%C3%B6rper-Deborah-Uncut-Blu-ray/dp/B07JX4SGCH/ref=sr_1_14?s=dvd&ie=UTF8&qid=1546463772&sr=1-14&keywords=Jean+Sorel
https://www.amazon.de/sch%C3%B6ne-K%C3%B6rper-Deborah-Blu-ray-Limited/dp/B01857M9CQ/ref=tmm_blu_title_1?_encoding=UTF8&amp&qid=1546463772&amp&sr=1-14
https://www.amazon.de/gp/offer-listing/B01B5NU8QQ/ref=tmm_blu_new_olp_sr?ie=UTF8&condition=new&qid=&sr=
Filed under: Film: Analysis/Overview, Film: Special Topics