by Tony Nash
(all opinions are of the author alone)
(Mild Spoilers)
(This review is of the Italian Language version of the film)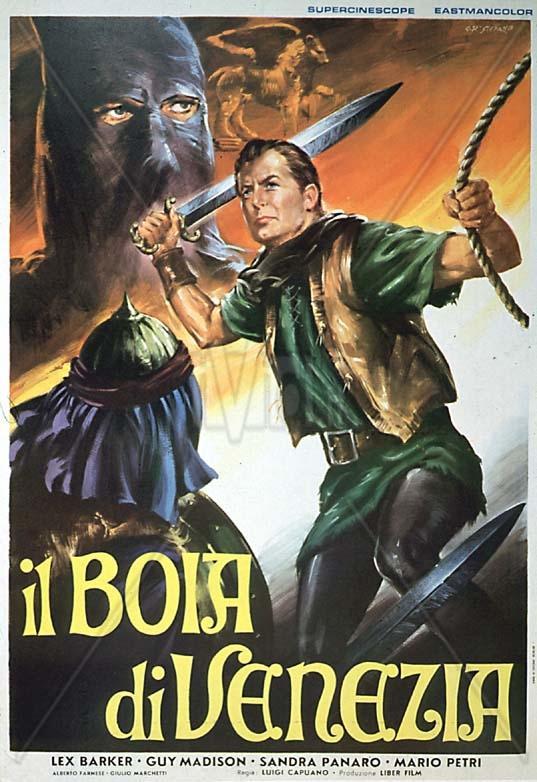 Il Boia di Venezia (The Executioner of Venice) (1963) PG-13 ****
Lex Barker: Sandrigo Bembo
Guy Madison: Rodrigo Zeno
Alessandra Panaro: Leonora Danin
Mario Petri: Guarnieri the Executioner
Alberto Farnese: Michele Arca
Giulio Marchetti: Bartolo
Feodor Chaliapin Jr: Doge Giovanni Bembo
Franco Fantasia: Pietro
Raf Baldassarre: Grimani the Messenger
Mirella Roxy: Esmerelda
John Bartha: Leonardo the Messenger (as Gianni Barta)
Written by: Luigi Capuano, Arpad DeRiso, and Milton Krims, from a story by Ottavio Poggi
Directed by: Luigi Capuano
Synopsis: The ruler of Venice. Giovanni Bembo intends to have his adopted son Sandrigo assume regency upon his marriage to the lovely Leonora. Bembo's High Inquisitor Rodrigo Zeno secretly covets Leonora and the throne, and plans to have Sandrigo framed for treason to get both. He tricks Guarnieri, a returning mercenary soldier, that the Bembo family was responsible for the loss of his infant son, into helping him, though the truth proves to be far stranger and compelling than fiction.
In the early 1960's, Italy tried to reinvent the Swashbuckler epic that packed cinemas between the 1930's to early 50's. While the craze only lasted a short time, several films proved to do justice to the Hollywood classics decades earlier. Usually most Swashbucklers dealt with pirates or knights, and the Italians of course did good versions of these stories, but they also included stories of their own history, often purely fictitious though sometimes loosely based on true people, all after the fall of the Roman Empire. This go around has a young noble falsely accused of being a traitor to his kingdom by a political rival and only with the aid of his father's closest friends can he clear his name and topple the man intent on stealing the throne. Throughout the film, truths start coming to light and characters begin to learn about themselves and others, past sins are forgiven. and plans are hatched to ensure things are made right. While a little more driven by story, characters, and intrigue than on action, Il Boia proves to be an entertaining Mini Epic that gives off the same thrills and excitement as the films of Errol Flynn. Much of the film's exteriors were shot in Venice and, proving once again that films tend to act as time capsules, shows the beauty of the city and the grandness that helps fuel the story.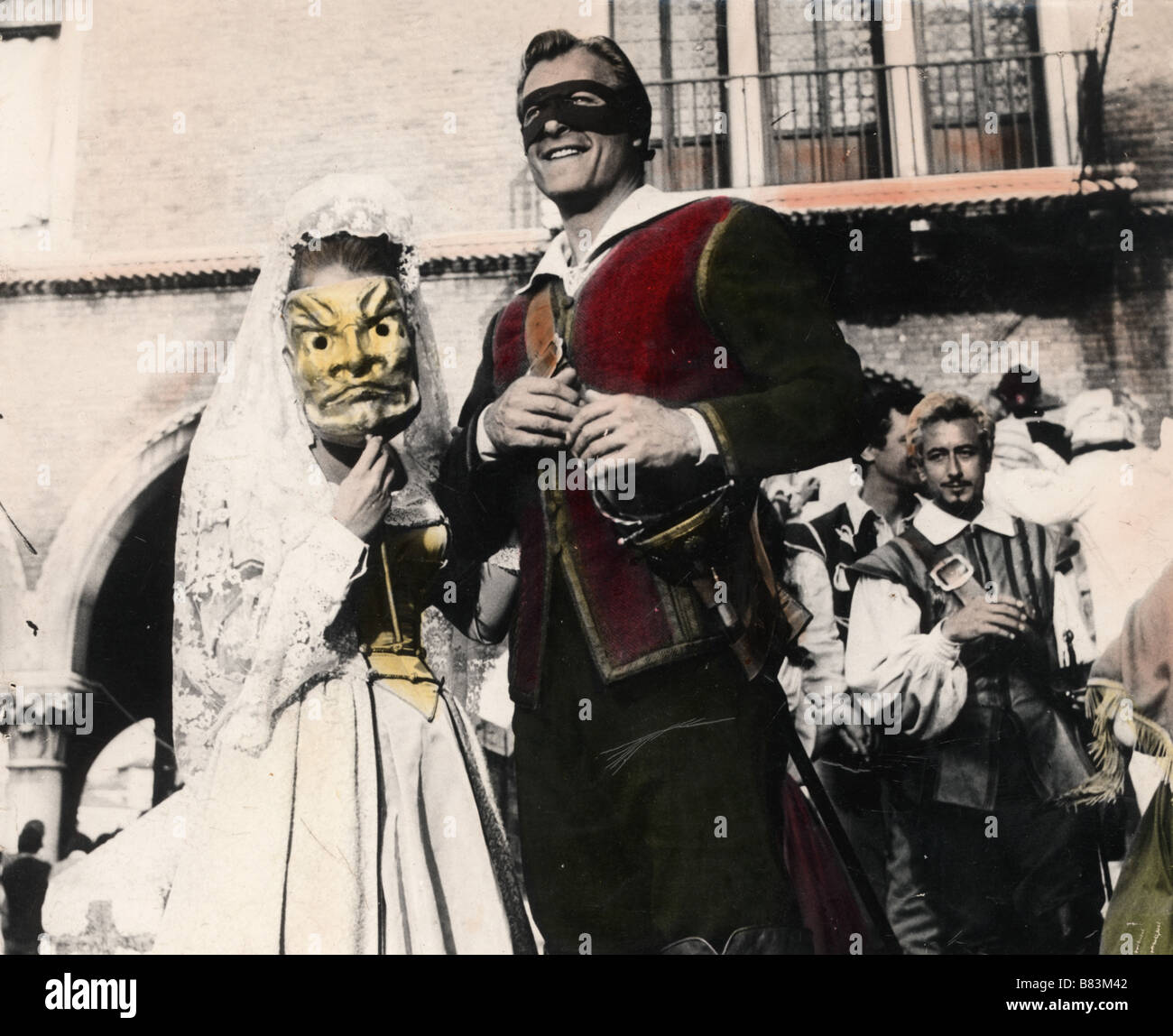 Lex Barker, an American character actor most famous for his 5-film stint as Tarzan, and later as a popular star over in Germany, especially as Old Shatterhand in the Winnetou Westerns, exudes class and charm as the character of Sandrigo. A noble as the result of adoption, Sandrigo doesn't behave as a traditional aristocrat does, instead choosing to be among the people and earning their trust as a future leader. When his position and marriage are threatened by an unscrupulous fellow noble and a man whom the noble has fooled into believing Sandrigo is his enemy, he must bide his time and follow the advice of his friends to come out alive and free. While Barker didn't possess a SAG or Actor's Studio talent, he did have a presence and a naturalism to him that over time developed into a fine set of abilities that served him well for the remainder of his career. His background as the son of an affluent family (who unfairly disowned him for his decision to become an actor) served him well for the role of a nobleman, remembering some of the people he encountered in his youth and early adulthood. His very average, easy going personality gives a nice hint that there's a little more to his story than what's already known about him, adding to the character.
Guy Madison, an American leading man turned character actor, most famous for his early television role of Wild Bill Hickok and then as a popular actor in Europe, proves he's equally good at villainy as the slimy Rodrigo. While in the US Madison usually played heroes or good-hearted scoundrels, the cinema of Italy and Germany gave him the occasional opportunity to showcase his range and let him play villains. As Rodrigo Zeno, Madison gets to play up the boudoir baddie, a man who talks tough, but always gets others to do his fighting for him. Even though he has an excellent position as the High Inquisitor, making sure rabble-rousers don't overthrow his Regent, Rodrigo lusts after both power and a woman who's in love with another man. Relying on classical intrigue storylines from other films and plays, Madison plays up Rodrigo as using the political unrest of the time to make the courts believe the Regent's adopted son is behind a huge conspiracy against Venice. Madison's addition of double-talk gives a lot more to the character as he uses every which way he knows to get people to believe his lies. However, certain truths and realizations begin coming to light and the noose slowly begins to wrap itself around Rodrigo and force him to try the cruelest method at his command to ensure success.
(While Barker and Madison didn't share too many scenes in this film, they would later again play adversaries, the 2nd go around in the German Western Old Shatterhand, inspired from the novels and stories by Karl May.)
Mario Petri, an Opera singer who also dabbled in film acting for a little while, is a surprising success as Guarnieri, a soldier turned head executioner for the city of Venice. Relying on his Opera training, Petri has Guarnieri as a man embittered by war and loss, determined to avenge the son hew never knew, even if it means taking on the Regent himself. With the character not being too different from stage characters like Canio from Pagliacci, Don Jose in Carmen, Orestes in Elektra, and Rodolfo in La Boheme, Petri found relating to his role not difficult at all and played him as if he were still on the stage, but talking instead of singing. While it first looks as if the character is primarily a supporting henchman to Madison's bad guy, it becomes clear early on in the film that Guanieri will be essential to the plot in a very substantial way. Coerced by the evil Rodrigo that Sandrigo is the key to his vengeance, Guarnieri goes to many lengths to ensure he is successful. Soon, something occurs that makes Guarnieri question everything he's believed for a good part of his life, and must decide between his personal gain and safety or his country and comrades.
By mixing action, thrills, and intrigue, Il Boia is a Swashbuckler with an intricate and sometimes complex storyline that rises above the low budget the producers of the day allotted standard genre cinema of the day. Great location scenery and a fine cast help to enliven the story and move the film along at a fair pace.  Not perfect, but clearly above average, Il Boia is an underscored minor classic that deserves to be better recognized.
(I do recommend this film for lovers of costume dramas, historical adventure, and swashbucklers as it is quite good. It certainly isn't everyone's cup of tea as the budget isn't immense and some elements look a little phony, but still makes for a nice afternoon relaxing watch. The cinematography of the film is well worth a watch alone as Venice is a very beautiful city and that beauty is amazing to look at, especially in pan overs of the city. Lex Barker proves here he wasn't just a ruggedly handsome face and gets to show off what he learned in the Studio era of Hollywood that would suit him well in Germany in the 60's. Guy Madison is also on fine display with one of his rare bad guy roles, and shows he could play whatever was offered him. The DVD from Germany's Colosseo Film label sports a nice visual transfer and fair audio as the tracks seemed to have aged a bit and well worth the 9 Euros price)
All images courtesy of Google.com/Google Images and their respective owners
For more information
IMDB/The Executioner of Venice
Wikipedia/The Executioner of Venice
https://www.amazon.de/Henker-von-Venedig-ungeschnittene-Kino-Fassung/dp/B00GZAHHY6/ref=sr_1_28?s=dvd&ie=UTF8&qid=1550515718&sr=1-28&keywords=lex+barker
Filed under: Film: Analysis/Overview