by Tony Nash
(A Part of The Cycle of the Melodic Gialli)
(Spoiler Free)
(All Opinions are of the author alone)
(This review is of the Italian language version)
La Morte Accarezza a Mezzanotte (Death Walks at Midnight) (1972) R ****3/4
Nieves Navarro: Valentina, the Model (as Susan Scott)
Simon Andreu: Giovanni "Gio" Baldi
Pietro Martellanza: Stefano, the Artist (as Peter Martell)
Carlo Gentili: Commissario Sepavia
Claudie Lange: Verushka Wuttenberg
Ivano Staccioli: Prof. Otto Wuttenberg
Claudio Pellegrini: Henri Velaq
Luciano Rossi: Hans Krutzer
Raul Aparici: Juan Hernandez
Manuel Muniz: The Porter (as Pajarito)
Roberta Cifarelli: Delores
Written by: Ernesto Gastaldi, Mahnahen Velasco (as May Valesco), & Guido Leoni (dialogue), adapted from a story by Sergio Corbucci
Directed by: Luciano Ercoli
Synopsis: Valentina, a model and photography worker, is certain she's witnessed a murder from the apartment across from hers. The problem is she saw it while testing a recently approved drug at the request of her journalist boyfriend Gio for his magazine. While the police inform her a drug smuggling related murder did take place at the apartment six months earlier, who Valentina identified as the victim and the killer don't match. When nobody, including Gio, her ex-boyfriend Stefano, and the police, believes her story, Valentina is forced to take on the role of detective to find out if what she saw was real or a result of the effects of the drug.
Filmmaker Luciano Ercoli takes his audience through a maze of deceit, lies, drugs, and, criminal intrigue with this effective and interesting Giallo. The genre was firmly cemented as a box office bonanza and many producers, directors, and screenwriters were taking advantage of the boom. Ercoli and the screenwriters once again set themselves apart from the pack by having the heroine of the film certain she saw a murder being committed, but being under the influence of a drug stimulant has everyone, except the guilty parties, certain she was out of her head. What follows is a mystery involving greed, deception, lies, gas lighting, drugs, love, sex, and murder. Whenever it seems the heroine is on her way to proving she wasn't crazy or hopped up on drugs, something or someone disappears leaving her looking more foolish than before. After meeting two people who unquestionably believe her story, but finding they make even less sense than what others have said of her, Valentina starts to wonder if a mass conspiracy has been designed to get her committed to a mental hospital. When certain events and meetings occur sporadically, both the police and Gio begin to get the aching feeling that Valentina was right and is in a danger that even she couldn't predict.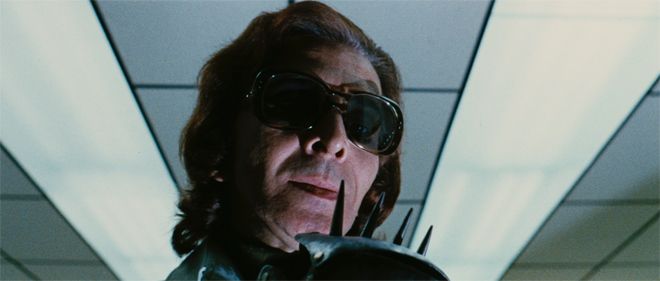 An interesting foot note to the film is that the screenplay was based on a story/treatment by Sergio Corbucci, the noted Italian Western director. Corbucci penned the story sometime in the mid 60's, but for one reason or another, sold the story to one of the many producers of the day. Little info seems to exist on whether he intended to turn the treatment into a screenplay himself, but given he didn't take advantage of the Giallo or Poliziotto craze of the 70's, and shamefully did little else but bawdy comedy, it doesn't seem likely.
Nieves Navarro, in one of her earliest top billed roles, gives a fantastic performance as Valentina. Unlike most female lead characters of the Giallo genre, Valentina is a very strong-willed woman who doesn't take being told she's loony, and often tells the males so right to their faces. When she discovers her boyfriend took advantage of her drug induced stupor and gave her name as the test subject of his article, instead of giving into his charms and looks, she openly berates him in front of his colleagues and even physically attacks him, a very much need forward thinking reaction for the period. She still caters to the typical themes of the Giallo heroine in that she screams out terror when she's certain she's being stalked people who want to see her dead, but for the majority of the film maintains a stoic and dignified personality that rises above the typical characters seen in the genre. Even when faced with the idea she's all alone in what she knows she saw, Valentina doesn't give up in proving she saw a murder being committed.  Navarro's spitfire personality served her very well with the role, and her explosive outbursts to anyone who calls her a liar are very ahead of their time and much needed at a time when Italy was still very much a machismo patriarchal society.
Simon Andreu, a Spanish actor who occasionally worked in Italian films, does an interesting job in the role of Gio Baldi. While not the first ethically questionable journalist presented on screen, Andreu adds some interesting color by not being worried his girlfriend might sue him and his publisher for defamation and for not respecting her privacy. Certain his charms and wit will get him out of trouble, he almost has to be honest when the Police Commissioner threatens him with arrest for public hysteria after the article of drug induced identification of a murderer has the public demanding answers. Wanting to believe Valentina, and trying to clear himself of sensational yellow journalism charges, Gio tries to help the woman he loves prove her story to be the truth. Soon wondering if he's the victim of his own hype and ethics, Gio worries his trick on Valentina is causing her to lose her mind. Constant questions from the Commissioner reinforce these feelings, but certain impromptu situations and thoughts have second guessing both himself and what the authorities have uncovered.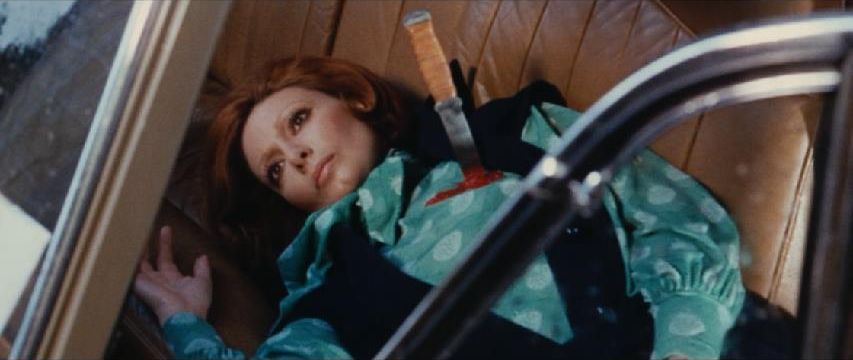 Pietro Martellanza, an Italian character actor who went by the Anglo pseudonym Peter Martell, is an enigma as Stefano. A struggling sculptor who was once madly in love with Valentina, Stefano's jealousy and occasional drunkenness robbed him of a great love. Concerned about what happened to her recently and trying his hardest to make her remember they had a good thing before he screwed up, Stefano seems to be the only light in Valentina's world of haze and uncertainty. Soothing her with his unquestioning support in spite of believing the drugs played harshly with her mind, Stefano slowly starts to prove he's a changed man. Claudie Lange, a Belgian actress who had a period of success in Italy, shines in the role of Verushka Wuttenberg. A woman on the verge of madness knowing her sister's killer is still free and an innocent man locked away for the crime, Verushka tries to find the truth without exposing her identity and thus incur the wrath of her questionable husband. This true paranoia makes Valentina certain of a conspiracy as Verushka makes little sense in what she says, but her sincerity in wanting to prove her sister's lover innocent and proving Valentina hadn't imagined the whole thing has Valentina hesitantly trusting the mysterious woman.
Packed with the twists, turns, and red herrings worthy of an Agatha Christie novel, Mezzanotte provides viewers with dizzying spectacle and an uncertainty of what's going on. While simple in some respects like plot, the execution of the story and handling of the characters give it an added spice and suspense that give the simple story a not so simple unfolding. Keeping viewers in the dark as much as the characters as to who's behind the whole affair makes for an intriguing ride as it allows for the revelation to come later on to have a powerful and a WTF effect that would leave any audience flabbergasted.
(I highly recommend this one for the unique way it tells the story it intends to tell and for the the well executed surprise near the end. The cast, especially Nieves Navarro, give fine performances worthy of the Mystery Thriller genre. Arrow Video once again does a fine job with audio and visual restoration of this classic of the Giallo genre, the only negative being a 3-5 minute sequence where no Italian audio has survived and the English dub suddenly crops up, but because those minutes don't add a whole lot to the outcome of the story,  it's not a distraction.)
All images courtesy of Google.com/Google Images
for more information
https://www.imdb.com/title/tt0068971/?ref_=nm_knf_i1
https://en.wikipedia.org/wiki/La_morte_accarezza_a_mezzanotte
Buying Options
https://www.amazon.com/Death-Walks-Midnight-Special-Blu-ray/dp/B01NCMILZS/ref=sxbs_sxwds-stvp?crid=69HQ4VHL6ZLG&keywords=nieves+navarro&pd_rd_i=B01NCMILZS&pd_rd_r=21c7bcbe-5f9d-4a50-a59e-5c083d3b3e6f&pd_rd_w=uj5nF&pd_rd_wg=jSR6g&pf_rd_p=a6d018ad-f20b-46c9-8920-433972c7d9b7&pf_rd_r=6YGJRN3FC9B0KMW4V651&qid=1559758835&s=movies-tv&sprefix=Nieves%2Caps%2C138
https://www.amazon.com/Death-Walks-Twice-Luciano-Midnight/dp/B01991ZKIW/ref=sr_1_13?crid=69HQ4VHL6ZLG&keywords=nieves+navarro&qid=1559758807&s=movies-tv&sprefix=Nieves%2Caps%2C138&sr=1-13
https://www.amazon.co.uk/Death-Walks-At-Midnight-Blu-ray/dp/B01N2TGR1S/ref=pd_sim_74_1/258-6123273-9630223?_encoding=UTF8&pd_rd_i=B01N2TGR1S&pd_rd_r=d99d20f8-87be-11e9-86c0-efb006a43254&pd_rd_w=e0HYo&pd_rd_wg=8NLii&pf_rd_p=1b8636ae-4f21-4403-a813-e8849dd46de4&pf_rd_r=W5M40NFDXWPDCEBCDEBJ&psc=1&refRID=W5M40NFDXWPDCEBCDEBJ
Filed under: Film: Analysis/Overview, Film: Special Topics