by Tony Nash
(A Part of Poliziotto e Criminale: The Poliziotteschi of the 1970's)
(All opinions are of the author alone)
(Mild to Spoiler Free)
(This review is of the Italian language version)
Roma Violenta (Violent Rome) (1975) R ****
Maurizio Merli: Comissario Betti
Richard Conte: Avvocato Sartori
Ray Lovelock: Undercover Cop Biondi
John Steiner: Franco "Chiodo" Spadoni
Silvano Tranquilli: Captain of the Mobile Unit
Daniela Giordano: Betti's Girlfriend
Attilio Duse: Mar. Antinori
Giuliano Esperati: De Rossi
Marcello Monti: La Chinise
Mimmo Palmara: De Julis
Written by: Vincenzo Mannino
Directed by: Marino Girolami (as Franco Martinelli)
Synopsis: Inspector Betti, fed up with the brutal street criminals, asks for a special squad of men to round them up. When several people are senselessly killed in various public hold-ups and his undercover partner maimed by a notorious offender, Betti decides to take matters into his own hands. When he's invited by a prominent attorney to join his vigilante squad, Betti begins to have an appreciation for the badge he swore to uphold.
The success of Charles Bronson's classic film Death Wish began a wave of vigilante protagonist films within the subgenre of Euro Crime in Italy. While Gene Hackman's "Popeye" Doyle in The French Connection solidified the tough, no-nonsense cop who fights back hard against the criminal element, Bronson's Paul Kersey solidified the same cops deciding the courts protected the guilty instead of the innocent and choosing to deliver their own brand of justice to the criminals. Roma Violenta was the first of these new kinds of Cop and Gangster films and doesn't disappoint. When a senior investigator for the Roman police department decides enough is enough with the rampant and brazen crimes of street thugs, he decides to go after the criminals himself, dead or alive doesn't matter, with or without the approval of his superiors. As he goes from crime to crime, the detective ends up learning quite a bit about himself, the law, and humanity. All the exteriors were shot in the city of Rome, and various highways and streets become battlegrounds as the police and citizen units step up to put a dent in criminal activity. The beauty of Rome is also on display as audiences get brief glimpses of historic landmarks like the Colosseum, and even get to see what a traditional Italian neighborhood and shopping district looks like.
A common notion is that Euro Crime films were pro right wing and fascist, as the heroes are police officers who kill criminals without reprimand or trial, and the criminals are seemingly vilified low-level hoods who are only wicked because of social circumstances and because of personal problems. This idea is highly erroneous and a complete misconception as the majority of Euro Crime screenwriters and directors were prominently left wing who, while wanting to comment and incite change on what they felt was a growing criminal and terrorist threat, only wanted to tell exciting and thrilling stories audiences could sit back and enjoy, and at the same time learn more about what needed to be done to make Italy a better place.
Maurizio Merli, a popular figure in the world of Euro-Crime films, gets his star defining role in Comissario Betti.  Groomed by his agent and producers as a Franco Nero lookalike, Merli found his niche as tough guy cops who were about getting the job done. Merli exudes a raw emotional power in Betti that oozes he's all about helping the innocent and putting away the bad guys. Feeling as if his job is more of a hinderance than a help, Merli has Betti go his own way making sure the criminals are brought down for their actions. That he goes to many great lengths, including several chases by car, to catch the bad guys shows his dedication to the job and that he puts the public above his own safety. While not cynical in any way, Merli does give Bettit a kind of pessimism in that he can't stop crime completely and that he can't do it on his own, but still believes in liberty and justice for all, in spite of that he believes in his superiors' incompetence in getting things done. Richard Conte, a veteran and respected Hollywood character actor who spent the last decade of his career in Italy, offers a brief but powerful performance as Sartori. A prominent lawyer who became fed up with getting criminals off the hook and failing to get justice for the deserving, Sartori decides to form his own civilian patrol unit who makes sure the criminals are arrested by the police, but not before having the assailants beaten to a pulp. Like Merli, Conte plays Sartori as a civic servant who believes in the law and justice, but soon realizes the justice he believes in is blocked by the courts. When two dirtbags attack his home and daughter as retaliation for the patrol's taking out fellow criminals, Conte has Sartori come to that crossroads of wanting justice or revenge, a road Merli's Betti will have to cross later.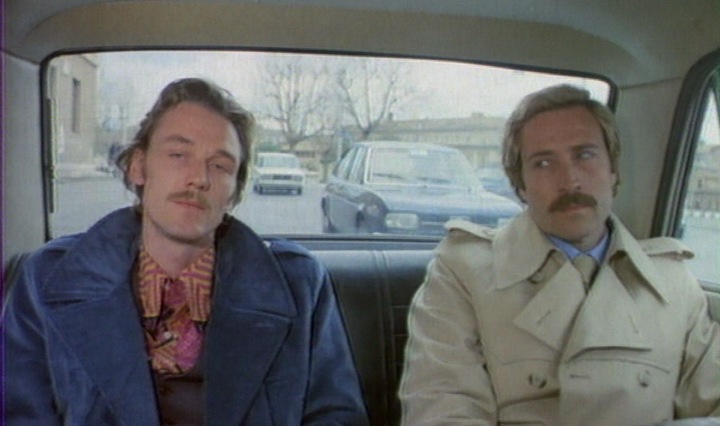 Ray Lovelock, an actor the product of an expate British father and Italian mother, is his usual cool and neutral self as Biondi. A former crook turned undercover cop, Biondi uses his street smarts to help Betti catch the bad guys. Aware that justice is a grey area instead of black and white, Biondi has more objectivity than Betti when it comes to how criminals work and think, as how the courts work in getting convictions, but still has that sense of wanting to make right what he used to help make wrong. When he's nearly left completely paralyzed after helping Betti prevent a bank robbery, Biondi soon realizes his partner's way of thinking may not be wrong, but still tries to warn him that the criminals they deal with daily aren't afraid of the police and have no qualms about daylight or public reprisals. John Steiner, a British actor who worked in Italy gives a memorable extended cameo appearance as Franco Spadoni, alias Chiodo. A known felon with a long list of crimes under him, Spadoni is a violent man. When he shoots Biondi in the back as he and Betti foil Spadoni's most recent job, the criminal must try to elude the now vengeful Betti who is now in shoot to kill mode. Steiner's known penchant for sadistic and slimy bad guy roles comes in handy with the brief part as from the very start audiences already seem to despise him.
The only flaw, a slight flaw to be fair, is the film's story structure. It appears to play out as an episodic flare which isn't a bad thing, but does make things a little difficult to pinpoint what the exact plotline is. With the consensus being that the film follows Betti as he comes to despise the city's lack of being able to take proper action against the street punks terrorizing and killing the general populace then the episodic style works as it shows the protagonist's gradual shift from one way of thinking to another.
An underrated and overlooked classic within the Polizioteschi sub-genre of the Crime film, Roma Violenta offers an early glimpse into Italy's other smash franchise that, while wasn't as successful abroad as was the Westerns, was enjoyed all over. Mixing entertaining story and action with real life commentary on the conditions Italy was facing at the time, the film manages to touch all bases to become a cult classic.
(I highly recommend this one as while it offers up its story in more of a segments fashion, each part is compelling on its own merit into what was going on during that time period. The acting, especially from Merli, Conte, and Steiner are spot on and make audiences root for them to succeed, or root that they get their comeuppance. Sadly, the film has been overlooked and didn't the restoration its two sequels did [Which will be discussed later in this series] and the only available DVD offers a clearly tired, but still very watchable print. I, as many others hope, that this film will get at least a 2K restoration that it truly does deserve.)
All images courtesy of Google.com/Google Images and their respective owners
For more information
https://www.imdb.com/title/tt0073633/
https://en.wikipedia.org/wiki/Violent_Rome
Buying option
https://www.amazon.it/Roma-Violenta-Dvd-Silvano-Tranquilli/dp/B0015RWQNQ/ref=sr_1_1?__mk_it_IT=%C3%85M%C3%85%C5%BD%C3%95%C3%91&crid=19557WG3HPXFP&keywords=roma+violenta&qid=1560360824&s=dvd&sprefix=Roma+Viole%2Caps%2C213&sr=1-1
Filed under: Film: Analysis/Overview, Film: Special Topics