From Tony Nash
(all opinions are of the author alone)
Hello to my followers, those I'm following, and all curious visitors,
A while back on YouTube there was a briefly lived recurring series amongst their film fan community called The Coffee Film Tag wherein those asked aka "tagged" to participate would pick films they loved and match them with a type of coffee flavor. I thought it would be interesting, so long as no one's thought of it already, to give this Tag the WordPress treatment. Here are the coffee flavors for those who may not have heard of this previously:
Black Coffee – A Favorite Film That's Hard to Get Into
Peppermint Coffee – A Favorite Christmas/Holiday Film
Hot Chocolate – A Favorite Children's Film
Double Espresso A Film That Held Your Interest for the Whole Run Time
Starbucks: A Film That You've Watched More Than Any Other
Hipster Coffee Shop – Give an Indie or Foreign Film a Shout-Out
Oops….Got Decaf – A Film That Disappointed You
Perfect Blend – A Bittersweet Film Mix That Seems Perfect
Coffee With Your Sugar – A Film You Might Love a Little too Much
Friends Don't Let Friends Have Starbucks – A Film You Tell Others to Avoid
My only rules with this version are to keep the Films pre 1990 if possible, the Holiday & Children's Films and Films to Avoid being automatic exceptions, to keep the choices unique and interesting, and that two way and three way ties are welcomed and encouraged.
To get the ball rolling here are my picks
Black Coffee: Shichinin no Samurai (The Seven Samurai) (1954) by Akira Kurosawa – While I enjoy this film very much, I feel as though Kurosawa takes a little bit too much time in fleshing out the characters and then getting the Samurai to the village. It's still a magnificent film that's highly recommend, but is just a little too slow in places
Peppermint Coffee (tie): National Lampoon's Christmas Vacation (1989) by Jeremiah S. Chechik & Ernest Saves Christmas (1988) by John R. Cherry III – Chevy Chase reminds us of the true meaning of Christmas in the third of the Vacation series as Clark Griswold does his upmost best in giving his family the best Christmas possible, with zany results ensuing in his attempts, eventually finding he'd already succeeded. Jim Varney gives us all back our childhoods as Ernest P. Worrell, again reminding us what Christmas is about and how the magic of the season makes good things happen.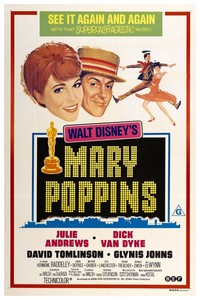 Hot Chocolate (tie): Mary Poppins (1964) by Robert Stevenson, The Sword in the Stone (1963) by Wolfgang Reitherman, and The Wizard of Oz (1939) by Victor Flemming and King Vidor – Impossible not to include Disney in these kinds of lists. Two Films that remind us that magic is all around us, especially in the most unexpected of places. Oz should really be on everyone's list as a film from childhood, a classic in every sense of the word. Beautiful costumes, make up, story, cast, everything fits together perfectly.
Double Espresso (tie): Yojinbo (Yojimbo) (1961) by Akira Kurosawa & Milano Calibro 9 (Caliber 9) (1972) by Fernando Di Leo – The close-up credits of the camera following Toshiro Mifune as he itches the fleas off of him makes for an intriguing start to Kurosawa's masterpiece of action, drama, and intrigue. The bungling of a criminal gang's secret payoff and the subsequent beatings and killing of the mules used to fool the cops is a unique way to start thrill ride of action, suspense, and mystery. the reveal at the end is a total WTF moment.
Starbucks (tie): The Indiana Jones Franchise (Raiders of the Lost Ark [1981], The Temple of Doom [1984], The Last Crusade, and The Kingdom of the Crystal Skulls [2008]) all by Steven Spielberg – The Films and the character that made me a Film fan for life. All fine big budget homages to the classic serials of the 1930's-1950's. Spielberg and George Lucas created an all time modern classic that are still watched by fans old and young today. And yes, I really enjoyed The Kingdom of the Crystal Skulls.
Hipster Coffee Shop (tie): Le Cercle Rouge (The Red Circle) (1970) by Jean-Pierre Melville, Le Mani Sulla Citta (Hands Over the City) (1963) by Francesco Rosi, & Das Testament des Dr. Mabuse (The Testament of Dr. Mabuse) by Fritz Lang (1933) – Three Films made on average budgets that came out better than expected. Meville tells one of the greatest stories of heists and of male friendship and loyalty with tragic pathos. Rosi takes his audiences through corruption and naivety as cases are made against a businessman with political ambitions as all sides of the government use his dilemma to their advantage. Lang creates one of the most timeless early sound films with a masterpiece that looks like it could've been made today.
Oops…..Got Decaf: La Decima Vittima (The 10th Victim) (1965) by Elio Petri – I must say I wasn't completely disappointed by this as there were several things I really enjoyed with it. Petri's overall execution isn't as up to par with the story as it should be and leaves audiences to wonder if there wasn't more Petri could've done to make it one of his more viewer friendly fare.
Perfect Blend: Lonesome (1928) by Pal Fejos – A simple love story told in a very extraordinary way. Just when it looks like things are going to turn to bad for the love birds, a very mundane action causes one of the most beautiful and happy endings ever.
Coffee with Your Sugar: Les Parapluies de Cherbourg (The Umbrellas of Cherbourg) (1964) by Jacques Demy – For about 3 or 4 years I just couldn't get this film out of my mind. When first saw it at the age of 20, I was captivated not only by the story, music, and colors, but also of star Catherine Deneuve's beauty that made her my all time favorite actress. I may very well give this musical soap opera melodrama way too much praise, but there's a beauty to it that I just can't deny.
Friends Don't Let Friends Have Starbucks: Dark Shadows (2012) by Tim Burton – Probably the most ludicrous re-telling of a classic 60's TV series ever! Tim Burton actually did the original Classic Dark Shadows a dishonor with this film, changing the characters around far too much, and making villains out of characters that need not be as such. Dan Curtis' own film House of Dark Shadows (1970) of his series already did what he wasn't able to do with the show. Avoid at all costs.
To wrap this up I'd like to tag
Make Mine Criterion! (spinenumbered) https://makeminecriterion.wordpress.com/,
Cinema Europa https://cinemaeuropa.org/,
Guilty Pleasure Cinema Reviews https://guiltypleasurecinemareview.com/,
Cracked Rear Viewer (Gary Loggins) https://crackedrearviewer.wordpress.com/,
The EOFFTV Reviews (Kevin Lyons) https://eofftvreview.wordpress.com/,
House of Freudstein (Progcroc) https://houseoffreudstein.wordpress.com/,
Mike's Take on the Movies (mikestakeonthemovies) https://mikestakeonthemovies.com/,
I Found it at the Movies (Debbi) https://debbimacktoo.wordpress.com/,
and The Wee Writing Lassie https://weewritinglassie.home.blog/
And see what their picks would be.
Have fun everyone with this.
All images courtesy of Google.com/Google Images and the Wikipedia
Filed under: Film: Special Topics