by Tony Nash
(A Part of Western Wednesdays)
(Mild Spoilers)
(all opinions are of the author alone)
(this review is of the Italian language version)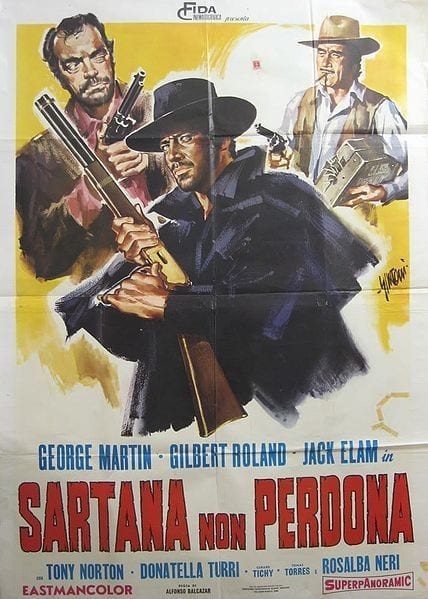 Sonora (Sartana non Perdona/Sartana Does Not Forgive) (1968) **** R
George Martin: Sartana Uriah
Gilbert Roland: Kirchner
Jack Elam: Slim Kovacs
Antonio Monselesan: Jose (as Tony Norton)
Gerard Tichy: John Sullivan
Tomas Torres: Reyes
Oscar Pellicer: Sharkey Lasky
Osvaldo Genazzani: Sheridan
Gustavo Re: The Undertaker
Carlos Miguel Sola: Mateo
Rosalba Neri: Stagecoach Passanger
Donatella Turri: Jose's Wife
Written by: Giovanni Simonelli, from a story by Jaime Jesus Balcazar
Directed by: Alfonso Balcazar
Synopsis: After outlaw Slim Kovacs rapes and murders his young wife, gunman Sartana vows revenge and goes after everyone associated with Kovacs. Problems arise when Sartana's mercenary friend Kirchner accepts an offer from Kovacs as his bodyguard.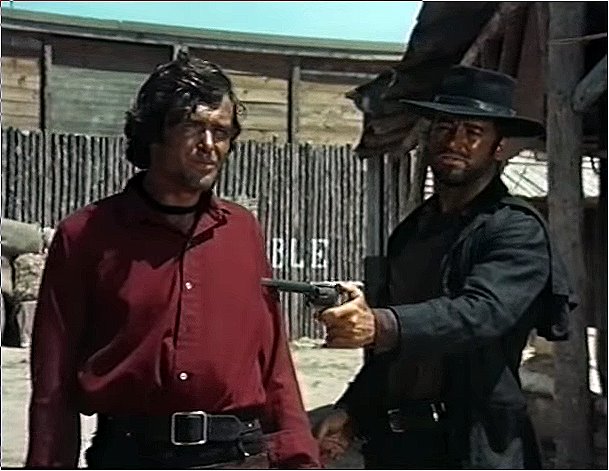 1968 was another pivotal year for the Italian Western genre. Sergio Leone had his spectacular C'era una Volta il West (Once Upon a Time in the West), Sergio Corbucci had his revisionist grim Il Grande Silenzio (The Great Silence), and Gianfranco Parolini introduced one of the most iconic characters to the genre, Sartana. With the Italians being noted for taking a popular story or idea or character and milking it to the point of parody, names like Sartana, Django, and Sabata were no exception to the rule. With 68 being the peak of the genre, and the events of May of that year slowly but surely changing the landscape of European cinema, some filmmakers decided to go against what was expected of them in regards to the times, and tell exciting stories to entertain. Sonora ironically proved to be one of the better entries into the Sartana series/knock-offs. Taking a more serious, somber, and at times grim approach to both the genre and the character, filmmaker Alfonso Balcazar and his screenwriters Giovanni Simonelli and J.J. Balcazar craft a very different, interesting, and very well-done tale of murder, revenge, money, and intrigue, all as a broken man looks to avenge the death of the woman he loved and finally move on with his life.
An interesting foot-note to the film is that Giovanni Simonelli was more known as a writer of Comedy films, particularly those of the duo Franco e Ciccio (Italy's version of Laurel & Hardy). That he helped craft a brooding, dark Western about rape and revenge turned the heads of many of his comedy work. That the film was a success showed Simonelli was versatile in his abilities as a writer, penning a few more Westerns, and even the occasional Mystery Thriller, but never really straying too far from Comedies.
George Martin, a good-looking Spanish actor (and one of the few Spanish leading men of the genre) gets to sport scruffy facial hair, sun-drenched tan, and sweat in the role of Sartana Uriah. Originally a bar-hopping playboy and scrapper, Sartana gives up that life when he falls in love with a beautiful local girl. His newfound happiness and life as a rancher is tragically cut short when he finds his wife raped and murdered. Martin then has his normally smiling and charming hero go into a serious and somber mood, mercilessly going after all the men associated with the brutal crime. When he meets a poor Mexican farmer, who was double-crossed by the murderer who coaxed him into a bank heist, Sartana becomes reminded of who he used to be and decides to help the farmer while also seeking out his quarry. He soon finds his quest may not be so easy when a friend of his is seemingly taking sides against him. Martin makes for a good contemporary to icons like Clint Eastwood, Franco Nero, Gianni Garko, and George Hilton, and while it's clear to see even under the stubble he was a fairly handsome man who would could've easily done well in the romantic lead department, but was loyal to his character roots and made a pretty decent career for himself as either the good guy, buddy of the good guy, or the villain.
Gilbert Roland, a Mexican actor who prospered in Hollywood's Golden Age, does very well in the role of the mysterious and cagey Kirchner. A mercenary by occupation who seems content to simply rid the local area of incoming bandits looking to hide out there, Kirchner still will sell his gun to anyone who offers a high enough price. Certain of Sartana's intent to possibly get himself killed in getting revenge, Kirchner becomes involved with the slimy Slim Kovacs to see what will play out. As he becomes more aware of what Sartana is out to do and stop, Kirchner begins to wonder how long he can remain on the sidelines waiting to see who will approach him. Roland uses an impartial gaze to illustrate that Kirchner doesn't take sides on any occasion, but nevertheless always has a certain idea about people, and simply watches until he is certain of what he should do, though sometimes the watching and waiting game can be equally dangerous. He has a clear respect for Sartana and seems to know a little about what has happened to him in the past, but reasons known only to himself keep from being open about it.
Jack Elam, one of Hollywood's most frequently utilized character actors, gets one of his rare opportunities at a prime role with Slim Kovacs. A devious, lecherous, and completely untrustworthy type, Kovacs has little loyalty to anyone save for the absolute dregs of the West, and takes utter delight in doing whatever he wants, including sadistic pleasures. He goes too far however when he rapes and kills the wife of Sartana, and finds not just himself, but anyone who associated with him, the target of the man's wrath. With his famous leering glass eye that looks like it follows everybody, Elam is able to showcase the kind of sleaze one would expect from a Italo Western baddie and does it very well. In spite of his treacherous, cowardly nature, he's able to take over a town after gunning down the sheriff in a duel that's later revealed to be fixed in his favor, and proceeds to reap the benefits with his equally sleazy men. This overconfidence will pay a key factor later.
While not offering anything completely original, save for the ambiguous nature of some of the characters, the film is evenly paced and with enough depth to keep it from being totally average fare. The case does well with their roles and convey their own individual form of having the audience root for them or loathe them. Not overtly spectacular, and sticking to gritty realism employed in Corbucci's original Django, Sonora still provides the kind of story, action, and characters that were the staples of the genre.
(Another Italo/Euro Western I highly recommend to anyone to check out. It's a fairly average outing as said above, but the characters keep it very interesting and different, offering a another interpretation to the classic theme of a gunman out for revenge. The DVD from Al!ve Entertainment/AG Films is quite grainy in the visual transfer,but not so much it deters the viewing experience and actually offers viewers a throw-back to the drive in movie days, and offers clear Italian and German audio too. There's no English dub of the film, but subtitles are offered, although I believe the subtitles are in fact dub-titles of a lesser quality English track. Still, the presentation is quite nice and is quite inexpensive to get. )
All images courtesy of Google.com/Google Images and their respective owners
for more information
https://www.imdb.com/title/tt0063548/
https://www.spaghetti-western.net/index.php/Sonora
Buying options
https://www.amazon.de/gp/product/B00SCGATSC?ie=UTF8&tag=italowestern-21
Filed under: Film: Analysis/Overview, Film: Special Topics