by Tony Nash
(A Part of The Cycle of the Melodic Gialli)
(Mild Spoilers)
(All opinions are of the author alone)
(This review is of the Italian language version)
Giornata Nera per l'Ariete (The Fifth Cord) (1971) R ****1/2
Franco Nero: Andrea Bild
Silvia Monti: Helene
Wolfgang Preiss: Il Commissario di Polizia
Maurizio Bonuglia: John Lubbock
Edmund Purdom: Edouard Vermont
Renato Romano: Dr. Riccardo Bini
Luciano Bartoli: Walter Auer (as Luciano Baroli)
Pamela Tiffin: Lu Auer
Ira von Furstenberg: Isobel Lancia (as Ira Furstenberg)
Rosella Falk: Sofia Bini
Agostina Belli: Guilia Soavi
Guido Alberti: G. Traversi
Written by: Mario di Nardo, Mario Fanelli (as Mario Fenelli), & Luigi Bazzoni, based on a novel by David McDonald Devine (as D.M. Devine)
Directed by: Luigi Bazzoni
Synopsis: An alcoholic reporter looks for personal and professional salvation/redemption as he investigates a series of murders committed by The Black Glove Tunnel Killer. His determination becomes more so when the police list him as a suspect because he knew everyone who was attacked.
Luigi Bazzoni, after a four-year hiatus from the critical sleeper Uomo, l'Orgoglio, le Vendetta (Man, Pride, & Vengeance), returned with another excellently made Giallo in Giornata Nera. Going back to the cinematography and lighting that brought him into the limelight with Donna del Lago, Bazzoni once again adds dizzying ambiguity, uncertainty, and intrigue to an already proven gem within the Mystery subgenre. This time the killer is an unhinged psychopath whose crimes are methodically planned, but at the same time don't follow a specific pattern or reasoning, other than that all the victims are in one or another unhappy. The camera angles and movements when the killer strikes expertly hide the majority of his or her body, thud adding to the mystery as to what's really going on. What initially looks like a coverup for underage prostitution, child pornography, and voyeurism soon turns into something much deeper and psychological than even the people investigating could have imagined. Bazzoni once again shows his mastery of keeping his viewers uncertain of character motive and reasoning, letting audience think a character is innocent, and then have something totally unexpected be learned about them.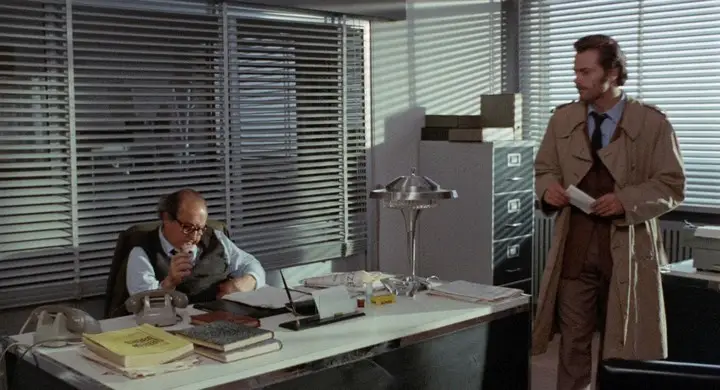 A first for the Giallo genre in this film was Bazzoni and his crew managing to obtain permission to film in one of Rome's most noted public/government buildings. While shooting on location in Italy was never a problem for filmmakers, gaining access to certain buildings belonging either to the government or private businesses often proved problematic, either for fear of it hurting business with tourists and locals always wanting to see where in the building popular actors stood as they worked on the film or that the crew would prove a hinderance to whatever took place in the building via the inner workings of the product. Surprisingly, the owners of the business/building had no problem with Bazzoni's script or where he asked for permission to shoot at, and gave full assistance and cooperation to the director for however long he was filming in the location, offering viewers a rare insight into how business, public and private was conducted in Italy.
Franco Nero, one of Italy's most popular and beloved international genre actors, does a fantastic job in his only Giallo film as Andrea Bild. A once highly respected reporter, Bild has dwindled into mediocrity and drunkenness after a past incident ruins his reputation. When he's called to investigate a series of different, but loosely connected killings, and one attempted killing, Bild believes her can reignite his career and save his life with exposing the killer. When he learns mutual friends are involved somehow in the killings, he goes deeper and deeper into the case. At the same time he tries to rekindle the romance he enjoyed with a fellow correspondent who offers information regarding all the victims. Nero does well with the flawed character, and how he pays him leaves viewers totally believing the character and making him feel like a real person who could've really existed.  After learning the brother of his on again off again mistress is involved in an underage porno/voyeur racket with the lovers of two of the victims, Bild believes the murders were done in order to hide the dirty scheme and to silence the women blackmailing them. Soon however, another possibility occurs to Bild that leaves his correspondent love interest in the direst of situations he must save her and her son from.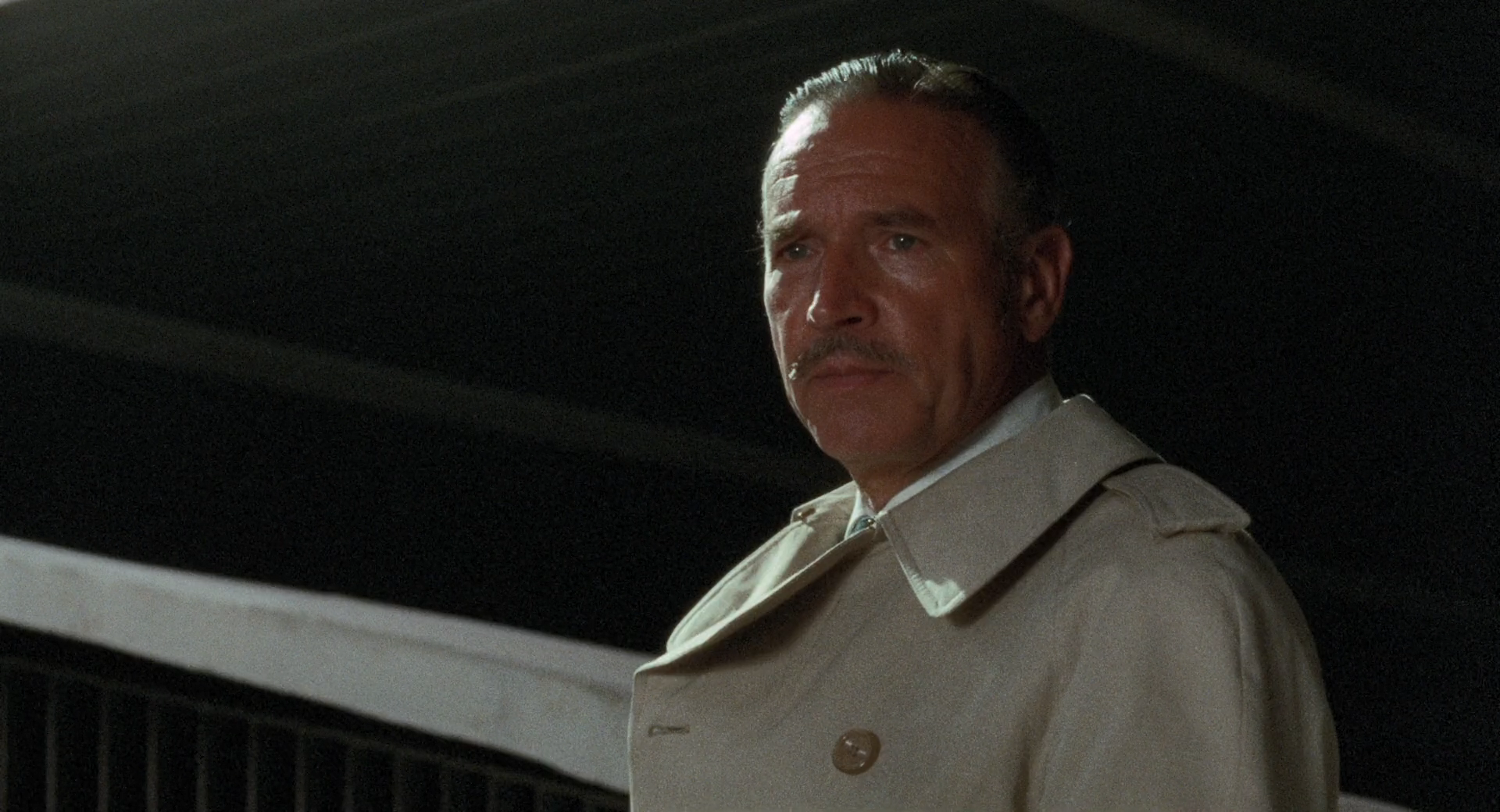 An international cast of character actors including Silvia Monti, Edmund Purdom, Pamela Tiffin, Wolfgang Preiss, Maurizio Bonuglia, and Ira von Furstenberg, all make up the varied suspects, police, and victims within the story. Each has something to hide, learn, or gain from Bild's investigation. Some are guilty of a crime not in connection with the murders, but will ruin said individuals when the new information becomes public, some are innocent and are killed because they've learned things they're not supposed to, and there's even a couple who  are framed as scapegoats so the real perpetrator can get off scot-free. Many will be revealed as far different from how they portrayed themselves as, while others will feel a sense of relief for their acts finally coming out in the open, and the dead will be vindicated in the end.
(Author's Note: Like with La Donna del Lago [Lady of the Lake/The Possessed], discussing the majority of other characters besides the lead would lead to far too many spoilers and plot revelations, so it's best to leave them to just this minute description.)
Well crafted, well-acted, and well shot, Giornata Nera proves to be one of the most artistically aesthetic Giallo ever made. The unique cinematography alone is enough to put it on the top 20 or top 10 Giallos but the intricate and finely wield story add a whole other dimension to the film that puts it in the top 10. The Atmosphere is tense enough that it plays to the tradition of the old school Mystery film, and mixes well with the equally interesting Thriller. There's a scene towards the end that some could argue has something of a Horror vibe, but is really the crescendo to the killer in the shadows who is finally unmasked.
(A must watch for any Giallo fan and film fan in general, I can't recommend this one enough. Franco Nero gives one of his finest performances here, and it's a real shame he didn't do more Giallo films. The rest of the cast does superb work as well, leaving audiences uncertain until the very end if they're innocent or guilty. How Bazzoni frames each scene like a work of surreal art, mimicking the delirium of an alcoholic going through the haze of sobering up and hallucinating DTs. Arrow Video once again knocks it out of the park with visual and audio transfers, and also a new interview with the always lively and enigmatic Franco Nero reliving his memories of working with friends Bazzoni and Vittorio Storato and making the film.)
All images courtesy of Google.com/Google Images and their respective owners, including Mondo Digital
For more information
https://www.imdb.com/title/tt0067134/
https://en.wikipedia.org/wiki/The_Fifth_Cord
Buying Options
https://www.arrowfilms.com/product-detail/the-fifth-cord-blu-ray/FCD1851
https://www.arrowvideo.com/product/the-fifth-cord/940
https://www.amazon.com/Fifth-Cord-Blu-ray-Franco-Nero/dp/B07L3LWXMY/ref=sr_1_6?crid=3HVD8UNAI15E1&keywords=franco+nero+blu+ray&qid=1569434077&s=movies-tv&sprefix=Franco+%2Caps%2C139&sr=1-6
https://www.amazon.co.uk/gp/offer-listing/B07KZ36D7N/ref=tmm_blu_new_olp_sr?ie=UTF8&condition=new&qid=1569434166&sr=1-13
Filed under: Film: Analysis/Overview, Film: Special Topics