by Tony Nash
(A Part of the Cycle of the Melodic Gialli)
(All opinions are of the author alone)
(Spoiler Free)
(This review is of the Italian language version)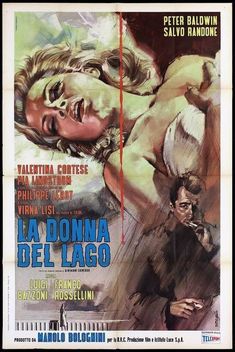 La Donna del Lago (The Lady of the Lake/The Possessed) (1965) ****1/2 PG-13
Peter Baldwin: Bernard, a Writer
Salvo Randone: Enrico, Hotel Owner
Valentina Cortese: Irma, Enrico's Daughter
Pier Giovanni Anchisi: Francesco, a Photographer (as Piero Anchisi)
Philippe Leroy: Mario, Enrico's Son
Virna Lisi: Tilde, Former Hotel Maid
Pia Lindstrom: Adriana, Mario's Wife
Written by: Giulio Questi, Luigi Bazzoni, & Franco Rossellini, based on a novel by Giovanni Comisso
Directed by: Luigi Bazzoni & Franco Rossellini
Synopsis: Bernard, a writer on vacation to forget a recent break-up and to finish his latest novel, learns an old girlfriend he intended to rekindle a romance with has died. Initially told she committed suicide for unknown reasons, an old friend informs Bernard she was reportedly having an affair with both her employer and his son. Bernard begins to wonder if a possible scandal prompted either father or son to murder her.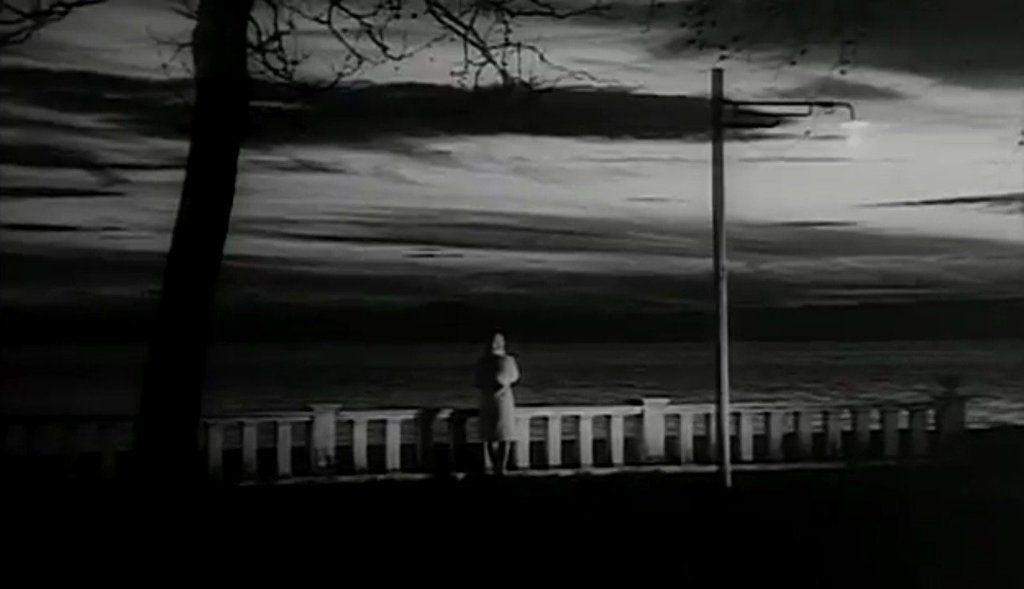 Luigi Bazzoni, one of the lesser known but equally talented Italian filmmakers, makes his directorial debut with Franco Rossellini, nephew of the famous Roberto, with a unique and original Mystery Thriller. Taking the simple concept of a man looking into the possible murder of a woman he was close to, Bazzoni sends his protagonist on a strange, almost hallucinogenic journey where he'll experience revelations, both real and imagined. As artistic and inventive as Bazzoni and Rossellini make the film via its visuals, the duo manages to keep the narrative intact, their style allowing viewers only scraps of information to piece together what really happened to the young woman. Relying primarily on the inner monologues of the main character, sporadic brief flashbacks, and short insightful conversations with select characters, the filmmakers keep the audience in the dark about what was really going on until the almost very end of the piece. Mixing stark lighting with unique camera movements and editing, Bazzoni makes a last hurrah for the final black and white filmed early Giallo with different and still intriguing tricks.
An interesting footnote is that this film was the final major work for composer Renzo Rossellini, brother of Roberto, and father of co-director Franco. While he lived for another 20 years, Rossellini only contributed scores to two other films, both released two to seven years after his death. The score to the film is a fine final send-off for one of the Major composers to the Italian film industry.
Peter Baldwin, an American actor who later became a successful TV director, does very well in the lead of Bernard. A writer suffering from an existential crisis of sorts after deciding to end a recurring tryst, Bernard decides to revisit his favorite small Italian village from his childhood, hoping to get back on track. At first he seems to perk up, happy to see old friends, and even feels invigorated to finish his most recent novel. Things turn dark however when he learns Tilde, an immigrant maid he'd had feelings for, has apparently killed herself. When he learns poison was in her stomach, but that a knife wound was the cause of death, Bernard begins a private investigation with the local photographer who is also certain Tilde was murdered. As he delves deeper and deeper into the case, Bernard begins to feel the strain of his personal world coming apart, both imaging outcomes of the investigations, and also fearful that clues will lead to more clues and questions. Soon both the audience and Bernard himself will wonder if he truly wants to find answers that may reveal the woman he loved wasn't who she made herself out to be.
A slew of Euro character actor and actresses including Valentina Cortese (who also appeared in the first ever Giallo La Ragazza che Sapeva Troppo [The Girl Who Knew Too Much] for Mario Bava), Salvo Radone, Philippe Leroy, and Virni Lisi all round out the cast. Each character is interesting, but with very little being revealed about them, and while it's clear they're all hiding something about the past, because they're only seen when the main character is in the room, it's difficult for them to be judged accordingly with their actions. Also appearing in a small, non-speaking part is Pia Lindstrom, Ingrid Bergman's oldest daughter from her first marriage. While she didn't act as much as her mother and step-sisters, her performance is a mute one, but essential to how the film plays out.
(Author's note: Little can be discussed of the rest of the cast without risking giving away major plot points, and even in the ending. The complex unfolding of the film makes it difficult for cohesive explanation of how things pan out, and motivation isn't really gone into too much.)
Never knowing what the main protagonist is encountering is real or imagined, and wondering why the family who owns the hotel has the kind of power to buy the silence and ignorance of the entire community, del Lago has all the trimmings of the soon to be hallmarks of the Giallo would be famous for. Leaning more towards hallucinogenic illusions and surrealism in the journey of Peter Baldwin's character, and offering little in the flashbacks about the life Virna Lisi's character, giving her more of an aura of mystery as to who she really was and why her death was considered the only solution for the killer or killers. Luigi Bazzoni shows right away in his debut film the kind of unique visual journey he wanted to take both his characters and his viewers on, mixing artistry and traditional narrative with high hints of fragmentation and subtext.
(A highly recommended and must watch Giallo here. It's one you really have to pay attention to and may take some multiple viewings as sometimes it's hard to differentiate between reality and dreams. The visuals are a real treat so multiple watches won't be a bad thing.  The climax is completely out of left field and in some cases still leaves unanswered questions that maybe are best left unanswered, if only for the sake of the protagonist. Arrow Video once again knocks the audio and visual transfer out of the park with this release, only a minor subtitle flaw seems to be present. The Italian audio is once again the preferred option as again the dubbing sounds very fake. Another kudos for Arrow is the bringing back from obscurity of Luigi Bazzoni, and while some of his films were previously released on DVD, Arrow has given Bazzoni the write-ups and treatment he missed out on during his lifetime.)
All images courtesy of Google.com/Google Images and their respective owners
for more information
https://www.imdb.com/title/tt0059116/
https://en.wikipedia.org/wiki/The_Possessed_(1965_film)
Buying options
https://www.amazon.com/Possessed-Blu-ray-Peter-Baldwin/dp/B07L39R28F/ref=sr_1_3?crid=7A6UU4XJPM0Q&keywords=luigi+bazzoni&qid=1568223269&s=movies-tv&sprefix=Luigi+%2Caps%2C137&sr=1-3
https://www.amazon.co.uk/Possessed-Blu-ray-Luigi-Bazzoni/dp/B07KZ4H97D/ref=sr_1_1?crid=1NYVG5C80VY8K&keywords=luigi+bazzoni&qid=1568223310&s=dvd&sprefix=Luigi+%2Caps%2C283&sr=1-1
https://www.arrowfilms.com/product-detail/the-possessed-blu-ray/FCD1850
https://www.arrowvideo.com/product/the-possessed/939
Filed under: Film: Analysis/Overview, Film: Special Topics