by Tony Nash
(Euro Witches & Madmen #4)
(All opinions are of the author alone)
(Mild Spoilers)
(This review is of the French language version of the film)
Miss Muerte (Le Diabolique Docteur Z/Miss Death/The Diabolical Doctor Z) (1966) **** PG-13
Estella Blain: Nadia, "Miss Death"
Mabel Karr: Dr. Irma Zimmer
Fernando Montes: Dr. Philippe Brighthouse
Howard Vernon: Dr. Vicas
Antonio Jiménez Escribano: Doctor Zimmer
Guy Mairesse: Hans Bergen
Lucia Prado: Barbara Albert
Jesus Franco: Inspector Tanner
Daniel White: Inspector Green
Marcelo Arriota-Jauregul: Dr. Moroni (as Marcelo Arriota)
Cris Huerta: Dr. Kallman
Written by: Jesus Franco (as David Kuhne) & Jean-Claude Carriere (loosely inspired by the novel The Bride Wore Black by Cornell Woolrich)
Directed by: Jesus Franco (as J. Franco)
Synopsis: Three doctors are marked for death after their insults and harsh criticism cause a brilliant but slightly insane scientist to die of a heart attack. His daughter vows revenge and fakes her death so as to not come under suspicion. With the aid of an escaped killer, she kidnaps an old boyfriend's current girlfriend to help in killing her targets.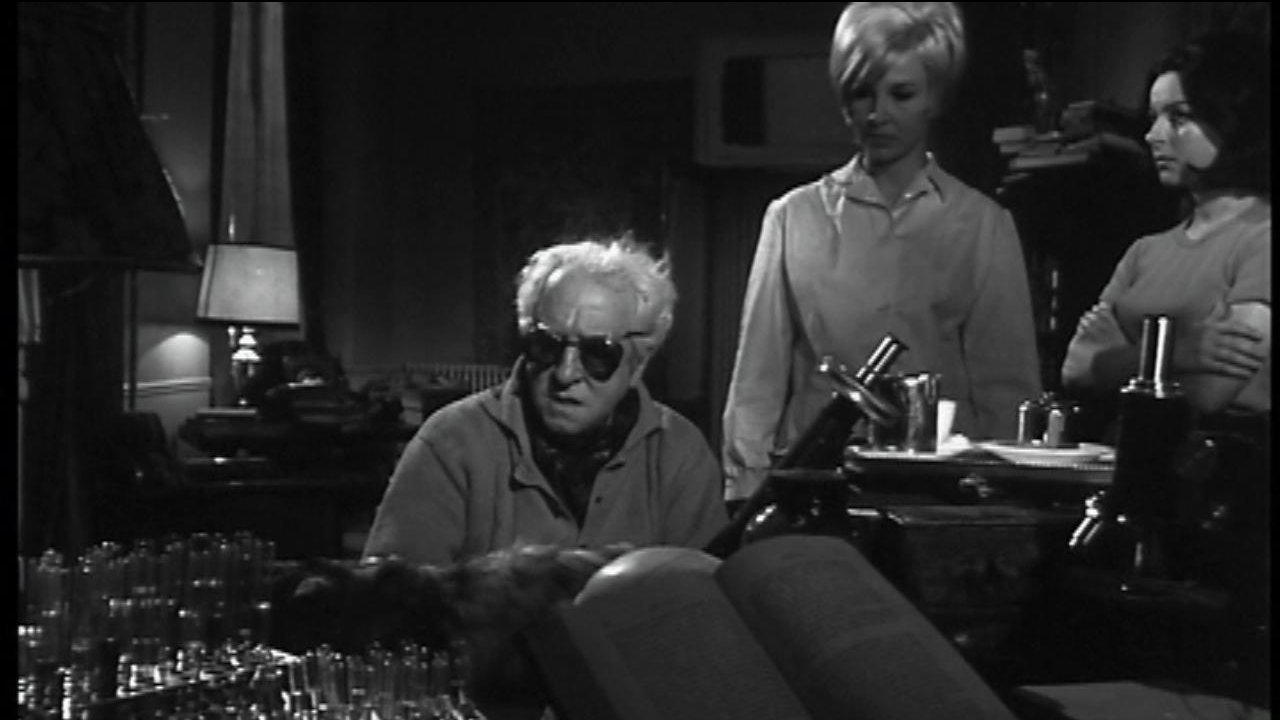 Before he was known as a master of exploitation cinema, Jess Franco had done some pretty good standard linier style cinema efforts. His early interest was in Sci-Fi style Horror, usually involving a mad scientist looking for revenge for some past wrong. Taking cues from his mentor and friend Orson Welles, Franco mixes standard genre narrative with unique editing, cinematography, lighting, and locations. Miss Muerte was one of the earliest films in Franco's resume to feature many of the tropes, themes, and style he would later become renowned for, used in what was one of his earliest well made films with a known and well financed studio.  This film's plot would also be reused by Franco for a span of a fifteen years, maintaining the generic concept of a scientist looking to kill his enemies, but constantly changing the motivation of the character or characters, depending on what Franco was in the mood with.
Shot between France, Spain, Italy, and Germany, Franco showed early on how he made locations work really well in his films, sometimes making where he shot more important than the story at hand. While the locations aren't as prevalent as in his later work, the few scenes shot on location are used very well and even this early on get the mixture of traditional cinematography and Franco's noted unique camera angles and movements, creating something visually impressive, unique and beautiful.
Also on display is Franco's penchant for international casts. Included are French actress and actor Estella Blain & Howard Vernon, Argentinian actress and actor Mabel Karr & Cris Huerta, and Spanish actors Fernando Montes, Antonio Jiménez Escribano, & Marcelo Arriota. Jesus Franco himself even appears in an uncredited role as one of the detectives investigating the murders. Howard Vernon would later become one of Franco's favorite and most utilized actors from the 60's until the actor's death in 2000. His performance as Vicas is well done, showing a mix of hostile integrity, but also a type of romantic compassion. Estella Blain was a noted model and leading lady type, whose fame increased when she married actor/comedian Gerard Blain. Sadly, her career went unfinished when she took her own life in 1982, most likely due to personal problems. Her performance as Nadia is also well done, audiences perfectly able to sympathize with her when she is captured and forced to play along in the evil acts of the title character. Mabel Karr dons the guise of one of Franco's first fiercely independent women in Irma Zimmer. Average in personality, but extremely loyal and dedicated, she then becomes a fiery Angel of Vengeance, deciding to kill al those she deems responsible for her father's ridicule in the medical community, and then his fatal heart attack. Killing a young woman without flinching to make it look like she died in an auto accident, Irma soon delves deeper into madness when she pays for her action after her face is burned in attempt to get her purse from the burning car. As she gets creative in dispatching her father's "murderers" her humanity fades faster and faster.
The Franco of the early to mid-60's is a lot different to the Franco of the 70's and onward whose style was erratic, sublime, and creative, but the 60's Franco is still as interesting in what he did with more money and time. The 60's films of Franco offer an interesting comparison to the later work his fans and admirers are more familiar with, and shows Franco's multi style as a filmmaker in being able to create with either a lot of very little. While Franco did use the main basis of this story several times over in the years to come, Miss Muerte proves to be one of the more creative outings of the tale in acting, cinematography, and story. e in acting, cinematography, and story.
(For those uncertain if they should check out Jess Franco Films, this mid sixties' effort is a good one to start with, and one I do recommend. Many of Franco's signatures are on display here, showing an artist in his early stages before he became a name in cult films. Sometimes the film's a little slow, but it's never boring, and would've definitely been a lot better had Franco picked up the pace some. The Blu Ray from Redemption in conjunction with Kino offers an excellent visual and audio transfer, which looks and sounds great. The only extra on hand is an audio commentary from historian Tim Lucas, but is definitely worth listening to as Lucas was excited to finally give Franco the props he earned as a filmmaker.)
all images courtesy of Google.com/Google Images and their respective owners
for more information
https://www.imdb.com/title/tt0060701/
https://en.wikipedia.org/wiki/The_Diabolical_Dr._Z
Buying options
https://www.amazon.com/Diabolical-Dr-Z-Blu-ray/dp/B0787NN55K/ref=sr_1_1?crid=35CNEX4JC7HKL&keywords=the+diabolical+dr.+z&qid=1571362271&s=movies-tv&sprefix=The+Diaboli%2Caps%2C129&sr=1-1
https://www.amazon.fr/Diabolique-Docteur-Z-Blu-ray/dp/B0788XV9ZF/ref=sr_1_5?__mk_fr_FR=%C3%85M%C3%85%C5%BD%C3%95%C3%91&crid=9WL5TFFZC094&keywords=jess+franco+blu+ray&qid=1571362316&s=dvd&sprefix=Jess+%2Caps%2C217&sr=1-5
to place comments, go hee
The 2019 Halloween Comment Section
Filed under: Film: Analysis/Overview, Film: Special Topics