by Tony Nash
(Euro Witches & Madmen #5)
(All opinions are of the author alone)
(Mild to Major Spoilers)
(This review is of the Italian language version)
Operazione Paura (Operation Fear/Kill Baby, Kill) (1966) ***** PG-13
Giacomo Rossi Stuart: Dr. Paul Eswai (as Giacomo Rossi-Stuart)
Erika Blanc: Monica Schuftan
Fabienne Dali: Ruth the Sorceress (as Fabienne Dali')
Piero Lulli: Kommissar Kruger
Valerio Valeri: Melissa Graps
Luciano Catenacci: Burgomeister Karl (as Max Lawrence)
Mirella Pamphili: Irena Hollander (as Mirella Panfili)
Giovanna Galletti: Baroness Graps
Written by: Romano Migliorini, Roberto Natale, & Mario Bava
Directed by: Mario Bava
Synopsis: A doctor, a police inspector, and a witch each do their best to discover the truth about, and to protect a Carpathian village from the murderous wrath of, the spirit of a deceased little girl.
In 1966 filmmaker Mario Bava returned to the classic Gothic Horror roots that made him famous with his most inspired film Operazione Paura. Set in early 20th century Central Europe, a trio of outsiders: a coroner, a police inspector, and a woman gone from her hometown for years try to figure out the source of a series of mysterious deaths in a small town. Soon it becomes apparent that the town is harboring a dark and unforgivable secret which they may or may not be justly suffering via a curse. Realizing innocents are suffering because of their ancestors past wrongdoings, the coroner and inspector look into every possible explanation and suspect in regards to saving the community.  Mixing superstitions from various countries, including his native Italy, and the trope of the ghostly apparition of a child bringing either the salvation of innocence regained or the horrors of revenge and death, Bava creates a masterwork that remains one of his most talked about films, and among the top 5 films in his filmography.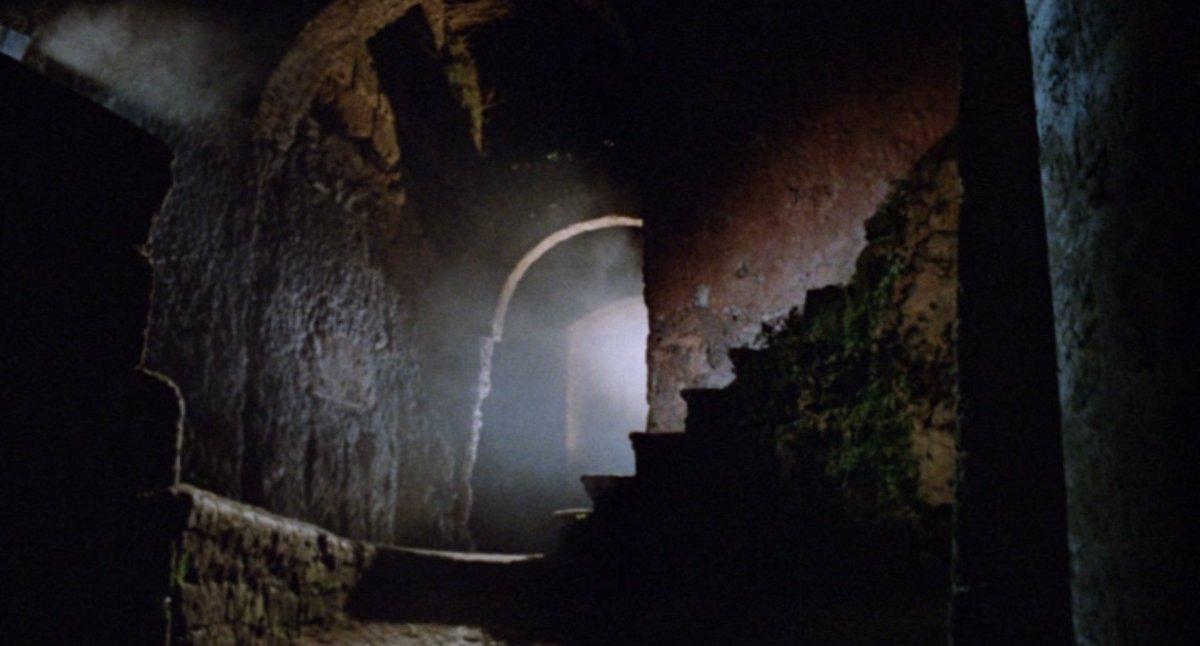 Bava, still utilizing his expertise in making the best of a small budget, actually gets to work with some real cool locations. Shooting in a small village outside of Rome, Bava gets to work with and stylize a series of homes and streets that remained the same for several centuries, giving the film that nice eerie presence he was a master of creating. While he still had to make do with many sparse sets, Bava once again proved his craftsmanship with little money, and a lot creativity and ideas.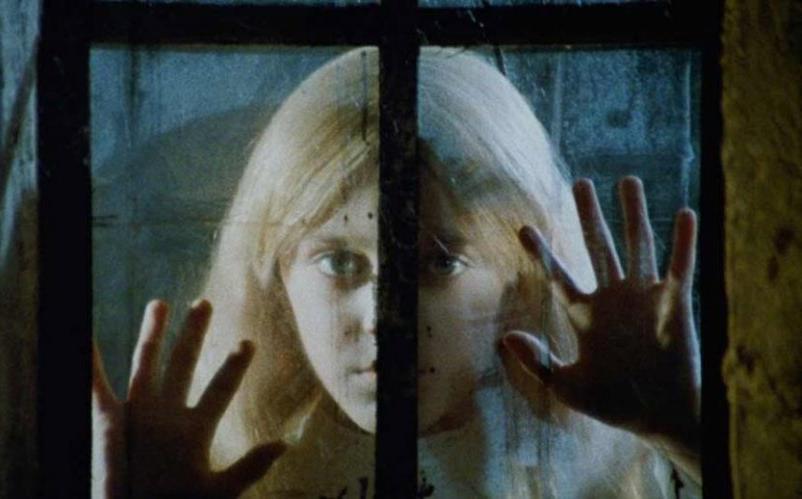 Another interesting note to the film is that the ghostly little girl in the film is played by a little boy. Bava had auditioned quite a few aspiring child actresses for the part, but none of them could exude the menace and fear Bava wanted the character to have, so he decided to go with the son of his concierge, one Valerio Valeri. This was Valeri's one and only foray into acting, the frustrating experience of having to wear the dress and blonde wig picked out for him to wear nixing any aspirations or inclinations of him making acting a career. In spite of the boy's own reservations playing the part and Bava's frequency of having to coax a performance out of him, Valeri's final result performance in the film is quite riveting, often times inciting pure terror and unease whenever he's shown on screen. Even more interesting, a girl did in fact dub Valeri's voice for the eerie laughter and brief dialogue of the character.
Giacomo Rossi Stuart, a half Italian, half Scottish actor, gives a very good performance as Dr. Paul Eswai. Stuart had a brief run of leading man roles in the 60's and seventies, but was generally known to play supporting parts, and extended cameos. This ranks up as one of his finest roles in the leading man area. A man of science and logic initially, Dr. Eswai soon finds himself becoming a believer in the supernatural as he encounters visions and odd coincidences as he performs the autopsy of a bizarre suicide. Skeptical like most men of education in the Gothic Horror trope, Eswai doesn't automatically dismiss something unusual in the works at the village, but also knows that certain old-world remedies and sorceries can be just as deadly as the fear and maladies themselves. Uncertain of what is real or his imagination anymore, Dr. Eswai becomes willing to give any explanation the benefit of the doubt as looks to save a woman he's become fond of from the terror that grips the small community all too willing to keeps its shameful past in the cemeteries and crypts.
Erika Blanc, a rare redheaded Italian actress, gives one of her earliest great performances in the role of Monica Schuftan. A prime example of the individual who leaves their small town for bigger and better things, but comes back now and then to pay her respects to loved ones, Monica is a woman aware of her town's somewhat backwoods origins, but still feels a sense of loyalty and belonging to the small hamlet. The only technical native with an education, Monica quickly finds herself on the outs with the community for aiding the outsiders in the investigation of the most recent ghost child killing. When she starts having bizarre and frightening dreams involving the Graps villa and the ghost girl, Monica begins to fear she's the next victim, or that something far worse is being planned for her. Blanc made the claim that this was only her second film appearance, though some film enthusiasts and the like have disputed her claim, she does give a fine performance of the frightened woman uncertain of what being a native born member of the town will mean for her in spite of having left not long into her childhood.
Piero Lulli, a popular Italian character actor, normally known for playing villains and henchmen, gets one of his rare opportunities to play a good guy in the role of Inspector Kruger. While his appearance in the film is brief, Lulli plays Kruger as a good man simply wanting to know the truth and get justice for the deceased or wronged. He's certain the death of Irena Hollander was no accident or suicide, and fights back when the locals try to prevent him from doing his job. The community leader is then forced to tell Kruger the whole story, and its relation to a decaying villa that everyone seems to fear. Kruger decides to investigate, leaving audiences uncertain if his investigation will lead to his own demise.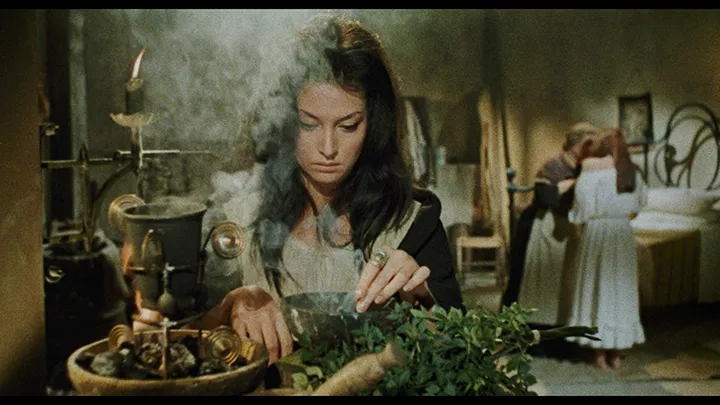 Fabienne Dali, a French-Belgian actress who worked a lot in Italy, gives a surprisingly effective performance as Ruth, the small hamlet's resident Sorceress and healer. Even from her first appearance in the film, it's clear Ruth is fully aware of the events surrounding and going on in the town, but focuses on protecting the innocent whose only crime is being descended from the elders of the community. In spite of her knowledge of the truth, she keeps what she knows to herself even with knowing the doctor and the police inspector only want to help solve a crime and give piece of mind to the little town. When someone she's close to in the town is fast on their way to becoming a victim of the ghost girl, she finally decides to do all she can to put an end to the terror and fear.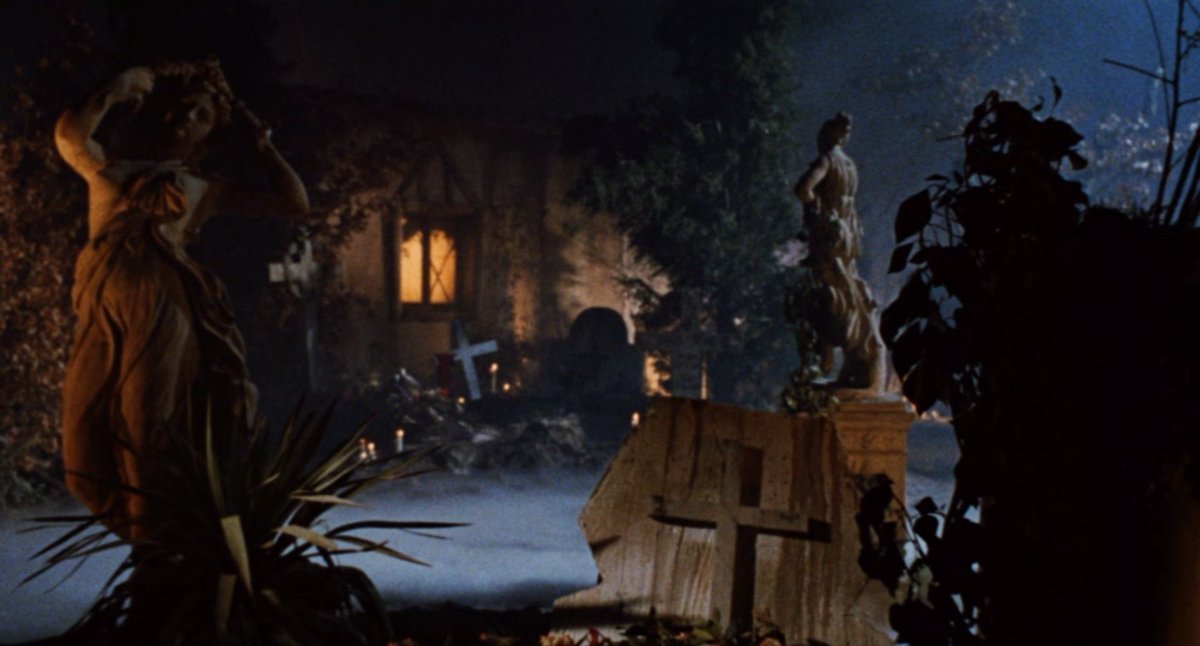 A nice touch that Bava knowingly or inadvertently included within the film is what is known in religious history, or religion in general, as the Mark of Cain. It's revealed right in the middle of the film that the little girl died twenty years back during a festival when a bunch of the men, while intoxicated, accidentally ran her over with their carriage and horses, and the town failed to get her aid out of fear of being accused of intentionally harming her. With an unforgivable sin now on their shoulders, the town literally shuns the church within it, and allows the building to slowly decay, believing they've lost the protection of the Higher Power. With this loss of faith and hope, Bava brings audiences back to what superstition and lack of education/knowledge can do to an entire culture or community.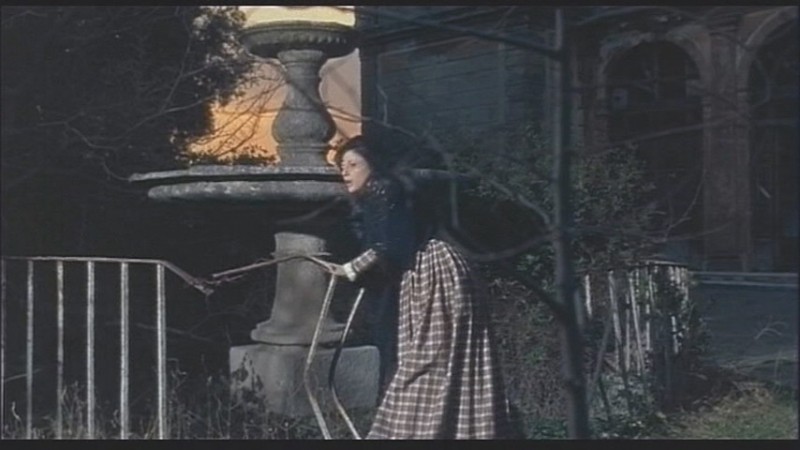 Haunting visuals, unique & psychedelic lighting, stunning & inventive camera angles/cinematography, and of course the overall atmosphere/mood of the film, makes this one Bava's highest achievements in filmmaking, as well as a milestone in the classic style of Horror in both the States and Europe. It's short, but sweet, and Bava dazzles thre viewers with creative imagery and camera technique, all while spinning an intriguing tale of mystery, intrigue, and vengeance from the beyond.
(This is another Bava film I would highly recommend, and is certainly worthy of any film fan, Horror or otherwise, to give it a look at. In terms of Gothic Style Horror, Bava hits the mark ten times over, and equals the effort he put into segments two and three of his Anthology masterpiece I Tre Volti della Paura, sometimes even going a little above it. The visuals alone is enough to see why the film influenced some of the great filmmakers like Federico Fellini, Martin Scorsese, and Francis Ford Coppola, in how Bava made style just as important as storytelling. The Blu Ray from Arrow Video offers spectacular visual and audio transfers, everything looking and sounding nice and crisp. As always, Tim Lucas gives great commentary via his personal research on Bava and everyone involved in his productions.)
all images courtesy of Google.com/Google Images and their respective owners
for more information
https://www.imdb.com/title/tt0060794/?ref_=nm_flmg_cin_14
https://en.wikipedia.org/wiki/Kill,_Baby,_Kill
https://www.arrowfilms.com/product-detail/kill-baby—-kill–dual-format/FCD1573
https://www.amazon.co.uk/Kill-Baby-Blu-ray-Giacomo-Rossi-Stuart/dp/B072K3QGTL/ref=sr_1_11?crid=2CUIMTIT4QP8N&keywords=mario+bava+blu+ray&qid=1571697927&s=dvd&sprefix=mario+%2Caps%2C227&sr=1-11
https://www.kinolorber.com/product/kill-babykill-blu-ray
https://www.amazon.com/Kill-Blu-ray-Giacomo-Rossi-Stuart/dp/B074W4BJT8/ref=sr_1_7?crid=1X31LVD4EKC3Q&keywords=mario+bava+blu+ray&qid=1571698065&s=movies-tv&sprefix=mario+ba%2Caps%2C141&s
to post comments, go here
The 2019 Halloween Comment Section
Filed under: Film: Analysis/Overview, Film: Special Topics