by Tony Nash
(Euro Witches & Madmen #6 and Finale)
(all opinions are of the author alone)
(Mild to No Spoilers)
(This review is of the French language version)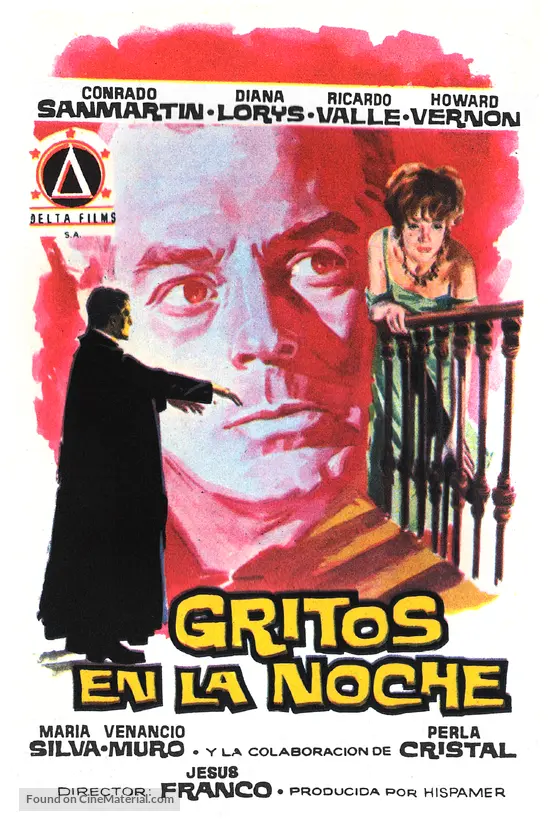 Gritos en la Noche (l'Horrible Docteur Orloff/The Awful Dr. Orloff/Screams in the Night) (1962) ***** R
Conrado San Martin: Inspector Edgar Tanner
Diana Lorys: Wanda Bronsky/Melissa Orloff
Howard Vernon: Doctor Orloff
Venancio Muro: Jean "Jeannot" Rousseau
Perla Cristal: Arne
Mara Laso: Irma Gold
Ricardo Valle: Morpho Lodner
Fernando Montes: Malou (as Fernando C. Montes)
Maria Silva: Dany (as Mary Silvers)
Felix Dafauce: The Chief Inspector
Written & Directed by: Jesus Franco (story credit as David Khune)
Synopsis: Orloff, a once promising doctor, goes mad after his daughter is horribly scarred after an accident. Using an insane killer he re-animated from the dead as his henchman, Orloff begins kidnapping and killing young women for their skin to restore his daughter's beauty. When the investigating inspector's actress/dancer girlfriend senses she bears a resemblance to someone Orloff finds important, she secretly assumes the identity of a street wanderer to capture him.
Docteur Orloff was the first successful film of Jess Franco before he turned to exploitation filmmaking. While he did some fairly standard genre cinema work already, and was noticed by some studios for his work as an assistant for his friend Orson Welles, this was Franco's first opportunity to tell a story his own way. Inspired by Georges Franju's seminal entry in the Euro Horror genre Les Yuex Sans Visage (Eyes Without a Face), a controversial film in its own right for one of the earliest realistic looking face surgery gore scenes, Franco concocts his own interpretation of a doctor so driven by desperation to save his daughter that he forgoes rationality and humanity in order to complete his task. Franco doesn't go to the same extremes as Franju at this period of his career, but his usage of contrasting light and shadow gives of the same uneasiness as Franju's original. Mixing Murder Mystery, Police Procedural, Horror, and a little Science Fiction, Franco shows in his earliest major studio film effort that he was a talent that could go far if given the time, patience, and chances.
What easily sets this apart as Franco's earliest efforts as an auteur is the lack of hallucinatory imagery and all-around bizarreness that make up a Franco film. It's very from the start that Franco was still getting his feet wet as a filmmaker and was still finding his style and flare. Elements like beautiful women, spontaneous nudity, sexually aggressive maniacs, and mad geniuses are already in place, but not to the degree that would become Franco's eventual trademark.
Howard Vernon, who became one of Franco's favorite regular actors, gives one of his finest performances in the role of Dr. Orloff himself. What makes this incarnation of Orloff different and memorable is that he's not entirely an evil villain. He was once a fairly dedicated doctor trying to help inmates reform at the many prisons he worked in. When a tragic accident in his lab resulted in his beautiful daughter being scarred for life, Orloff goes out of his mind with grief and dispair, leading him to commit horrid acts of violence to save her. At first he only goes after prostitutes believing no one would really miss them, but when one of the victims turns out to be a singer trying to care for her ailing mother that he goes too far and the police soon on his tail. That he has moments of regret and remorse shows he could possibly be redeemed, but because he presses forward, even the woman he loves can't convince him his daughter can never be who she was.
Conrado San Martin & Diana Lorys, two of Spain and Mexico's finest in B film leads and character parts elsewhere, do fine jobs in their respective roles of Tanner and Wanda. Tanner for the most part is the generic cop hero, but hasn't let the hurdles with the job get his spirits too down. When he meets the beautiful actress/dancer Wanda, his resolve to be a good detective heightens and goes into his new case with the utmost determination. Wanda is a highly intelligent performer, very rare for the period, and uses her talents in helping her fiancé the cop go after the killer. Diana Lorys became the first example of Franco's independent free thinking woman, as smart as she was pretty..
While still on a low budget scale, Franco had the kind of liberty and creative freedom he wanted and was able to film the way he saw the project looking. Having a cast of noted actors at his disposal in his early career also helped the film along, showing it wasn't amateur by any means, that the creators could do a good project. Franco's friends at Eurocine would keep a working relationship with the man going for over twenty years, and while his results to them were a mixed bag, he always delivered when they asked him to.
(This film, along with Docteur Z, are the two Franco films people will want to start with if they're unsure of checking him out. While lacking a good bit of the trademark styles Franco is noted for, fans can still find stuff to enjoy, and will see Franco experiment with the styles that would later play major roles in his work. The Blu Ray from Redemption Films in conjunction with Kino is very good, though the negative has some noticeable damage that couldn't be fixed. This in no way hinders the enjoyment of the film and actually gives it a classic feel of a theater revival or drive-in experience. Overall the film is a must in quality and extras.)
All images are courtesy of Google.com/Google Images and their respective owners
for more information
https://m.imdb.com/title/tt0056040/?ref_=nv_sr_srsg_0
https://en.m.wikipedia.org/wiki/The_Awful_Dr._Orloff
Buying Options
https://www.amazon.com/Awful-Dr-Orlof-Remastered-Blu-ray/dp/B00CU00JJA/ref=mp_s_a_1_1?keywords=the+awful+dr.+orlof&qid=1572040083&s=movies-tv&sprefix=The+Aweful+&sr=1-1
https://www.kinolorber.com/product/the-awful-dr-orlof-blu-ray
Filed under: Film: Analysis/Overview, Film: Special Topics