A Look at Mae West and Mae Busch
by Tony Nash
(All opinions are of the author alone)
For a good number of people, a Boss Woman refers to women who don't necessarily have to be pretty, but always exhibit a type of allure and appeal that draws both men and women to them in one form or another. Two women who exemplified this type of exoticism to its full effect were Mae West and Mae Busch.
Mae West was both a tough Boss Woman and the Queen of the Pre-Code era. Initially starting out in Burlesque and Vaudeville, West became a sensation fairly quickly with her famous sexual innuendo dialogue and risque body moments, and still famous today for coining the phrase Is that a pistol in your pocket, or are you just happy to see me?  probably the first ever sexually explicit piece of dialogue ever uttered in both private and films. Before Hollywood curtailed what she wanted to do, West often portrayed a streetwise woman who spent some time on the wrong side of the tracks with a heart of gold, never denying she accepted things from the men who wanted her company, but never conning or exploiting them. I'm No Angel from 1933 perfectly fits West's type of character, particularly in the court room sequence in which she disproves the prosecution's  libel case against her by seamlessly getting the truth from disgruntled former suitors willing to lie about her.
Not only was West a Boss Woman in her physical attributes, but a Boss Woman in how she spoke. As streetwise as the characters she played, West's voice oozed with plain speaking and touches of slang, never mincing words and usually bringing a smile and chuckle from those she was speaking to and those who stopped to listen. While the public adored all these aspects about her, the people behind the infamous Hayes Code weren't amused, and considered West to be their biggest obstacle in ridding the screens of what they considered smut and immoral. Unlike the majority of Hollywood who caved in to the Hayes Code demands, West stoutly refused, not wanting to censor her creativity in anyway and soon left Hollywood behind. Hollywood's loss ended up being the stage's gain as West would have a successful series of nightclub, burlesque. and stage show acts, particularly her "Beefcake" shows which featured her surrounded by muscle hunks from the world of bodybuilding. By the 60's, the public's opinion of sexuality had become more open and accepting, and West came back to Hollywood for occasional parts, but pretty much stuck to her work on stage.
Mae Busch had both the pretty face and the toughness to become one of the first female foils for comics of the Silent and Early Talkie period of films. Usually in Busch's case, she acted the antagonist to the comics, particularly Laurel and Hardy whom she spent the majority of her career in the Talkie shorts with, often playing a scheming  shrewish female looking to cause trouble for the boys or the overly exasperated housewife who finally snaps and unleashes a barrage of physical destruction and insults on her husband played most times by Hardy. Three of the rare occasions she played a kind-hearted woman were in the Laurel and Hardy double-bill Them Thar Hills & Tit for Tat in 1934 and 1935 respectively, playing the bewildered wife an insanely jealous husband who finally has it out with him over that fact, and in the Lon Chaney Silent Classic The Unholy Three in 1925 playing the Silent icon's lovely accomplice who pleads with him not to frame the man she's fallen in love with for Chaney's crime.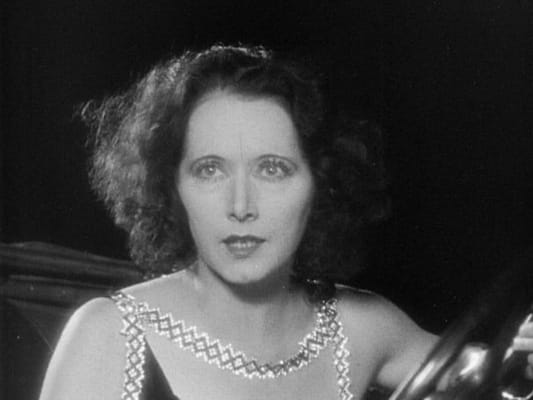 Unlike Mae West who made a career of broadening her style, Busch was regulated to the role of Femme-Fatale, but she was able to make each she-devil interesting in their own unique way, usually causing some form of mischief and trouble for the men who cross her path. Ironically, she started her career as a glamour model, later being discovered by Mabel Normand, wife of Mack Sennett who got her her start in comedy. Sadly, her career stalled after Laurel and Hardy went into making feature films, and somehow producers were no longer interested in using the type of characters she played. When she passed away in debt and poor health, she was practically forgotten by the industry and her remains went unclaimed for years until the Laurel and Hardy Society went on a search for ashes and finally gave her the burial she deserved. Today she is remembered as one of the great comic villains of the 20's and 30's, preserved forever by the fans of Laurel and Hardy and others.
While only remembered by a select group of people who enjoy the Classic days of Hollywood, there's still enough interest in these two ladies to keep their memories and careers alive. Radically different in style and personalities, both West and Busch offered up a different kind of appeal then the standard actresses of their period that made them interesting. West was the spitfire sultry beauty who didn't take guff from no one  and Busch mainly was the scheming vixen who may or not have been trustworthy.
( I highly recommend give anything with West or Busch a try as they brought their own individual style that added to the story and atmosphere of the various shorts, film, and stage work they did. I'm No Angel and She Done Him Wrong are the quintessential Mae West films to see and anything Mae Busch did with Laurel and Hardy is always fun, especially Chickens Come Home and Oliver the Eighth.)
All Images courtesy of Google.com/Google Images and their respective owners
for more information
https://www.imdb.com/name/nm0922213/?ref_=nv_sr_srsg_0#actress
https://www.imdb.com/name/nm0123994/?ref_=nv_sr_srsg_0
https://en.wikipedia.org/wiki/Mae_West
https://en.wikipedia.org/wiki/Mae_Busch
Filed under: Film: Actor/Actress Spotlight