by Tony Nash
(Artistic Erotic Drama 2)
(All opinions are of the author alone)
(Mild Spoilers)
(This review is of the original Italian language version)
(Author's Note: Because of the amount of nudity sexually charged scenes, some stills may be repeated)
11 Giorni, 11 Notti (Eleven Days, Eleven Nights/11 Days, 11 Nights/Fantasy Becomes Reality) (1987) NC-17 ****
Jessica Moore: Sarah Asproon
Joshua McDonald: Michael Terenzi
Mary Sellars: Helen Porter
Laura Gemser: Dorothy Tipton
Tom Mojack: Dan, Construction Manager
David Brandon: Peter
Written by: Rosella Drudi (as Sarah Asproon) and Claudio Fragasso (as Clyde Anderson)
Directed by: Joe D'Amato
Synopsis: Construction executive Michael is all set to marry his sweetheart until he encounters the enticing Sarah while on a ferry. In spite of telling Sarah he's getting married in 11 days, she convinces Michael they can be together until his wedding day. Unbeknownst to Michael, Sarah's chosen him as the 100th man of her book, detailing 99 other experiences from manipulated affairs.
Aristide Massaccesi, better known by his pseudonym Joe D'Amato, the master of exploitation and erotic cinema, tried something a little different as he was nearing the end of the glory years of Italian genre filmmaking. While still using his favorite subjects of sensational sex and very basic plotlines, what D'Amato does with this particular film goes into a new direction in that the characters, while partially one dimensional, have a little depth to them and in many ways the audience can relate and sympathize with them as they feel like regular people who can be encountered in real life. The erotica is still very high in the film, but in this case isn't done simply for the sensationalism that many of D'Amato's (with some exceptions, including this one) and other directors films of the 70's and 80's tended to lean toward, there is in fact a point to every scene of sexual escapade and flirtation, showing audiences how the affair begins, and what is slowly begins to turn into in spite of the instigating party. While the plot of the film is basic, D'Amato takes his audience through a unique adventure in which his characters discover things about themselves, go through trials & tribulations, and ultimately will come full circle in the realization of what they want, and have needed all along.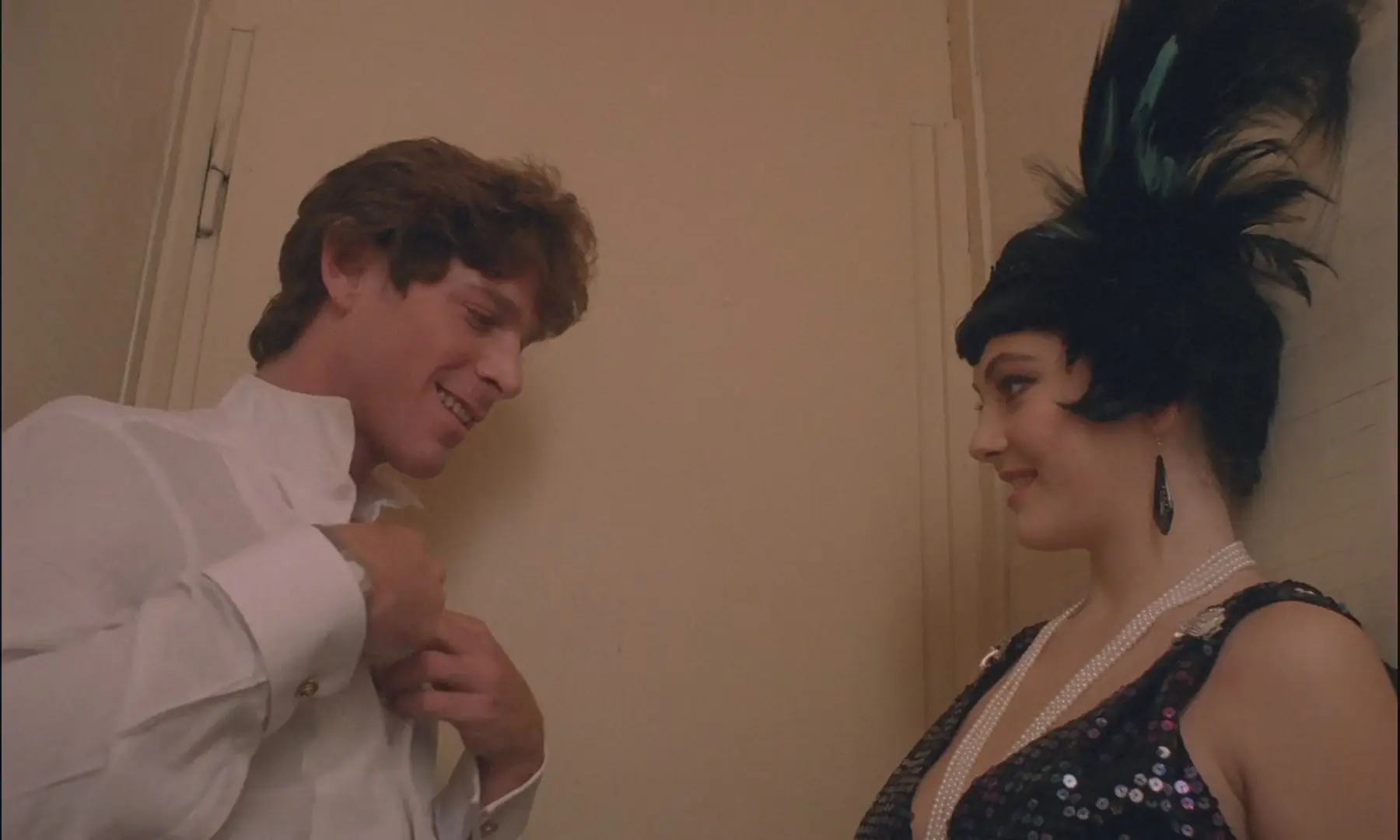 An interesting note to the film is the screenwriting duo who handled the script. Rosella Drudi and Claudio Fragasso were usually the script helmers of schlock maestro Bruno Mattei's crazy films, but here they fashion a screenplay that mixes Romantic Drama with steamy erotica in just the right amount that makes for a fine adult film without the feeling that the viewer is watching thinly disguised pornography. Drudi, one of the few lady screenwriters of the fun hokey cinema genre, decided to capitalize a little on the success of Just Jaeckin's international hit Emmanuelle by using the pseudonym Sarah Asproon for her screen credit. There really had been a woman named Emmanuelle whose memoirs became the basis for Jaeckin's successful film, and Drudi attempted to make it look like there really was a Sarah Asproon and that she too gave her life story for the screen.
`
Jessica Moore and Joshua McDonald do fine jobs as the co-leads of the film. Moore, whose real name was Luciana Ottaviani, plays Sarah Asproon as an ambitious writer looking to do anything for success. She seems to care little for the many men she's hurt in order to collect the necessary information and data needed to fuel her exaggerated depictions of a woman's various affairs. This also extends to the unsuspecting Michael Terenzi, but in a very short time, it begins to look as though Sarah is having second thoughts on what she's doing to him due to growing feelings for him, or if she realizes he's not the type of person to do this sort of thing with, and to. This was to be Moore's only big-time success in her brief career as a major star. Little to nothing is known of Joshua McDonald as to whether he was an American who did a couple of Italian films or if he was a native Italian using an American stage name, but what is known is his surprising subtlety fine performance as Michael Terenzi. Michael is an average, everyday type of guy who works hard and is in a loving, if slightly boring relationship. When he meets Sarah on board a ferry and has a brief, steamy tryst with her, his entire world changes over night. What at first feels like a last bout of adventure so he can be fully faithful to his fiancé soon turns into a frustrating addictive obsession Michael slowly loses control over. McDonald reveals Michael as a man stuck in a loop who has to go through a form of Baptism of Fire to find out what people and things are the most important to him.
In a short, but necessary role in the film is the 70's Italian sex symbol Laura Gemser. In a rare non nude performance, she plays Sarah's friend and publisher Dorothy who encourages her to continue her affair with the unsuspecting Michael. More interested in money than her client's personal integrity and wants, Dorothy has near constant arguments with Sarah over how the 100th man of her book should be presented. Germser was mainly known as a counterpart to Silvia Kristel in the erotic drama department, going so far as to play a character called Black Emmanuelle.
(Author's Note: Today Gemser lives in quiet retirement in Italy)
While not what sexploitation aficionados might expect, and what those first timers will be surprised by when seeing it, the film is still quite good. That D'Amato doesn't linger the same amount of time on each sex scene, and that the these scenes do have a point to them make 11 Days, 11 Nights an exception within the sexploitation genre. That it tries to rise above what it looks like on paper makes it a worthwhile film to check out as it doesn't play what goes on between the two characters as just shock value material, that something far deeper is slowly revealing itself.
(This is the 2nd time in writing that I'm going to say I can't recommend a film. Just like with Jess Franco's La Comtesse Noir it isn't because the film is that bad or so poorly made it can't be appreciated for the positive quality lying beneath it, but simply because it's not to everyone's taste. The sex scenes aren't uncomfortable to look at, but there will be people who'll suspect that D'Amato spends a little more time than he should on them. As long as the viewer takes into consideration that sex is what is driving force in the relationship between the two leads, the sex can be treated as a necessary part of the plot. The film is in no way vulgar by any means, but again because sex and some sex laden dialogue is treated fairly frank and to the point, some viewers might find this a turn off. The Blu Ray release of the film by 88 Films through their Italian Collection line is fantastic. The visual and audio transfer of the film is near pristine, with only hints of age here and there. Extras include two interviews and an audio commentary from Italian genre and exploitation cinema expert Troy Howarth.)
All images courtesy of Google.com/Google Images and their respective onwers
For more information
https://en.wikipedia.org/wiki/Eleven_Days,_Eleven_Nights
https://www.imdb.com/title/tt0091002/
Buying option
Eleven Days, Eleven Nights – The Italian Collection 54
Filed under: Film: Analysis/Overview, Film: Special Topics