by Tony Nash
(Artistic Erotica 3)
(Mild Spoilers)
(All Opinions are of the author alone)
(This review is of the longer original French language version)
(Author's Note: While not abundant in nudity, certain stills may be repeated)
Gwendoline (1984) NC-17 ****1/2
Tawny Kitaen: Gwendoline
Brent Huff: Willard
Zabou Breitman: Beth (as Zabou)
Bernadette Lafont: The Queen
Jean Rougerie: D'Arcy
Written & Directed by: Just Jaeckin, inspired by the comic strip The Adventures of Sweet Gwendolyn by John Willie
Synopsis: With the aid of a friend, a woman escapes from a nunnery to locate her father, an eccentric butterfly collector. When she learns he's died, she pleads with a mercenary seaman to help her locate an elusive butterfly to cement her father's legacy. Along the way they deal with pirates, white slavers, savage cannibal natives, and a previously thought mythical tribe of genetically altered Amazon women.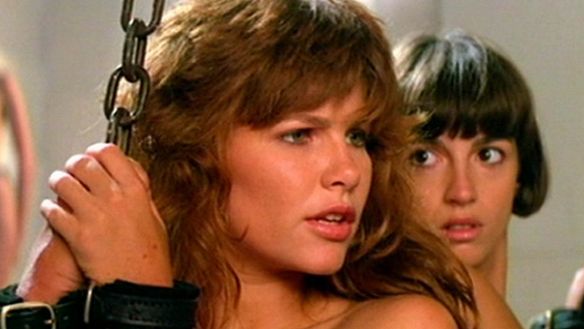 After his international successes with the artistic erotica Emmanuelle and Histoire d'O (The Story of O), filmmaker Just Jaeckin decided to tackle an entirely new adventure with a fantastical erotic adventure film inspired by an adult comic strip series about an adventurous young woman named Gwendolyn and her wayward sidekick. Not wanting to repeat the earlier successes of his softcore erotic masterpieces, but at the same time realizing it was this light erotica that catapulted him into the limelight and interest of producers, Jaeckin wanted something that spoke to his already existing motifs and style, but was also something new and creative. While inspired by the comic, Jaeckin in his usual auteur fashion wasn't going to be necessarily be faithful to the source material, though he did in some fashion maintain the whimsical and humorous nature of it. What evolved was a fun mixture of humor, adventure, romance, Science Fiction, erotica, and a little bit of thrills all wrapped up in a quirky adventure about the search for an ultra-rare and elusive butterfly that takes the three people pursuing it into a realm of the fantastic and mysterious that they will never forget.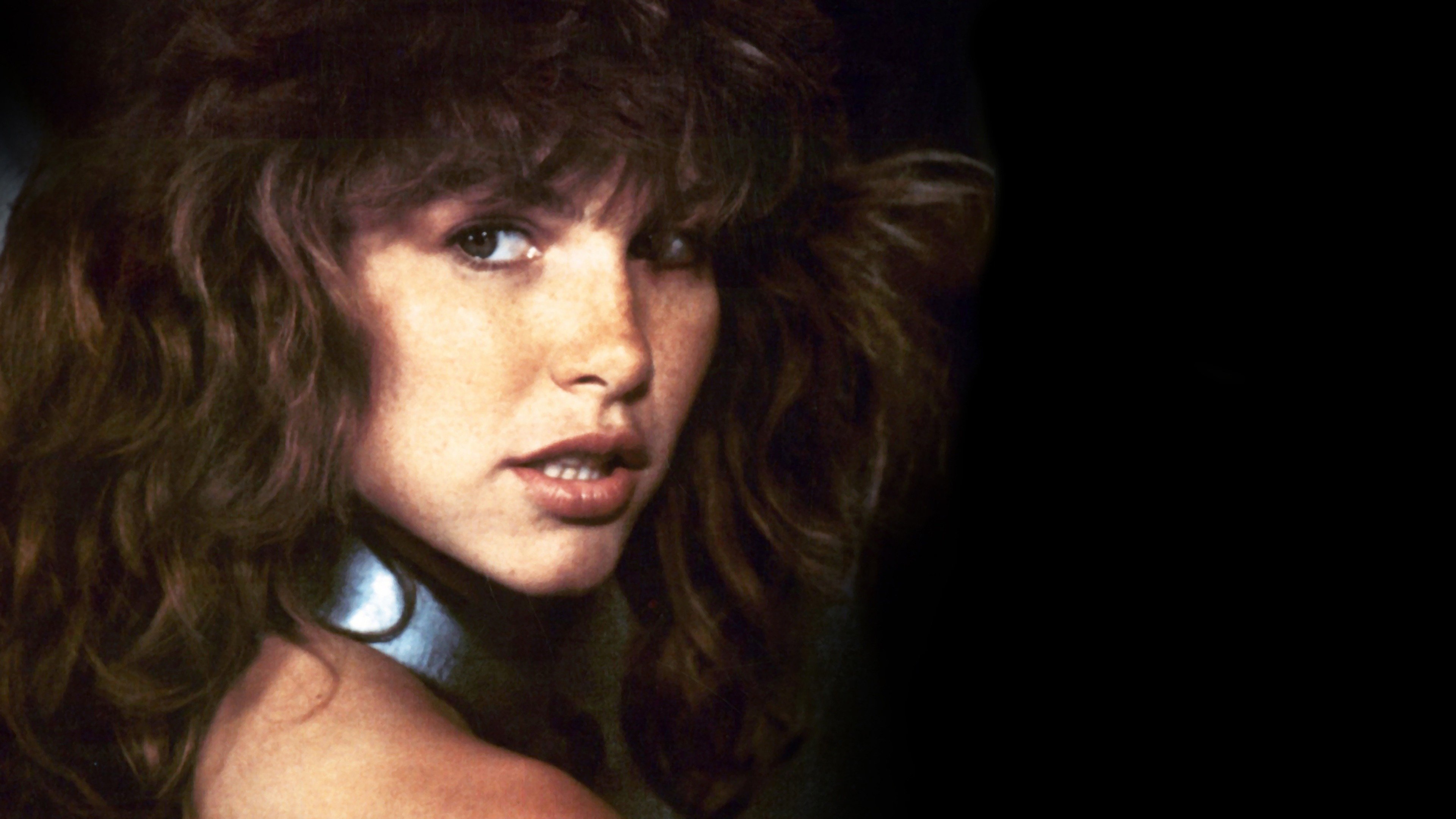 Tawny Kitaen, an American model and actress, known most notably as Kevin Sorbo's wife in the TV series and Made for TV movies The Adventures of Hercules, got her first taste of international fame as the title character Gwendoline. Sheltered by convent nuns her whole life, Gwendoline is at first very naïve, totally unfamiliar with how the world works and the lust and passion men feel when they look upon her beauty. As the film progresses, Gwendoline sheds her naivety and innocence, becoming courageous, strong minded, and very self-assertive. What starts off as a journey to save her father's name, reputation, and legacy merges into a dual journey that finds Gwendoline on a self-discovery sojourn that teaches her much about herself, others, and life itself. She also has something of a sexual awakening that plays an equally large role in her maturing as the film progresses on. Kitaen's looks and her innocent face make her portrayal of the Gwendoline character all the more perfect as she embodies the character almost like a second skin.
Brent Huff, an American actor turned TV director, is a surprising hit in the role of Willard. An Indiana Jones type of adventurer with far less selfless heroics and moral scruples, Willard is mercenary for hire who initially doesn't care about how or where he gets money, just so long as he gets. When he first meets Gwendoline and her companion, he's very crass, vulgar, to the point, and violent. Constantly at odds with the two women over what he sees as a trifle and fruitless expedition, he unexpectedly finds himself becoming more and more fascinated and admiring of Gwendoline and her inner strength and resolve. While at first perplexed and flustered by it, he soon becomes very welcoming and glad of Gwendoline's love and affection, going to the point of telling her he shares her feelings and that he too loves her. This doesn't lessen his mercenary and greedy impulses, but it does lead him to think carefully about what prizes are worth going after.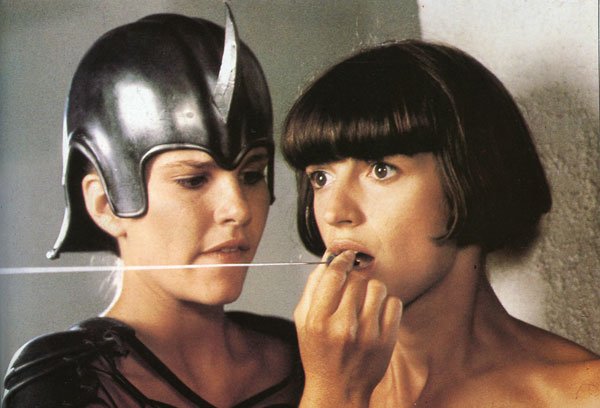 Zabou Breitman, credited in the film as just Zabou, an underrated French character actress and ingénue type, nearly steals the whole show as Beth. As Gwendoline's closest friend and lady-in-waiting, Beth feels the constant pressure to make sure her friend and charge is safe. At times completely exasperated by her bad luck and the seemingly unending obstacles in the way, Beth goes on short sprints of tirades that are both humorous and exhilarating as she vents her frustrations to Gwendoline, Willard, and to the various peoples they encounter, that not only allows them to get away from dangers, but gives their enemies a total surprise. She too takes a trip of self-discovery, and like Gwendoline, learns quite a bit about herself and what she is capable of.
(Author's Note: While she was initially proud of the film, Zabou in the last several years distanced herself from it in the wake of revelations about the producer's intent of the project. Just Jaeckin himself has expressed hope her opinion will one day change, and see it for the positives again.)
What separates this film from Jaeckin's usual fare is the unusual amount of violence in it. While not overly gory in any way, the types of violence shown is quite unexpected for a man normally known for erotica with cleverly done innuendos. Sudden bursts in hostage situations and other moments, and occasional acts of cannibalism make for quite the juxtaposition with moments of tenderness and sensuality.
Outrageous, funny, thrilling, exciting, and entertaining, Gwendoline is many a growing boy's dream of fast paced adventure and plentiful feminine nudity. Pure fun from start to finish, Just Jaeckin successfully proves artistry and entertainment mix well together with this oddity that works on many levels.
(While abundant in nudity and violence, this is one of the few NC-17 films I can recommend to audiences, though it will appeal more to those who don't see themselves as prudish. The official rating is R according to the IMDB, and while the violence and nudity isn't excessive, is enough that it's not everyone's cup of tea. There is a cut version called The Perils of Gwendoline in the Land of the Yik-Yak which I believe eliminates some of the back story and extended scenes, though does give the film the 1930's adventure serial vibe Jaeckin did try to preserve from the original comic strip. The Blu Ray from Severin Films is beautiful looking and offers both the original uncut version in both the original French language and English dub, as well as the dubbed cut version, and a slew of extras including a new commentary featuring stars Tawny Kitean and Brent Huff who also reminisce about the experience.  Just Jaeckin and his main creative team also give interviews about the filming process and their experiences too.)
all images courtesy of Google.com/Google Images and their respective owners
for more information
https://www.imdb.com/title/tt0087903/?ref_=nv_sr_srsg_0
https://en.wikipedia.org/wiki/The_Perils_of_Gwendoline_in_the_Land_of_the_Yik-Yak
buying options
Filed under: Film: Analysis/Overview, Film: Special Topics