by Tony Nash
(a Part of Poliziotto e Criminale: The Poliziotteschi of the 1970's)
(all opinion are of the author alone)
(Mild Spoilers)
(This review is of the original Italian language version)
Confessione di un Commissario di Polizia al Procuratore della Repubblica (Confessions of a Police Captain/Confessions of a Police Commissioner to the Assistant District Attorney) (1971) R *****
Franco Nero: Sostituto Procuratore Traini
Martin Balsam: Commissario Giacomo Bonavia
Marilu Tolo: Serena Li Puma
Luciano Catenacci: Ferdinando Lomunno (as Luciano Lorcas)
Claudio Gora: Procuratore Generale Malta
Arturo Dominici: Avvocato Canistraro
Gianfranco Prete: Giampaolo Rizzo
Michele Gammino: Gammino
Adolfo Lastretti: Michele Li Puma
Written by: Damiano Damiani and Salvatore Laurani, based on a story by Damiani & Fulvio Gicca Palli
Directed by: Damiano Damiani
Synopsis: Deputy D.A. Triani investigates what he first believes is a Police coverup when Commissioner Bonavia intentionally has a known psychotic criminal released to assassinate an untouchable mafioso with ties to the local government. Things change drastically however, when the Police Commissioner admits the Mafia and Government are working together, possibly even to the most important of officials.
Filmmaker Damiano Damiani, well known for his social commentary and conspiracy films, presents one of his first Police and Political Thrillers that doubles as both entertaining and thought provoking. What at first appears to be a simple case of a high-ranking police official abusing his authority to finally get a dangerous criminal out of the way turns into a high-level investigation into the complicity of government officials helping the Mafia. At a time when people believed the Government of Italy was filled with Mafia plants, Damiani offers a disturbing idea that there is in fact no difference between politicians and gangsters, and that the supposed crime bosses are merely front men for the even more dastardly ambitious true powers. Police corruption is also highlighted within the film as the cop co-lead in the film has finally snapped from playing deaf and dumb to the illegal goings on around him and feels only by going rogue can any justice be done.
Damiani, who was a member of Italy's leftist movement to incite positive reform in his country, was no stranger to causing controversy and putting his life in danger. A year earlier he made a film about a teenage girl who single handedly defied social conventions and the Mafia by reporting a prominent Sicilian gangster had raped her. Damiani received threats on his life from the gangsters involved who were still alive after the fiasco had ended. This go around he was risking facing the wrath of both the Mafia and the Government itself over the innuendoes he was implying in regards to the Mafia and Government in a type of alliance.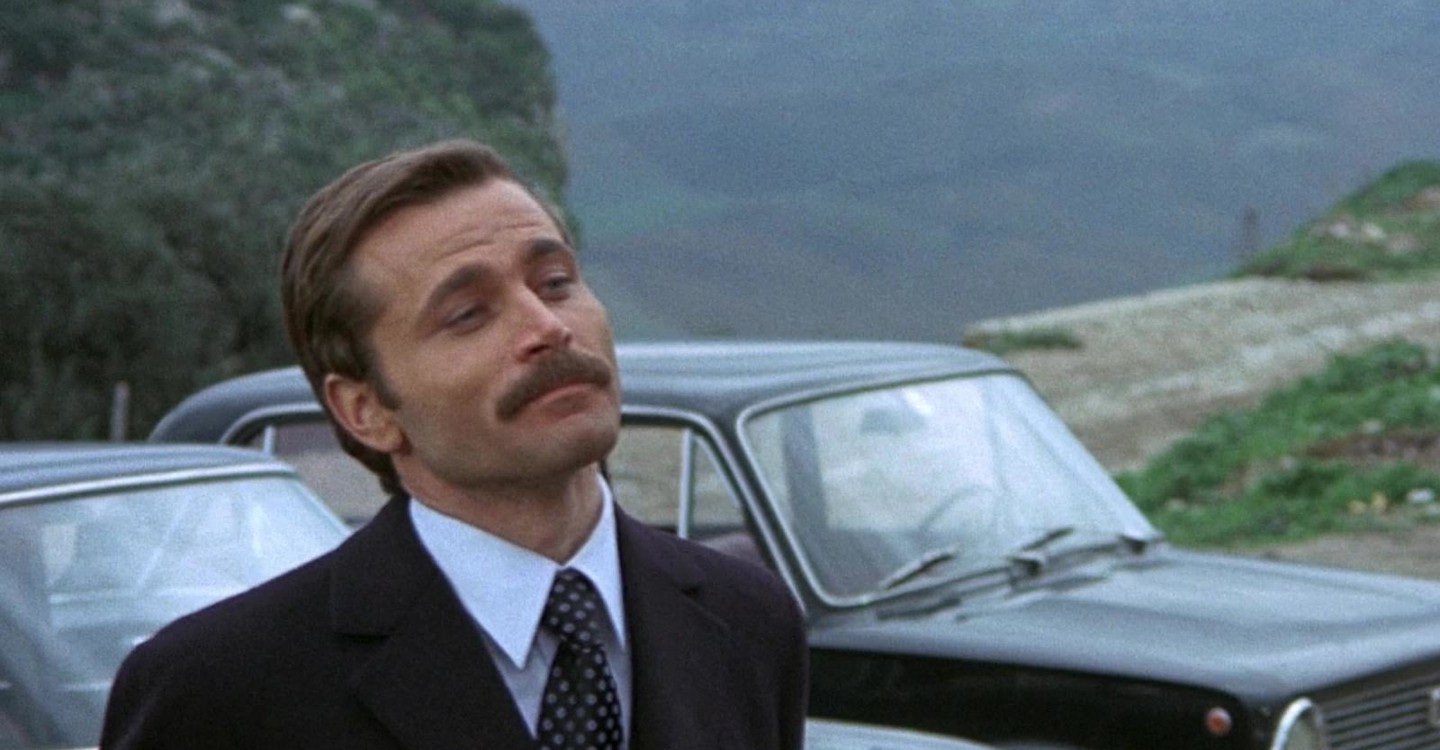 Franco Nero, one of Italy's finest actors, gives a subtle and nuanced performance as Traini. An idealistic Public Prosecutor fresh from internship, Traini is certain of corruption when a criminal with confirmed mental instability is all of sudden released under the orders of the Police Commissioner. When the man is gunned down in the building of a crooked construction developer believed to really be a mobster, Traini is certain the Police Commissioner has become a vigilante, looking to have the criminals eliminate each other through duplicity. Nero soon has Traini going into a form of paranoia and self-doubt as when he begins to dig deeper into the case, he finds many people he's met in the justice system have connections to the Mafia. Nero has his character's idealism breaking apart as he slowly comes to understand the disgraced Commissioner's warnings that sometimes those meant to uphold the law in fact mock it for their own gains. Whether Traini will decide to fight back, or crumble under the weight of the devastating truth is left open to viewer opinion.
Martin Balsam, a versatile American character actor, gives a rare layered and in depth performance as Commissario Bonavia Balsam plays Bonavia a cop that was once hopeful and idealistic, but quickly became hardened to the process of justice as he began to realize how adjustable the departments morals and conscious' were. Initially willing to play ball because he thought the greater good would come from letting the bad guys think they were fooling the police, Balsam has Bonavia fatalistically realize that the corruption he first noticed went into the government houses as well, particularly after the shooting of a union leader whom his daughter loved, and the death of a shepherd boy who witnessed the death of a land owner who wouldn't sell his property. Balsam shows a true inner conflict within the character Bonavia as it becomes clear he was once OK with looking the other way, but after a time realized he was only fooling himself and that he's in fact a collaborator, albeit in a reluctant sense. Finding out the mafioso he tried to have killed was behind the incidents that hardened him years earlier, Bonavia comes to realize he can either still knuckle under the thumb of the powers at hand, or he can do something about it, even if it means the cost of his life at the hands of the men he helped put into prison in the past.
A slew of Italian character performers including Marilu Tolo, Arturo Dominici, Claudio Gora, and Luciano Catenacci help make up an interesting gallery of characters who play varied crucial roles as either gangsters, those associated to gangsters, and politicians leading double lives and criminals. Every character is either helpful or hindering to Triani in his investigation.
(Author's note: To not spoil the ending, not much will be said of these other characters)
Complex, intriguing, entertaining, and involved, the film offers a mix of thrilling storytelling and social commentary that only auteur Jean-Pierre Melville was previously capable of making work. Damiani is more of a heavy hitter than Melville in his subtlety in handling the material, but still makes enough of an impact that fans have plenty to find involving and engaging.
(I highly recommend giving this film a look at as its one of the cornerstones of the Euro Crime genre, and partly made up the template for what genre regular filmmakers like Umberto Lenzi and Fernando Di Leo would implement into their own work. The Blu Ray from the German distributor FilmArt was sadly limited to only 1000 copies and is now out of print, but can be found for 25 Euros on the secondary markets and can be viewed [possibly only as the English dub track] on the internet site Tubi. FilmArt's audio and visual transfer of the film was stunning and looked very crisp and clear. The audio has some moments of popping, but given the age of the film and the copies of copies floating all over the grey market area companies over the years, the quality is still high end.)
all images courtesy of Google.com/Google Images and their respective owners
https://www.imdb.com/title/tt0066940/
https://en.wikipedia.org/wiki/Confessions_of_a_Police_Captain
Filed under: Film: Analysis/Overview, Film: Special Topics