by Tony Nash
(A Part of Western Wednesdays)
(all opinions are of the author alone)
(Mild Spoilers)
(Review is of the Italian language version of the film)
Il Grande Duello (The Grand Duel/The Big Showdown) (1972) R ****
Lee Van Cleef: Sheriff Clayton
Alberto Dentice: Philip Vermeer (as Peter O'Brien)
Horst Frank: David Saxon/The Patriarch Saxon
Jess Hahn: Big Horse, Stagecoach Driver
Marc Mazza: Sheriff Eli Saxon
Klaus Grunberg: Adam Saxon
Antonio Casale: Holk, Saxon henchman (as Antony Vernon)
Dominique Darel: Elizabeth
Elvira Cortese: Madame Oro
Written by: Ernesto Gastaldi
Directed by: Giancarlo Santi
Synopsis: Philip Vermeer, a hippie union leader, is wrongfully accused of the murder of the tyrannical Patriarch Saxon. When the man's three equally tyrannical sons vow revenge, it's up to Sheriff Clayton to save Vermeer, the town, and expose the real killer of the elder Saxon.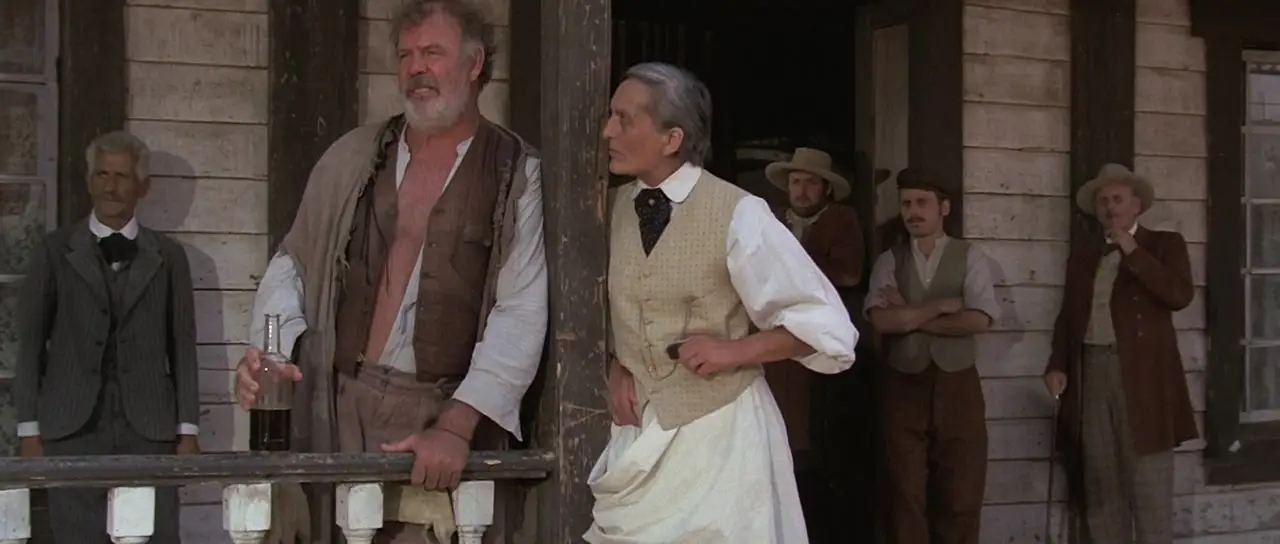 The last of the Golden Age Italian Westerns before they slipped into the realm of parody, comedy, and downright poor low budget fares, Il Grande Duello offers a mix of what the genre was famous for: ambiguous characters who weren't entirely good or bad, villains who were depraved and sadistic in their evil, beautiful landscapes, and unique scores. Screenwriter Ernesto Gastaldi and Composer Luis Enrique Bacalov are just two of the classic stalwart names who made the genre the cult favorites they are today are on hand to make this film in the tradition of what was being made in the 1960's that had audiences flocking to the theaters. This time around a Sheriff who was forced out of his position for standing up to corruption is the only one who can save a hotheaded Hippie-esque young man from being hanged by a trio of brothers who intend on maintaining their father's tyrannical grip on a burgeoning community, who are sure someone there killed the despot old man. Now while many Italian Westerns of the late 60's and early 70's offered interesting mystery subplots, Duello is a bit different in that all the characters associated with the dead man clearly have reason to be the killer, so singling out one individual who could've done it is almost impossible. Mixing both the serious tone of a Leone or Corbucci story, and the unique camera and editing of Parolini and Castellari, Duello offers a fond farewell to a prosperous period of filmmaking that, had it not been for comedy filmmakers and lack of continuing originality, could've gone on forever.
Lee Van Cleef, the American character who was the most famous and most prolific in the Italian Western, gives what would be his final great performance in the genre before returning full time to Hollywood in the role of Sheriff Clayton. Mixing the hard bitten & edged characters of his earlier roles, and the mysteriousness of the Sabata character, Sheriff Clayton is man determined to prove he was unjustly dismissed from his position, stop the Saxon brothers from taking over the whole of the United States, and keep Philip Vermeer from getting himself killed. Having firsthand knowledge of, but keeping it to himself until the right moment, who really killed the Saxon Patriarch, Clayton is the only one who can set things right and take out a real threat to, not just a small town, but the US as a whole, all while keeping everyone on their guard to his motives. While he doesn't care much for Vermeer's personality and how he handles things, Clayton realizes the young man genuinely cares about protecting the people of the little hamlet and their rights, and must do what he can to keep the young man from doing something stupid that could very well cost him his life.
(Author's note: This would be voice actor Emilio Cigoli's final time dubbing Lee Van Cleef, and his final time voice dubbing in general, the remainder of his career spent being onscreen in TV and movies. Cigoli was Van Cleef's primary dubber, except in La Resa di Conti (The Big Gundown), and both Sabata films, and one of a small number of voice actors whose own vocals greatly resembled the actor they were translating.)
Alberto Dentice, in his only film role, does very well as Philip Vermeer. Another Old West take on the Counter-Culture movement, this time around portrayed as a guy with a chip on his shoulder wanting to handle his own problems even though he knows doing so would cost him his life. Since he dared speak against the Saxon family, and was purportedly the last one seen facing the old man before he was killed, Vermeer is unfortunately the most likely suspect. That the town believes in him as he helped them find some courage in standing up for their rights shows he's not an entirely boastful braggart, and has some qualities that make him important for those who need help.  For his only film appearance and in a main role, Dentice is very convincing as Vermeer, mixing together brashness, sincerity, and honor into one personality.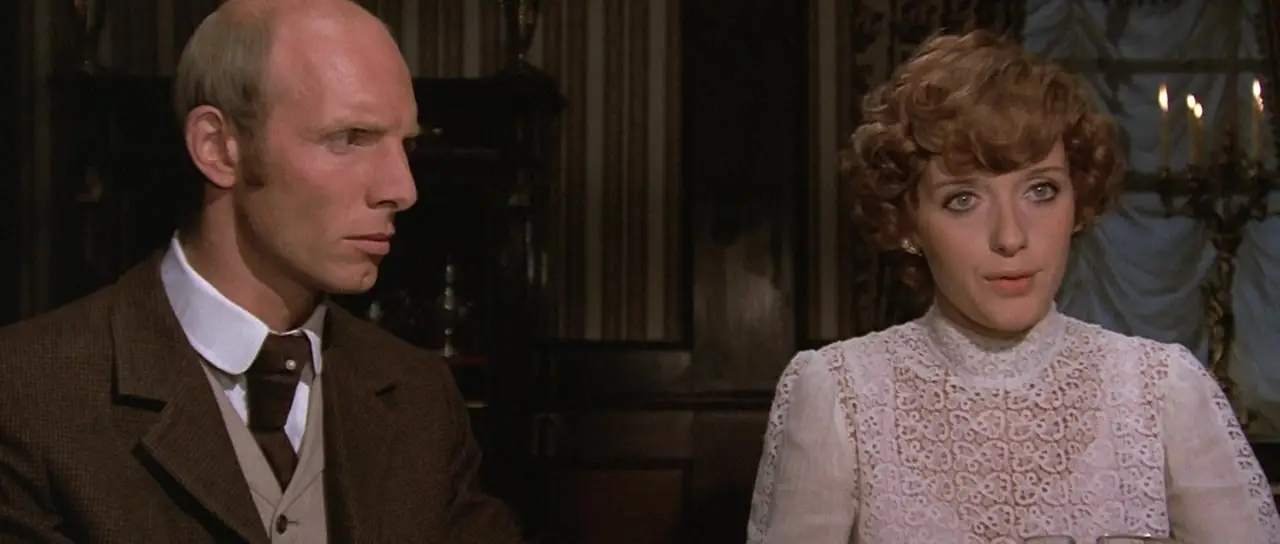 German actors Horst Frank and Klaus Grunberg, and French actor Marc Mazza, are all very convincing slime balls in the respective roles of David, Adam, and Eli, the Saxon brothers. Frank pulls double duty in this, also portraying the Patriarch Saxon in the black and white flashbacks. Frank, who was the earliest known Italian Western regular baddie, gives his trademark sophisticated menacing smarts as David. Power hungry and maniacal, David wants to take the Saxons all the way to the White House, and suggests reestablishing the States as a Monarchy again where he'll rule unopposed. He, like Clayton, knows who really killed his father the Patriarch, but unlike Clayton, doesn't want the truth revealed, very likely out of fear it will destroy the Saxons rise in monetary and political power.
Mazza, most famous as the big brute who gets slapped around by Terence Hill in Mio Nome il Nessuno (My Name is Nobody), is a mix of forcefulness and maniac paranoia as Eli. The town's corrupt Sheriff who openly looks the other way to all the crimes committed, Eli enjoys the power his family has over the hamlet. Having been next to his father when he was shot, Eli feels the heaviest burden to locate and unmask his killer, believing he failed to protect the old man. His paranoia in finding the truth leads to brief clashes with his brothers, who feel he brings too much attention to them. Grunberg plays Adam as an effeminate sadist, who is the most brutal of the three brothers. Always decked out in white, he takes major offense if his suits are ruined for any reason. His penchant for excessive violence makes him the family hit man that David employs quite often on their enemies.
One of the few non-Garko based mystery Westerns of the era, Duello makes fine use of the flashback sequence and uses smoke screen style special effects to hide the identity of the real killer until the final 20 minutes of the film. All the actors do effective jobs in their respective, Van Cleef, Dentice, and Frank especially, keeping viewers constantly guessing as to who is truly the murderer of the evil Saxon Patriarch.
(I do highly recommend checking this one out, as not only is it one of the last hurrah's in the great tradition of the Italian Western, but one of the few films in the genre that is under-seen and needs far more exposure than what its gotten. I made a slight error in my saying this was one of Lee Van Cleef's last Italian films, he did go back to Italy here and there, but Duello was certainly the last time he was kind of primarily doing films over in Europe. The film never ended up in Public Domain hell like some films did, but for one reason or another never got an adequate DVD or Blu Ray release until Arrow Video got the rights to release the film not too long ago. Arrow's transfer and release of the film is much like their other releases, always excellent in the audio and visual department with only small hints of age and damage remaining, and offering a slew of extras and a booklet [which might be out of print as booklets are now first run deals only].
all images courtesy of Google.com/Google Images and their respective owners
for more information
https://www.imdb.com/title/tt0068657/
https://en.wikipedia.org/wiki/The_Grand_Duel
https://it.wikipedia.org/wiki/Il_grande_duello
https://www.spaghetti-western.net/index.php/Grande_duello,_Il
buying options
https://www.arrowfilms.com/product-detail/the-grand-duel-blu-ray/FCD1860
Filed under: Film: Analysis/Overview, Film: Special Topics