by Tony Nash
(A Part of Western Wednesdays)
(All opinions are of the author alone)
(Mild Spoilers)
(Review is of the Spanish language version of the film)
Ocaso de un Pistolero (Mani di Pistolero/Hands of a Gunfighter/Hands of a Gunman) (1965) PG-13 ***
Craig Hill: Dan Murphy (as Graig Hill)
Gloria Milland: Miriam Murphy
Carlos Romero Marchent: Pat Davis
Jose Guardiola: John Castle
Piero Lulli: Davey Castle
Raf Baldassarre: Deputy Sheriff Mack (as Ralph Baldwin)
Jesus Puente: Sheriff Robert Rogers
Lorenzo Robledo: Slim Castle
Hugo Blanco: Charlie Castle
Francisco Sanz: Alex Dixon (as Paco Sanz)
Conchita Nunez: Margaret Dixon Davis
Francisco Huetos: Andy Rogers Murphy
Written by: Joaquin Romero Marchent (as Joaquin Romero Hernandez)
Directed by: Rafael Romero Marchent
Synopsis: Dan Murphy, a gunman attempting to go straight, sees his world shattered when his infant son is accidentally killed by his rival Sheriff Rogers. Acting on an eye for eye, Murphy takes Rogers infant son away from him, raising the boy as his own. When Murphy must come to the aid of his friend Pat Davis, a young and recently married farmer, against the vicious Castle brothers, Rogers' blindly loyal deputy threatens to arrest Murphy for his past sins unless Rogers' son is returned to him. With two threats facing him, Dan is forced to take a long hard look at himself.
Rafael Romero Marchent and Carlos Romero Marchent, the sons of filmmaker Joaquin Romero Marchent, make their debuts as director and actor respectively in Pistolero, written by their father. Continuing the family tradition of telling stories about gunmen having to face down their pasts as they try to do right by their loved ones, the senior Marchent crafted a story about a gunman who's so hated by the town sheriff that the man blindly fires his gun at him, killing the gunman's infant son. When the gunman pays back the sheriff by kidnapping his infant son so he and wife can raise the child they were robbed of, questions of right and wrong come into play and if some actions are truly justifiable. A nice side plot also includes the reforming gunman trying to help out his neighbors, a recently married couple, when one of a quartet of vicious brothers takes an interest in the young bride, recreating a classic element of both American and Italian Westerns.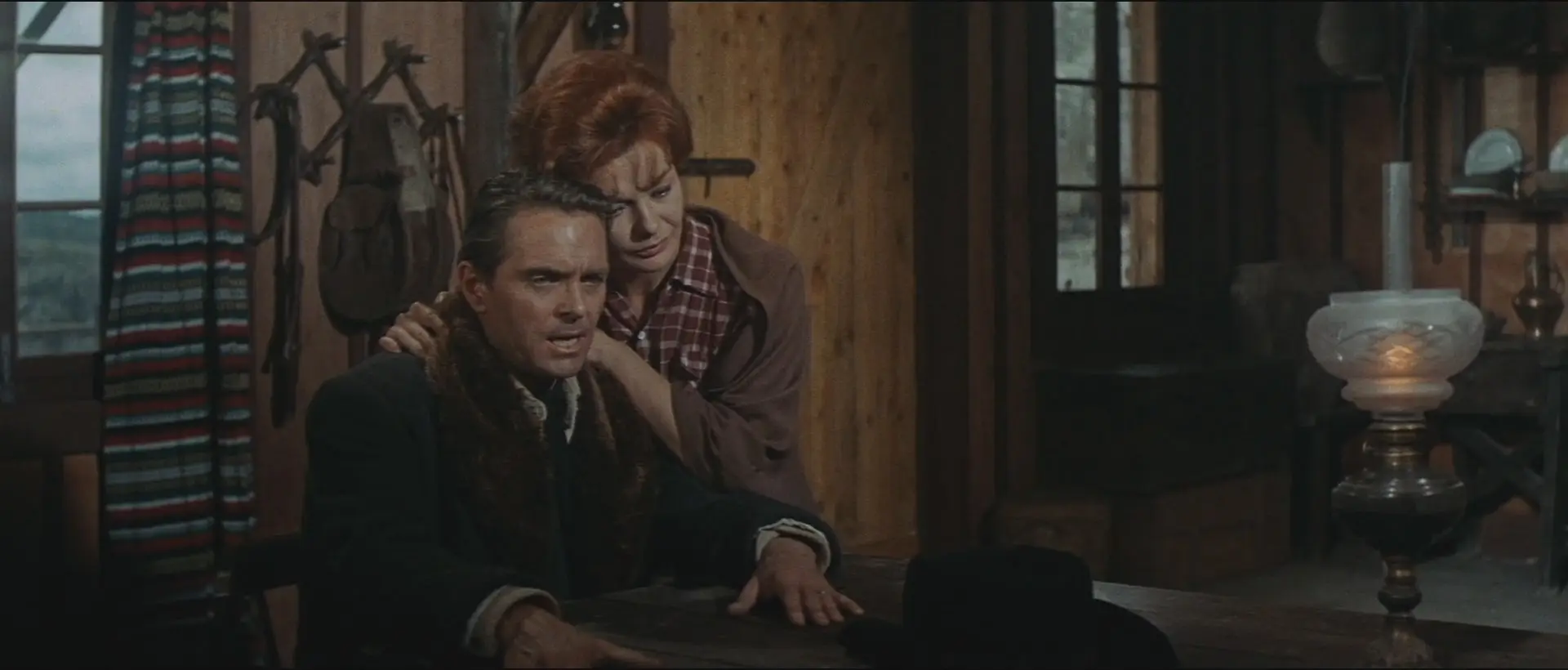 Craig Hill (credited as Graig Hill), a Mid-West born American actor who suddenly found himself without work after the hit series he starred in, Whirlybirds, ended, went over to Europe to star in his first Western. Dan Murphy is a bit of a mix, having elements of both American West tragic heroes and Euro West tragic heroes, as he wants to do right by his family and friends, but at the same time feels as if Destiny is against him and must do what he can to attain even the tiniest bit of happiness. Even at the beginning of the film he was getting his life on track, only to have it go on a dark path when his enemy the sheriff, who wouldn't leave him alone, accidentally shoots his baby son, leading to revelations that show certain characters for who they truly are. When he's hit with double trouble in the form of his good friend needing help in protecting himself and his wife from the less than honorable Castle brothers and the even less honorable sheriff threatening to ruin his life if he doesn't get the son he never even tried to track down before back, the only grip Dan had left on his hopes and sanity begins to crumble, and even begins to believe his wife is turning against him.
A slew of characters including Piero Lulli, Jesus Puente, Raf Baldassarre, Gloria Milland, Lorenzo Robledo, Francisco Sanz, and Hugo Blanco all make up the various characters in Dan's life, whether they be allies, family, or enemies. The notable exceptions in the cast are Lulli as Davey Castle and Puente as Sheriff Robert Rogers. Lulli plays Castle as a slimy menacing type who instigates some of the feud between his family and Pat Davis and Dan Murphy by forcing Pat's father to take up a gun when he and his brothers look to intimate Pat and his family after Pat is forced to kill the one brother when he attempted to sexually attack his wife. Puente's Sheriff Rogers appears to be little more than a wolf in sheep's clothing as while he seems to have some remorse in killing Dan's infant son, he never the less threatens to make Dan and his wife's lives miserable even though he was the cause of all the misfortune. That he waits years to finally ask for his son back puts his fatherly love and devotion into serious question as he apparently knew for years where Murphy and his wife had taken his son and never bothered previously to try and get him back or at least plea to be given a chance at making things right. That he comes off right away as someone who acts in haste seems to make that point true.
While more American in its story, theme, and characterizations rather than Italian or Spanish, Pistolero is still an intriguing early stage Euro Western that offers up some interest. The closest the film gets to the burgeoning Italian style that was finding its roots in the wake of Sergio Leone's success is when Dan begins going after the Castle family when they go too far in terrorizing Pat Davis and his wife. His systematic eliminating of the brothers so they can't get the drop on him is very much in the Leone style and is the most exciting part of the entire film, while the rest seems to have more of the feel of a Frontier Drama rather than a traditional Western.
(This Western is middle of the road in terms of interest, but is still worth checking out as it's a unique example of the genre in it's early stages, showing how they used American Westerns as the basis, and worked their own style and magic in. Craig Hill in his debut Italian Western role is very effective and compelling, showing he was a talent that Hollywood didn't give much of a chance to grow and flourish. He certainly had leading man looks, but even if he'd only done character parts in both Hollywood and Europe he'd still have been a success. The Blu Ray from Koch Media's Italian Western line is exquisite looking, offering a clear and crisp transfer of the visuals, and clear audio via Spanish, German, and English soundtracks. Some of the English track is missing and English subtitles are available for the spots were the audio reverts to the original Spanish language. The extras are an interview, theatrical trailers and a gallery.)
All images courtesy of Google.com/Google Images and their respective owners
for more information
https://www.spaghetti-western.net/index.php/Ocaso_de_un_pistolero
https://www.imdb.com/title/tt0059530/?ref_=nv_sr_srsg_0
https://en.wikipedia.org/wiki/Hands_of_a_Gunfighter
https://es.wikipedia.org/wiki/Ocaso_de_un_pistolero
https://www.mediamarkt.de/de/product/_blei-ist-sein-lohn-western-blu-ray-2433200.html
https://www.jpc.de/jpcng/movie/detail/-/art/blei-ist-sein-lohn/hnum/8296176
Filed under: Film: Analysis/Overview, Film: Special Topics