by Tony Nash
(A [Belated] 45th Anniversary Celebration of Jaws Part 2)
(All opinions are of the author alone)
(Mild Spoilers)
(Review is of the Italian language version)
Killer Crocodile 2 (1990) R ***
Richard Anthony Crenna: Kevin Jones, Activist (as Anthony Crenna)
Debra Karr: Lisa Post, Reporter
Ennio Girolami: Joe, the Croc Hunter (as Thomas Moore)
Terry Baer: Paul, Miami Chronicle Publisher
Hector Alvarez: Mr. Baxter, Land Developer
Written by: Fabrizio De Angelis (as Larry Ludman), Giannetto De Rossi, & Dardano Sacchetti (as David Parker Jr.)
Directed by: Giannetto De Rossi
Synopsis: Eco Activist Kevin and Croc Hunter Joe reunite to find Kevin's reporter friend Lisa who has discovered a land developer has lied about promising to fully decontaminate an area of the Caribbean riddled with illegally dumped toxic waste, instead planning a huge resort on top of it. Kevin soon finds another mutated croc is out killing tourists and locals, and when Joe ends up a victim of the beast, he and Lisa must save the populace and then expose the truth.
While a sequel to the original, Killer Crocodile 2 was in fact filmed simultaneously with its predecessor. Fabrizio De Angelis was behind the helm of both films, but decided to give the directorial credit of the sequel to special effects man and burgeoning filmmaker Giannetto De Rossi. Like the original Killer Crocodile being a pseudo remake of Jaws, KC2 was a pseudo remake of Jaws 2 in that both dealt with the uneasiness of major resorts being built in areas that might still be infested with dangers, only the danger this time is a mutated crocodile and loads of hazardous toxic waste instead of crazed man eating shark. Giannetto De Rossi himself stated in an interview that while much fun was had making both films, the overall product could be less than stellar at times, but he none the less enjoyed the challenge of trying to make a realistic looking giant crocodile with the little budget they had to work with.
American actor Richard Anthony Crenna (credited as Anthony Crenna) and Ennio Girolami (credited as Thomas Moore) reprise their respective roles of activist Kevin and hunter Joe in the film. Kevin is still out trying to save the world, but hard learned truths have made him wiser in that some things are just too dangerous to let roam around free as they cause as much, if not more, destruction than the most harmful materials around. Kevin still believes in saving the world, but has learned new ways that allow him to maintain his ideals, and stop harmful elements that need stopping. Croc Hunter Joe has also learned some lessons from his encounter with the original croc. He too is wiser, and has learned he himself has limits as his fight with the croc cost him the use of his one arm. Kevin's activism influenced him as his survival skills influenced Kevin in that he's a little more careful of what he uses to make his food, and understands both ends of the arguments over environmental safety. Sadly, his loss of his edge costs him his life when he's unable to predict where the croc is.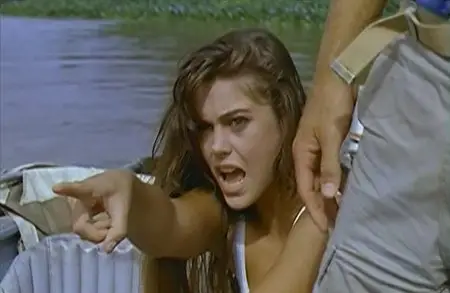 Debra Karr, a very briefly lived actress in the late 80's, early 90's, is quite the surprise as the spitfire reporter Lisa. A very independent woman via the 2nd wave Feminist Movement, Lisa knows how to take care of herself, and is able to survive the dangers of the croc and jungles where others have fallen victim. Certain the land developer Baxter is covering up lost toxic waste, Lisa stays on the trail even when Baxter pays off goons to threaten her.
The beauty of the Caribbean islands is once again on display in the film, and even a few shots of Miami Florida come into display. Mixing both the classical beautiful scenery and the more exotic rural areas, De Rossi and his crew make the best use of locations to help hide the meager budget at hand.
Not as interesting as the original, but still offers an intriguing story-line involving lies, deceit, and political based cover-ups, KC2 is still a very interesting ride to experience and enjoy.
(As I said earlier, the sequel can't compare to the original, and while at times the story seems a little up in the air of where it wants to go, the acting of Crenna, Girolami, and Karr make up for the loose ends that couldn't be fixed during the shoot or in the editing room. De Rossi himself claims the film wasn't the preferred way to start his career as a director, but did enjoy the challenges of the limitations at hand, and the confidence given him by writer-producer-director Fabrizio De Angelis. Two Blu Rays exist of the film, one from the US company Severin Films, and the other from the UK's 88 Films. The Severin Blu Ray is a limited run extra, while 88 Films has the full on rights to distribute it as a single feature. Like with the Original, 88 Films wins out on the visual and audio transfer, and on the price as well. It can be bought either on the Killer Crocodile Box Set, or as a single edition that will be coming out late August, early September.)
All images courtesy of Google.com/Google Images and their respective owners
for more information
https://www.imdb.com/title/tt0099934/?ref_=nm_knf_i3
Buying Options
Killer Crocodile / Killer Crocodile 2 Collection – The Italian Collection 50 / 51
Filed under: Film: Analysis/Overview, Film: Special Topics