Many Twists at the Villa
by Tony Nash
(Cycle of the Melodic Gialli: The Lenzi/Baker Edition 1)
(All opinions are of the author alone)
(Mild Spoilers)
(Review is of the Uncut Italian language version)
Orgasmo (Paranoia) (1969) R ****1/2
Carroll Baker: Catherine West (Kathryn in US version)
Lou Castel: Peter Donovan
Collette Descombes: Eva Donovan-Stuart
Lilla Brignone: Theresa, the Maid
Tino Carraro: Attorney Brian Sanders
Franco Pesce: Martino, the Gardner
Jacques Stany: Det. Arthur Frank
Joseph Guilty: Arnold Cleever
Written by: Umberto Lenzi, Ugo Moretti, & Marie Claire Solleville
Directed by: Umberto Lenzi
Synopsis: A wealthy American widow rents out a spacious Italian Villa to recover from the tragic death of her husband. She becomes smitten with an expate and his sister, and invites them to stay with her for a week. Soon, she begins to wonder if a scheme is a foot to steal her money.
Umberto Lenzi, one of Italy's more prolific, but underestimated (thanks to Gore Horror buffs) filmmakers, tackles one of his earliest Giallo successes with Orgasmo. Inspired by a short story in a Mystery/Thriller anthology book about a young man who terrorizes a wealthy lady painter for her money, Lenzi took this concept and built a more complex, and visually stunning, story of greed and deception. The film plays a little more to the psychological end of the Thriller genre, where a battle of wills is soon to be waged, one with several surprising outcomes. 1969 was considered the height of the Swinging 60's, and the fashion, music, and atmosphere reflect that generation that was on its way Giallos at this period were made sporadically here and there, and were at times a little on the lurid end, but with Orgasmo, Lenzi took the Mystery Suspense film back to the classy boudoir, and mixed in enough erotica to give the piece spice without going into territory that would be deemed classless. The film also began a lifelong friendship between star Carroll Baker and Lenzi, whom he would work with three more times, citing her as one of his favorite actresses to work with.
Lenzi got help in making this film very akin to American Thrillers of the 30's and 40's he loved with the aid of novelist and occasional screenwriter Ugo Moretti. Moretti, having done a series of detective fiction himself, (often under a pseudonym to maintain his standing among the more serious literary circles) had a keen eye to what were good motifs and themes for the Mystery/Suspense genre, and was able to help Lenzi constrict a script that was very similar to works of such authors as Dashiell Hammett, Raymond, Chandler, and James M. Cain. Moretti was also sympathetic to the mod youth of that period, and a good chunk of his time writing before meeting with Lenzi finalize things was spent fleshing out the devious couple played by Lou Castel and Collette Descombes.
Carroll Baker, an American actress who found a second wave of success in Italy, is fascinating and compelling as Catherine (Kathryn) West. Baker ended up in Italy after she rebelled against the demeaning parts being offered to her by Hollywood producers, and ended up having some of her best work in those early days of exile. Seemingly shook over the sudden and tragic death of her wealthy husband, Catherine looks forward to a period of rest and relaxation in a secluded Italian villa before getting on with her life. At first content to be by herself with only a loyal maid and deaf gardener as company, Catherine's life seems to get a new spark when she meets the young and handsome Peter. At first happy with a hide n' seek liaison with him, she eventually offers to let Peter stay with her at the villa until the lease is up, and ends up with both Peter and his sister Eva. After a time, Catherine discovers Peter and Eva aren't blood related, and that they're beginning to play with her mind, Baker soon has the Catherine character going through fits of paranoia, fear, and desperation, thanks to both Baker's physical personification and the voice of actress/dubber Rita Savagnone, as there seems to be no way out of her situation without the fear of a scandal via her menage a troi with the couple.
A real boost for Baker in her Italian period, was her willingness to go totally nude for some of the scenes in the film. Initially Eleanor Powell was up for the lead of Catherine, but Lenzi managed to convince the producers to cast Baker instead, and the film ended up being much better because of Lenzi's insistence on Baker. Not too many American actresses, whether at the twilight of their careers or in their prime, were willing to do anything that even hinted they were stark naked in a scene, but Baker was still young enough in her career that she had no qualms about "baring" all if need be. This was a combination of her wanting to take risks with parts and that she had an immediate rapport with Lenzi who was known to be very flexible with his casts. Lenzi has gone on record saying they liked each other so much Baker knew he would never ask her to get nude for no reason.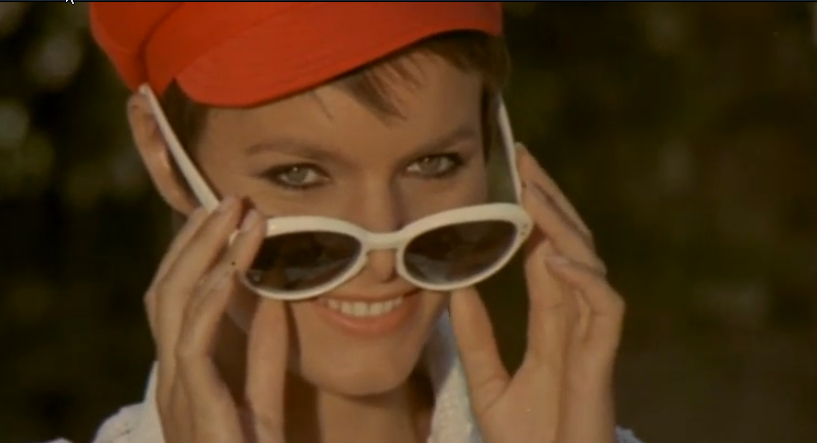 Lou Castel, a Swedish actor born in South America who made his career in Italy, is a scum infested pleasure as Peter Donovan. Having made a career of playing slimeballs, perverts, psychos, and all-around unlikable characters, Castel doesn't have to dig too deep in his acting training to pull off the character of Peter. At first coming off as a ne'er-do-well living a bohemian existence in the Italian countryside, Peter slowly reveals himself to be a money hungry gigolo and lady killer, as he calculatingly and methodically leads his fireball lover into a state of madness and fear. Collette Descombes, a little-known French actress recommended by Lenzi, is the feminine opposite of Castel in the role of Eva (Stuart) Donovan. At first masquerading as Peter's stepsister, Eva soon reveals she and Peter have had a sexual relationship since early adulthood, and admits to Catherine she wants to be her lover along with Peter. More conniving in her actions than her brutish male companion, Eva is no less deadly.
Noted Italian character performers Lilla Brignone, Tanio Carraro, & Franco Pesce play the supporting roles of Theresa the maid, lawyer Brian, and Martino the gardener respectively. All are oblivious to the deadly games going on, and that Mrs. West is in grave danger from people who want her inheritance, and for one, the truth of the situation that eventually reveals itself, will be far too shocking.
Lenzi and Baker keep the tension and suspense at an all time high in the film: Lenzi keeping the motives of his antagonists a mystery until the very end, and Baker's fine performance as a woman slowly teetering the fine line between sanity and utter despair paranoia. That the characters are very rarely seen outdoors, save for the garden/patio of the villa adds to the slowly increasing tension, the claustrophobic and confined space making the situation all the more dangerous and frightening. The frank sexual innuendos and dialogue between the characters was very tantalizing for the time and soon became a source of liberation for the youth of the era.
(I highly recommend giving this film a look at when the opportunity presents itself as Lenzi paints one of the most original forms of Murder/Mystery in the early stages in the Giallo period. It does get a little tedious in the middle and early parts of the end, but the finale is very well worth the pay off and it totally comes out of left field and the viewer never sees the revelation coming. The US Cut of the film, which is the only film of the early MPAA system to retain the "X" rating (though it is really R rated even by the standards of the 80's onward) removes key essential story and character points, making it far too straightforward and losing the intrigue Lenzi and his co writer Moretti intended. The Blu Ray from Severin Films offers a pristine restoration in audio and visual quality of Lenzi's original cut of the film along with well translated English subtitles of the Italian audio track [I highly recommend watching the film in the original Italian, as the uncut version has scenes that were never dubbed into English, and do sporadically go from English to Italian when viewed in the dubbed track]. Two audio commentaries are offered: the uncut version with Alexandra Heller-Nicholas, the US cut with Giallo historian titans Troy Howarth and Nathaniel Thompson. Also available is a nice interview with Umberto Lenzi, focusing mainly on his inspiration for the film, his relationship with actress Carroll Baker, and how Film-Noir influenced his golden age period with his Giallos and Poliziotteschi.)
All images courtesy of Google.com/Google Images and their respective owners
for more information
https://www.imdb.com/title/tt0063413/
https://en.wikipedia.org/wiki/Orgasmo
https://it.wikipedia.org/wiki/Orgasmo_(film_1969)
https://www.grindhousedatabase.com/index.php/Paranoia
buying options
Filed under: Film: Analysis/Overview, Film: Special Topics