by Tony Nash
(The Cycle of the Melodic Gialli: The Lenzi/Baker Edition 2)
(All opinions are of the author alone)
(Mild Spoilers)
(Review is of the original Italian language version)
Cosi Dolce….Cosi Perversa (So Sweet, So Perverse) (1969) R ****
Carroll Baker: Nicole Perrier
Jean-Louis Trintignant: Jean Reynaud
Erika Blanc: Danielle Reynaud
Horst Frank: Klaus, the Hitman
Helga Line: Helene Valmont
Gianni De Benedetto: M. Valmont
Beryl Cunningham: Exotic Model Dancer
Written by: Luciano Martino, Massimo D'Avack, & Ernesto Gastaldi
Directed by: Umberto Lenzi
Synopsis: Wealthy industrialist Jean Reynaud finds himself in a peculiar adventure when he offers to aid a frightened and abused woman named Nicole. Nicole later confesses to Jean that her running to him was a ruse so her sadist ex-lover could earn a fee for the playboy's death. Soon, it becomes apparent that someone clearly wants to inherit Jean's assists and his company.
Filmmaker Umberto Lenzi and actress Carroll Baker team up for the second time in a homage and unique take on French auteur Henri-Georges Clouzot's classic psychological Thriller Diabolique. Keeping the story within the country of France, Lenzi and the screenwriting team have story move up from the secluded countryside to the bustling capital of Paris, where the wealthy enjoy luxuries with less than honest approaches to business and marriage is treated as an arrangement while extra marital affairs run rampant. While Clouzot's story was centered on the type of suspense that bordered on the fringes of Horror, Lenzi's version keeps the suspense tied to the realm of Mystery and Thriller, keeping the audience in the dark and uncertainty of what is really going on until the reveal time is right. The film centers on an arrogant and philandering industrialist in a marriage both he and the wife have regrets committing to, who soon finds his rather complacent lifestyle upended when he begins hearing arguments and crashing sounds from the apartment above his own. Upon discovering a clearly frightened woman trying to break away from a vicious lover, the man decides to try to help her escape. When she admits she's a pawn in a scheme to have him killed, things turn even stranger as a series of double crosses, twists, and revelations begin a domino effect of crazy proportions.
Carroll Baker, fresh off her success with fans in Orgasmo, gets to play a completely different kind of Femme Fatale in the role of Nicole. At first a recovering abuse victim, Nicole soon proves to be a woman who has two distinct faces: one of a manipulative con artist, the other a beautiful but tragic woman. Baker moves seamlessly between being for and against Jean, seamlessly moving him closer and closer to a very deadly outcome. The question soon becomes how much of a victim she really is, and who is pulling the strings. Baker's Actor Studio training serves her very well for the duplicitous role. Jean-Louis Trintignant, a French actor who also did Italian films for about 12 years is his usual enigmatic self in the role of Jean, the rich playboy. From initial looks, Jean is the typical Bourgeoisie who rotates between his office, the varied clubs, and home, but in fact is in loveless marriage, and goes from mistress to mistress, spending most of his flings with a turkey-shoot partner's wife. In spite of the lifestyle he lives, Jean is actually bored with his current situation, and suddenly finds himself in a unique situation when he believes spouse abuse is occurring in the apartment above his. Little does he know a sinister plot is being hatched against him, and even the woman he feels he can trust he keeps to a certain distance. While Jean has his shady side, even he doesn't deserve that kind of end.
Erika Blanc, an Italian model and actress who excelled at many genre roles, gets to do something different with the role of Danielle. Normally known for playing women who were strong enough to handle most tough situations thrown at them, Blanc's Danielle is the complete opposite as a worrier and frail woman who's afraid of her own shadow. While initially attracted to Jean because of his charisma and willingness to take chances, she soon becomes distant to him, not even caring when he fools around with other women, including a few of their friends. Somehow Jean's dalliance with Nicole is the final straw for Danielle, especially when a sultry party game at their home results in Jean and Nicole kissing. How willing she'll be to be rid of her husband will most assuredly be surprising to everyone. Horst Frank, a German actor who enjoyed success in both his native land and abroad, plays a very Kinski esque type in the role of Klaus (ironic isn't it). Little is known about Klaus save his penchant for violent S&M style fantasies in the bedroom, and his knack for unique ways to kill. Exactly what sort of role he plays in the whole strange affair with himself, Nicole, Jean, and Danielle is left ambiguous until the final reveal.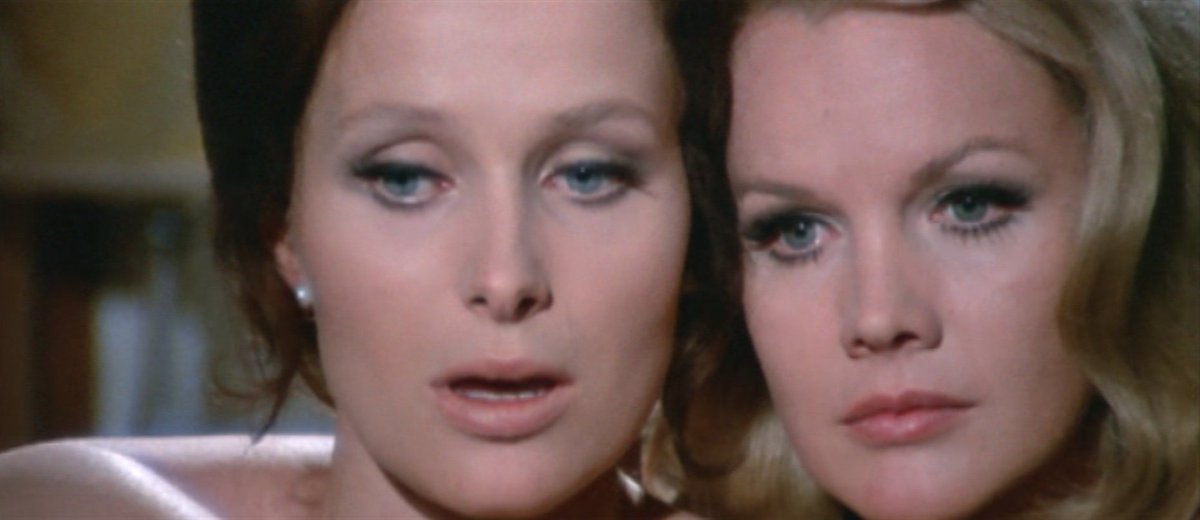 While Lenzi's previous hit Orgasmo had very frank depictions of bi-sexuality, lesbianism, and BDSM style trysts, this go around he is very subtle the sexual preferences of his characters. While there's no secret in how said characters behave when it comes to love and lust, Lenzi's writers go a little more in the heavily hinted innuendo route, particularly Sapphic undertones involving the two female leads around the middle mark of the film.
A Thriller that keeps its audiences in the dark until the very last minutes, the film offers quite the bevy of twists and turns, leaving the almost always unanswered questions of who is playing who, who's really the victim.
(I can only partially recommend this film myself as while the majority of it is very well made, and does indeed keep you guessing, writers Ernesto Gastaldi, Luciano Martino, & Massimo D'Avack miss the mark on the final reveal/ending by almost a mile. This is very unusual for a writer of Gastaldi's caliber, as he was one of the best when it came to the Giallo genre. Lenzi himself had admitted it was his not being involved in the script that killed the film's ending really delivering the goods as he felt it was Martino and D'Avack's attempts at keeping red herring after red herring going along with Gastaldi's fine work made trying to come up with a suitable finish really difficult. Other than that, the film is well crafted an offers plenty of good early to mid twists. Severin Films audio and visual transfer of the film is pretty solid, along with extras including a Kat Ellinger audio commentary, and interviews with Umberto Lenzi and Ernesto Gastaldi. )
All images courtesy of Google.com/Google Images and their respective owners
for more info
https://www.imdb.com/title/tt0064186/?ref_=nm_flmg_dr_43
https://en.wikipedia.org/wiki/So_Sweet…_So_Perverse
https://it.wikipedia.org/wiki/Cos%C3%AC_dolce…_cos%C3%AC_perversa
buying options
an addition will be coming from 88 Films' Italian Collection line soon
Filed under: Film: Analysis/Overview, Film: Special Topics