by Tony Nash
(The Cycle of the Melodic Gialli: The Lenzi/Baker Edition 3)
(All opinions are of the author alone)
(Mild Spoilers)
(Review is of the Italian language version)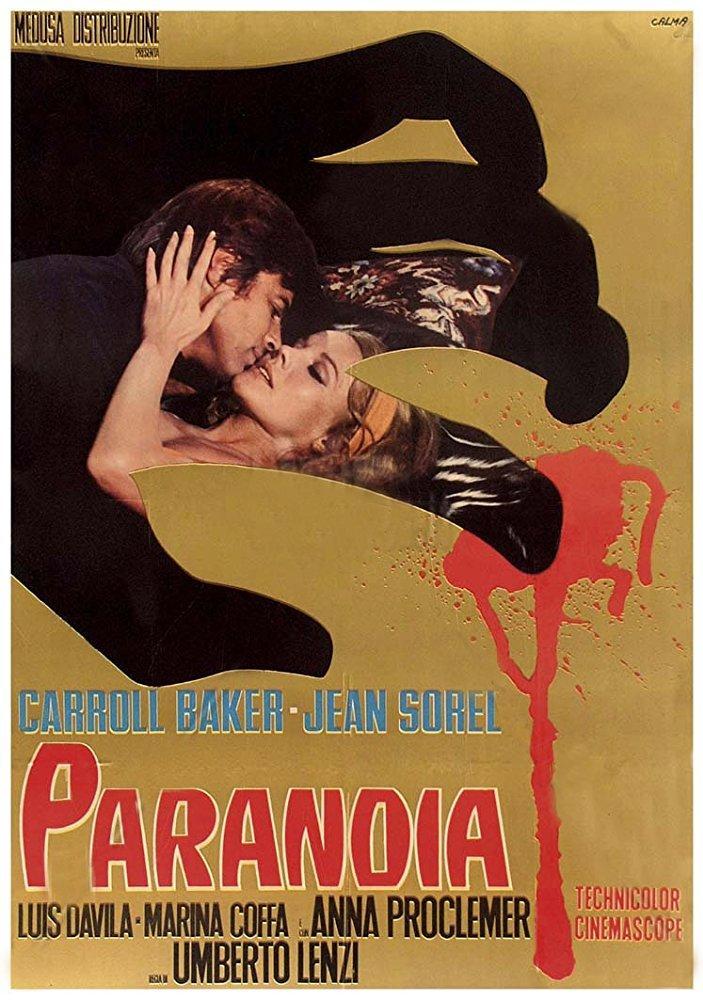 Paranoia (A Quiet Place to Kill) (1970) ***** R
Carroll Baker: Helene Sauvage
Jean Sorel: Maurice Sauvage
Luis Davila: Judge Albert Duchamps
Alberto Dalbes: Dr. Harry Webb
Anna Proclemer: Constance Sauvage
Marina Coffa: Susan Sauvage
Lisa Halvorsen: Solange Duchamps (as Liz Halvorsen)
Hugo Blanco: Miguel
Jacques Stany: James
Written by: Marcello Coscia, Rafael Romero Marchent, Bruno Di Geronimo, and Marie Claire Solleville, from a story by Coscia & Marchent
Directed by: Umberto Lenzi
Synopsis: While recovering from an accident during practice, a lady racecar driver is offered a large sum of money by the woman currently married to her ex-husband to kill him. When the wife is killed instead, the ex-lovers resume their affair, only for the dead woman's vivacious daughter to make a surprise visit.
Paranoia is a really unique film in that it not only reunites Umberto Lenzi and his favorite leading lady Carroll Baker for the third time, but also reunites Baker with her Dolce Corpo di Deborah (Sweet Body of Deborah) leading man Jean Sorel for a second time. Lenzi once again takes the film to France, this time in the luscious countryside somewhere in the South, where seclusion can lead to all sorts of surprises and intrigue. The film takes the familiar Mystery Suspense concept of marital infidelity, revenge, deception, and greed to a whole new level as a woman cheated out of her savings scraps by doing varied jobs, including professional racing, finally hits rock bottom when an accident prevents her from returning to the sport. At first curious when she receives an invitation to relax at her ex-husband's private villa, the woman soon finds herself in a strange triangle wherein the trophy wife wants her husband dead for reasons known only to her, while the husband would very much like to enjoy both his ex, his current wife, and the wife's Lolita like daughter. The wife decides to offer money to the struggling woman as she had once before tried to kill the husband for his varied infidelities, but events take an unusual turn and suddenly unexpected complications happen. What follows is an intricate plot that has many twists.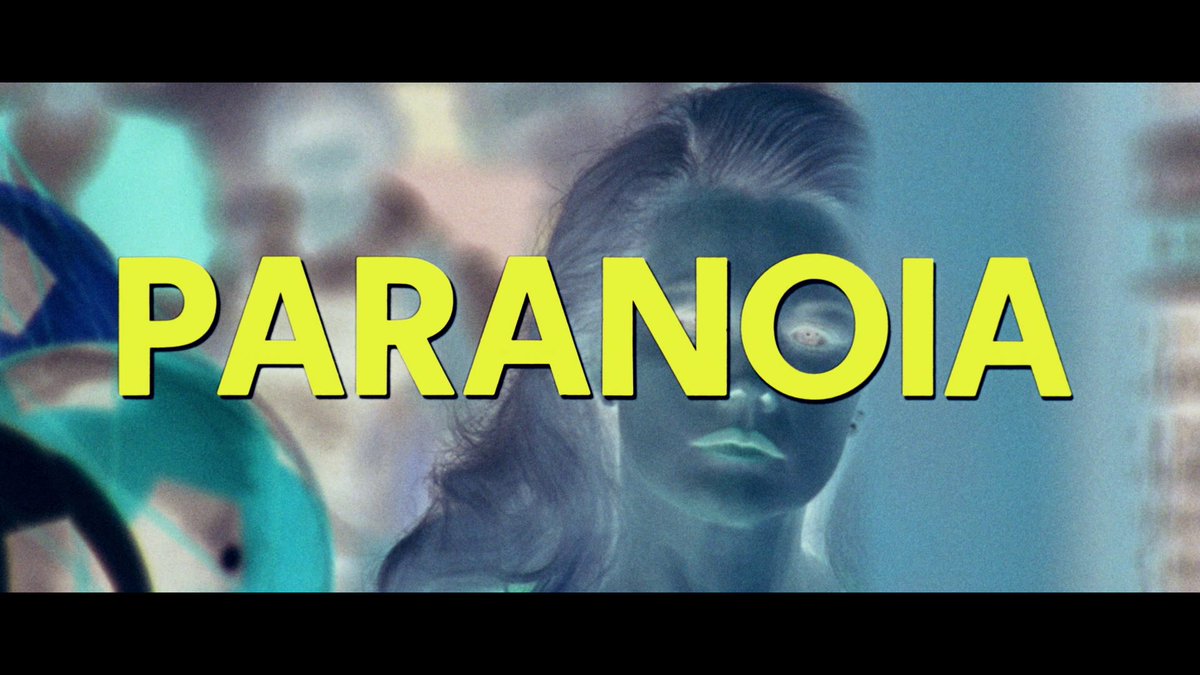 Even more interesting in the film's history, is thar its being made came virtually by accident. Lenzi's first collaboration with Baker, Orgasmo, was originally titled Paranoia during the writing stage, and was released in the US under said working title. For some reason the Italian producer changed the title during post production, and the ensuing confusion over what title was used by which country lead the producers to commission a film titled Paranoia with a completely different script.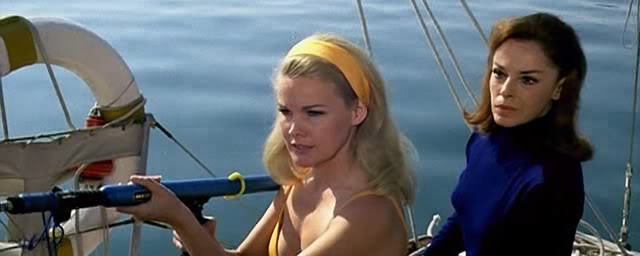 Lenzi once again makes incredible use of the locale of France, this time in its equally exotic countryside, beautifully capturing the amazing mountain landscapes, lush plant life, the varied homes, and the bright blue sea surrounding it. Some of the mountain roads look very similar to the roads seen in Alfred Hitchcock's To Catch a Thief from 1955, which offered both beauty and suspense.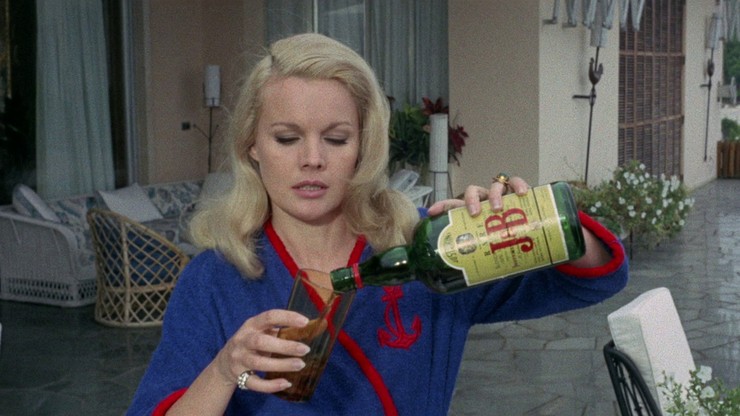 Carroll Baker, in another fine performance for Lenzi, once again dons the garb of a lovely and alluring woman in the role of Helene. Once a woman of means, Helene's former husband Maurice blew almost all the money on his extravagant lifestyle and womanizing ways, forcing her to do everything from model to engaging in the hazardous sport of car racing. Memories of her ex help to cause a crash that indefinitely pauses her racing career, and she soon finds herself back at Maurice's country home, duped by the current wife to coming to stay while she heals. The current Mrs. Sauvage is tired of Maurice using her only to keep up his fast lifestyle, and believes having the ex-lovers remember their past will lead Helene to try to kill him again. With a sum of nearly a million dollars being offered to kill the lecherous Maurice, Helene finds herself in a precarious position that takes wild and constantly crossing turns.
Jean Sorel, a kind of poor man's Alain Delon, provides his usual style of playing men of mystery and deception in the role of Maurice. A gigolo in every sense of the word, Maurice tends to always lure the loveliest and wealthy of women with his charm and smooth voice into his clutches. Preferring the jet set lifestyle of parties, rich food, boats, mistresses etc., Maurice will do anything to keep up appearances. He briefly gets a reality check when ex-wife Helene tries to shoot upon learning he lost all of her money in his fast lifestyle, but again marries wealthy because he has no intentions of giving up living on the high. Little does he seem know his current heiress wife has had enough of him playing her for a fool, and his may very well be numbered. That he truly still has an attraction to Helene, even though bad blood still exists between them makes for another complication as he could very well be planning something himself.
The two leads are backed by a stellar cast of character performers including Luis Davila, Alberto Dalbes, Anna Proclemer, and Marina Coffa. Anna Proclemer, an Italian stage actress who occasionally dabbled in films and TV, plays Constance, the scorned wife of Maurice who finally decides he's hurt too many other women, and tempts the broke Helene with a large payoff is she'll agree to murder Maurice. Her plan seems fool proof, but nothing is ever easy. Luis Davila & Alberto Dalbes, Argentinian actors who migrated to Europe for successful careers, play Maurice's closest friends, a judge and doctor respectively, who become concerned when both Maurice and Helene experience and health and mental stress. Only the judge becomes intrigued when Maurice makes hints he's concerned for both their safety and the doctor presumably catches footage of a murder taking place.  Marina Coff, an Italian beauty who very briefly dabbled in acting, is quite an underestimated in the role of Susan, Constance's daughter. On the outs with her mom due to her sexual awakening, Susan initially comes to the mansion to make peace, but finds her mom has died under mysterious circumstances, and wants to find out why.    
While lacking the ultimate twist and turns of Orgasmo, Paranoia still offers the intrigue, mystery, suspense, and intricacy that a Thriller needs to be successful. All the cast, particularly Carroll Baker and Jean Sorel do a fine job with a well written script.
(I highly recommend this film to fans of films in general, and Mystery Thrillers alike. It's equal with Orgasmo in its construction and misleads to the ultimate revelation and hits the mark 10 times over to what Cosi Dolce, Cosi Perversa seemed to overshoot. While not as mysterious in plot line as its predecessors, Lenzi and his writers are still able to make the audiences wonder what will ultimately happen in the end. The Blu Rays from 88 Films and Severin Films are both equal in presentation in audio and visual quality, as well as extras. 88 Films get a slight leg up in price, the offering of a mini booklet with info on the film and notes by Giallo historian Rachel Nisbet, and the retaining of the original Italian title.)
All images courtesy of Google.com/Google Images and their respective owners
for more information
https://www.imdb.com/title/tt0064787/?ref_=nm_flmg_dr_42
https://en.wikipedia.org/wiki/A_Quiet_Place_to_Kill
https://it.wikipedia.org/wiki/Paranoia_(film_1970)
Buying Options
Filed under: Film: Analysis/Overview, Film: Special Topics