by Tony Nash
(Halloween Potpourri 4)
(all opinions are of the author alone)
(Mild Spoilers)
Vampyros Lesbos (Las Vampiras) (1971) ****1/2 NC-17
Soledad Miranda: Countess Nadine Corday (as Susann Korda)
Ewa Stromberg: Linda Westinghouse (as Ewa Stroemberg)
Dennis Price: Dr. Alwin Seward
Paul Muller: Dr. Steiner
Heidrun Kussin: Agra, Nadine's Mad Lover
Andrea Montchal: Omar, Linda's Boyfriend (as Viktor Feldmann)
Jose Martinez Blanco: Morpho, Nadine's Servant (as J. Martinez Blanco)
Jesus Franco: Memmet, the Mad Caretaker
Written by: Jaime Chavarri, Jesus Franco (as Franco Manera), and Anne Settimo, from a stroy by Chavarri and loosely adapted from Bram Stoker's Dracula and J. Sheridan le Farnu's Carmilla
Directed by: Jesus Franco (as Franco Manera)
Synopsis: Real Estate agent Linda Westinghouse is sent by her company to arrange the selling of a property owned by Countess Nadine Corday. The two quickly become romantically involved, only for Linda to discover Nadine is a vampire, turned by the late Count Dracula himself, and is now under her hypnotic influence. Complications arise when Nadine finds herself genuinely falling in love with Linda, while Linda's boyfriend and a local doctor attempt to free her.
Jess Franco's first full on attempt at mixing avant-garde cinema with exploitation cinema is an amazing achievement which showed what Franco was capable of when given the right amount of time and freedom, and offered a pen-ultimate showcase of the talent that Soledad Miranda was fleshing out prior to her tragic death in a car accident. Taking elements from both Stoker's Dracula and Le Farnu's Carmilla, Franco and his co writers create a story that, while very basic in both subject and execution, offer up quite a bit of subtext, and deep emotion underneath the surface that while doesn't seem to show itself as the film is being viewed, becomes clear to the viewer after thinking about the film for some time afterwards.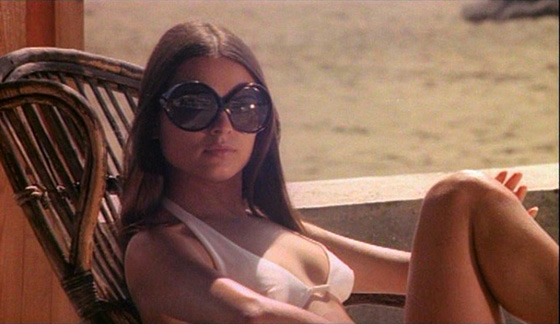 Soledad Miranda, using the stage name Susann Korda, offers up one of her most subtle, compelling, thought provoking, and finest performance as Nadine Corday. A Countess by birth and once a human, Nadine was turned sometime in the 18th or 19th century by the infamous bloodsucker Count Dracula, and has since seduced and fed on mainly female lovers, having grown to hate men after Dracula betrayed her. Miranda's soulful and hypnotic look serves the character of Nadine well, and while the actress shows very little emotion, half her choice and half Franco's choice, there are still many moments where Nadine is clearly in conflict with herself over many of her choices since becoming a vampire, and hasn't completely lost her humanity in how she feels about certain characters, particularly with Linda and the man servant Morpho. Possibly the only contradiction to her character concerns a woman named Agra, one of Nadine's former lovers. Like Dracula had done to Nadine, so had Nadine done to Agra and abandoned her, leaving her to be caged in a mental institution. Whether she regrets this entirely is unknown.
The first in a brief cycle of Franco themes in his experimental age is a female vampire existing in both daylight and night. Whether it began as budget constraints based upon the time frame he had to shoot on location with, or if it really was an artistic decision, Nadine Corday seems to be the first Franco vampire to have transcended the majority of limitations with the species and is able to function as a normal woman within society. That she still needs blood as her sustenance and both religious iconography and prayers repel her maintain the flaws of the vampiric people.
Ewa Stromberg, a Swedish actress who briefly acted in the 60's and 70's get one of her rare major roles in the part of Linda Westinghouse. Little is known of Linda's life prior to the events of the film, but from all accounts she appears to have led a normal, uneventful, and maybe even boring life with her boyfriend Omar, and it all changes in an instant when she meets Nadine. What makes Linda different to most objects of a vampire's desires is that she appears to be a fairly willing participant after a brief period of time. Like Nadine, Linda too begins developing real and genuine romantic feelings, but because she isn't completely under Nadine's thrall, is able to overcome the influence while recovering from blood loss and exhaustion. Unfortunately, Nadine won her heart fairly and now Linda must decide if she can muster the courage to free herself from damnation, and maybe give Nadine the freedom she felt lost to.
The two lovely female leads are joined by an eclectic cast of characters including British expat actor Dennis Price, Swiss-German actor Paul Muller, Spanish actors Andres Montchal and Jose Martinez Blanco, two trying desperately to save Linda, one trying to aid Nadine in her plans, and another out for himself. Price is particularly effective as a play to the Dracula character Dr. Seward, this go around called Alwin Seward. Unlike the literary counterpart, this Seward isn't entirely what he seems, and his methods are equally strange in getting to the bottom of things. The remaining cast seem to have little to do, but are still good at their respective parts.
The color red plays a very pivotal role in the film. Often used as the lighting in a room, the color of clothing, or in the form of liquid, red is ever present in the world Nadine Corday. Red showcases the always lurking aspects of life, death, love, blood, sex, death, immortality, and the erotic, acting as a symbol of what human life can never truly break away from, and that in spite of humanity's evolvement in morality and behavior, is always there, waiting and watching in silence.
While aspects of Homoerotic and Lesbian romances have always had a thin veiled presence in the cinema, usually subtly hinted at, Jess Franco broke a major boundary by having the Nadine and Linda characters openly, and very explicitly, engage in a sexual relationship. A sometimes forgotten aspect of Horror films is that occasionally at the heart of them is a tragic, dark, and twisted love story, and the one between Nadine and Linda is no different. What begins as a simple seduction to quench an everlasting need for blood to survive turns into a love that likely can never be for Nadine, as for her to do so would mean killing the woman she loves, thus losing the innocence and purity that made said love possible. For Linda, her unintentional falling in love presents a major complication: does she want to be free to be with her boyfriend, or will she want to succumb to most forbidden temptation to be one of the damned to live forever.
One of Jess Franco's more hypnotic films, and one that keeps a coherent narrative floating in the midst of varying symbolism and surrealistic imagery, VL proves to be a somewhat lesser feat of artistic achievement and showcases what Franco could've achieved had events not taken a tragic turn.
(This is another occasion where I feel I can't recommend a film to everyone in spite of its fine quality and quantity, only because Franco's latter period is clearly not to everyone tastes, even with higher production values and the feeling that though there's an exploitive feel to the film, the film doesn't showcase it for its own sake. Again, it's one of those films that what you're supposed to be looking for isn't present as you're watching it, but will start to become clearer as you go through everything you've witnessed afterwards. This is another example of sometimes having to really make your own choice, even if the majority says it is a film to start with regarding Franco.)
all images courtesy of Google.com/Google Images and their respective owners
for more information
https://www.imdb.com/title/tt0066380/
https://en.wikipedia.org/wiki/Vampyros_Lesbos
buying options
Filed under: Film & TV: Potpourri, Film: Analysis/Overview, Film: Special Topics