by Tony Nash
(Halloween Potpourri 5)
(All opinions are of the author alone)
(Major Spoilers)
(Review is of the uncut Italian language version)
(Author's Note: This review will be a little different, as I feel to relate the film is to speak of personal viewpoint, so here I'll be speaking in the first person for much of the review)
Lisa e il Diavolo (Lisa and the Devil) (1972/73) ****1/2 R
Telly Savalas: Leandro, the Butler/A Demon
Elke Sommer: Lisa Reiner/Elena, Max's Wife
Alessio Orano: Max, the Countess' Son
Alida Valli: The Countess
Sylva Koscina: Sophie Leher
Eduardo Fajardo: Francis Leher
Espartaco Santoni: Carlo, Countess' Husband
Gabriele Tinti: George, the Leher Chauffer
Franz von Treuberg: The Shopkeeper
Kathleen Leone: Lisa's Friend (as Kathy Leone)
Written by: Mario Bava & Alfredo Leone (as Alfred Leone)
Directed by: Mario Bava
Synopsis: A woman finds herself put through a night of bizarre terror and the supernatural while spending the night at a decrepit villa of a creepy Spanish noble family
After years of having his films compromised by Samuel Z. Arkoff and James H. Nicholson for American distribution, Mario Bava finally achieved complete creative freedom for exhibition in both Europe and the States with his newest film Lisa e il Diavolo. Bava had the concept for the film in his head for years, having jotted down notes and a treatment throughout the years, but couldn't convince anyone to back the film due to its artistic and experimental nature. The picture finally got greenlight after Bava had a string of successes and one of the Italian studios offered him the opportunity to make any film he wished. What audiences of the time were treated to was a series of surreal imagery and story that had them struggling to comprehend what they were seeing. This botch at the box office caused Producer and co-writer Alfredo Leone to make changes to the film without contacting Bava and the subsequent mess that resulted from the changes led to the first of Bava's descent into poor health and a heart attack. Not until Bava's passing was the original film praised.
The film is very hard to explain, Bava employing the painterly qualities he learned from his father to the overall look to the piece. This makes the film seem much more akin to a puzzle that even I your humble reviewer had trouble deciphering. This doesn't take away from the films' beauty at all, and it is indeed very much a painting brought to life the way only a mind like Bava's could achieve. What we the audience end up seeing on screen is a version of Hell in its most devilish form, the realization all of these characters are being forced to relive their horrific deaths night after night as punishment for their sins in life. Whether they try every night to escape their fates isn't determined, but what we do know is that at least two of the characters are aware of what is really happening, with the littlest of hope they can change history.
Telly Savalas, one of the most iconic character actors of several decades, gets to play in his one and only avant-garde artistic style role with the part of Leandro the Butler. Whether he is Satan himself (as the fresco in the film's opening suggests) or A demon sent by Satan to ensure history is repeated daily is unknown, but it is clear he holds permanent dominion over this disturbed family and the unfortunate guests who happened to become ensnared in events, and is loving it. Amazingly, Leandro in no way manipulates the events to ensure the Horror of these poor souls continues, and seems to only be a presence that moves in and out of the scenes, interacting with the others when necessary.
(Author's Note: The lollipop that would become Savalas' trademark as the character of Kojack originated in this film. Savalas was having difficulties giving up smoking, and Bava recommended he suck on lollipops as a substitute.)
Elke Sommer, the Austrian beauty, reunites with Bava a year after working with him on Gli Orrori del Castello di Norimberga (The Horror of Nuremburg Castle/Baron Blood) in the role of Lisa. Very little is known about Lisa, other than that she decided to spend her vacation in Spain, which makes her ending up at the villa and her subsequent connection to the other participants even stranger as there's no way to figure out how this is all happening. Sommer has very little to almost no dialogue in the film, making her like Leandro in that everything seems to happen around her, making her the central figure.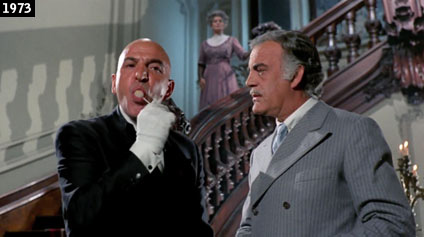 The two leads are joined by such performers as Alida Valli, Eduardo Fajardo, Sylva Koscina, and Alessio Orano. These players at one time or another engaged acts of infidelity, betrayal, and murder, and are forced by the power of the Devil to relive those sins, and the deaths they suffered because of them in an immortal loop, dying only to return to life not long after to begin the tragic cycle all over again.
Mannequins play an important role in the film as since the majority of the characters are long dead, the life size figures act as recreations of the deceased, fixed and brought back to life by Leandro, once every murder has been committed. How Leandro does thins is never explained, only that each figure is created by a local shopkeeper to fit the likeness of the participants, and then animated by unknown forces.
Like I said in the past , how each viewer interprets a film is based on their own experience, and Lisa e il Diavolo is the ultimate example of this. It can be really difficult to explain this one without giving your own opinion as the imagery Bava goes with is very visceral and is nearly impossible to be objective when discussing it. Since Bava made the film with no audience in mind and truly did make something he himself wanted to see, it makes pinpointing something exact hard. If Bava truly intended for this to be the type of film that every viewer would have a different perspective on after seeing it, then he succeeded a 100 times over since his death in 1980 as the film does continue to fascinate, unnerve, and confound people.
(This film isn't for everyone, but those who do see it, while bewildered, do come away with interesting experience that leaves them thinking about the film for a long while after seeing it. The Blu Ray from Arrow Video is fairly immaculate, only small hints of age and wear present.)
all images courtesy of Google.com/Google Images and their respective owners
for more information
https://www.imdb.com/title/tt0068863/?ref_=hm_rvi_tt
https://en.wikipedia.org/wiki/Lisa_and_the_Devil
https://it.wikipedia.org/wiki/Lisa_e_il_diavolo
buying options
Filed under: Film & TV: Potpourri, Film: Analysis/Overview, Film: Special Topics