by Tony Nash
(WordPress Followers Appreciation #1 Yolanda)
(All opinions are of the author alone)
(Spoilers)
Peau d'Ane (Donkey Skin) (1970) ***** PG-13
Catherine Deneuve: The Princess/The Blue Queen I (the Mother)
Jean Marias: The Blue King
Jacques Perrin: Prince Charming/The Red Prince
Delphine Seyrig: The Lilac Fairy
Jean Servais: The Narrator (Voice)
Micheline Presle: The Red Queen/The Blue Queen II
Fernand Ledoux: The Red King
Henri Cremieux: The Blue King's Physician
Sacha Pitoeff: The Minister
Written & Directed by Jacques Demy, based on the fairy tale by Charles Perrault
Synopsis: A beautiful princess, with the aid of her fairy godmother, flees via disguise from her father the king, whom has been wrongly advised to marry to marry. The fairy godmother then secretly guides a prince to save the princess and restore harmony to the land.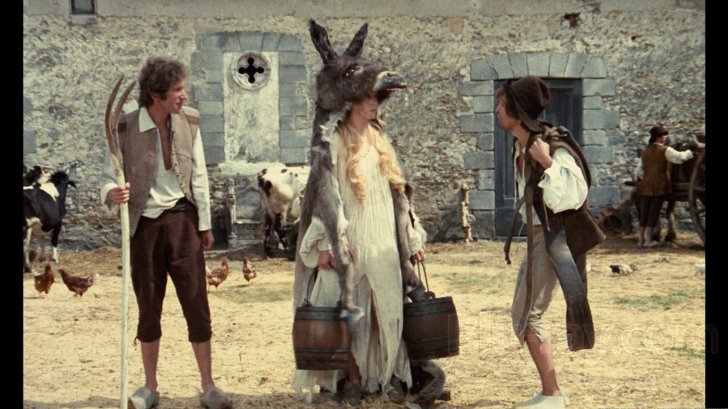 Jacques Demy, a Nouvelle Vague Français era filmmaker who rejected the movement in favor of his love of Classic Hollywood, briefy tried his hand at fairy tales in the early to mid 1970's. His first outing in this trial was Peau d'Ane, a lesser known fairy tale from his home country. For about 40 to 50 years at the time, many fairy tales that were made into films were often sanitized as the key audience for them were children, but Demy broke this mold by taking on the darker elements these classic tales had lurking beneath, and confounded both viewers and critics alike by making his adaption with the lightheartedness and whimsy accepted for the kinds of films sold to children. Demy's heroine is a beautiful princess caught in a difficult situation when, after her equally beautiful mother dies of an unnamed illness, her distraught father the king is falsely led to believe his promise to marry someone as beautiful as his wife can only be kept if he marries his own child. Loving her father dearly, but also knowing what she'll be asked of is wrong, the princess flees her kingdom, helped by the Lilac Fairy, under the guise of a scullery worker called Donkey Skin (because of the donkey hide used to conceal herself). What follows is carefully executed plan by both Demy and his intelligent Fairy Godmother to weave a classic story, and take it in a new direction.
Charles Perrault, the classic age French writer who penned the classics Cinderella, Sleeping Beauty, Little Red Riding Hood, and Puss in Boots also wrote Peau d'Ane. While fairy tales are indeed spun for the young and the young at heart, Perrault, much like his successor Hans Christian Andresen, delved into pretty frightening, dark, and taboo material that today surprises many people. While it's still debated whether Perrault hid these details through creative wording or that such material was seen as necessary to aiding children in their adult years, he, like his contemporaries and successors, gave the world many memorable and beloved tales that not only sent many or magical and whimsical journeys, but also gave others thought provoking items to consider.
Catherine Deneuve, an icon of French Cinema, gives one of her most unique performances as The Princess, her Mother the First Queen, and Donkey Skin. Deneuve distinguishes her Princess from the ones commonly showcased in fairy tales and legends by having her be intelligent, resourceful, and selfless. Her willingness to live a life incognito, working hard like the peasants of the land to avoid a wedding that would do more harm than good for herself, her father, and the kingdom makes her a heroine that has earned audience sympathy and support. She's not arrogant like other princesses, has no issues dressing in commoner garb, and accepts orders from the various homes she asks for work in like any other servant. In a way this is a sort of martyrdom, as she's convinced her father can't be dissuaded from the act of incest. When she meets her true love the Red Prince after having gotten a job in his father's stables, he begins to fall in love with the person she is, seeing all her remarkable qualities, thus paving the way for a happy return.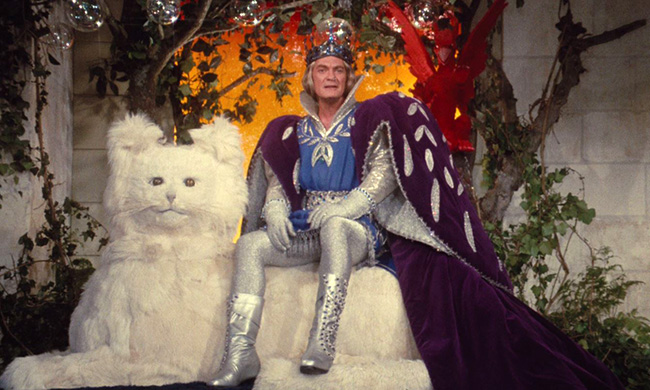 Jean Marias, a French cinema leading man who began his career with the legendary auteur Jean Cocteau, returns to his fantasy roots with the role of the Blue King. A good man who treats his subjects well and keeps harmony and peace within his kingdom, the Blue King so far fits the profile of the kind of ruler every monarch based country should have. When his beloved Queen dies suddenly, he becomes depressed and lost in his grief. Promising his beloved he would only marry a woman who matched her beauty, the King gets some very bizarre and not at all helpful advice from his astrologer doctor that the only way to keep his promise is to marry his own daughter. So lost in his sadness he somehow agrees to this, and his kingdom ends up in a kind of turmoil as the Princess' self exile to avoid such blasphemy causes much sadness. With the aid of a neighboring monarchy and the Lilac Fairy, the King slowly begins to realize his error, and slowly all begins to become right again.
Top: The Red Prince (from the IMDb) Bottom: The Lilac Fairy (from French Culture.org)
Jacques Perrin and Delphine Seyrig offer nice supporting roles as Prince Charming and the Lilac Fairy respectively. A Fairy Tale isn't complete without Prince Charming, and Perrin gives audiences a nice mixture of a classic Fairy Tale princes and modern thinking prince. A recurring dream has the Prince taking his trusty stead out daily in search of the beauty who he believes is destined to be his bride, and while he comes up short each time, delights in sharing his dreams with the local animals in the forest, whom help when they can in the Prince's searching. He at first is bewildered by his attraction to the new stable maid Donkey Skin, but after spending time speaking with her, comes to admire her, and soon is made aware of her real identity and helps her restore the balance and harmony to the land. Miss Seyrig's Fairy Godmother is an absolutely brilliant character by Demy, offering up both the motherly qualities of the classic fairy protector, and the resourcefulness of New Age Women. Seyrig enchants with both whimsy and beauty as she works behind the scenes to ensure all the characters happiness, while also teaching the Blue King some very valuable and humbling lessons.
Jacques Demy once again proves to audiences that just because certain stories are from long ago, doesn't mean that freshness can't be brought to them, and gives them one part classic nostalgia from their youth, and one part current vibe to fit the era he makes his films in. Near flawlessly mixing the classic with the contemporary, Demy reminds his viewers why he is the master of the modern fantasy, the modern musical, and the modern Fairy Tale.
( I highly recommend this film to anyone looking for nostalgia with a hint of reinvention, anyone who loves French Cinema, lovers of Catherine Deneuve (like myself), and anyone just looking for something unique. The Criterion Collection Blu Ray, via their Essential Jacques Demy Box Set, offers their usual amazing work in the audio and visual department, Demy's use of color looking as vibrant and crisp as ever. This write up is done in honor of one of my more recent Followers, Yolanda – Aspergers syndrome – Poetry – Alternative female – Mental illness, specifically the Alternative end of her blog. From what I've seen so far of her posts so far, she seems to go for anything recognizable to folks, but in a new and different approach. I think and hope that she'll appreciate this different flavor to a take on the classic genres of film.)
All images courtesy og Google.com/Google Images and their respective owners
for more information
https://www.imdb.com/title/tt0066207/
https://en.wikipedia.org/wiki/Donkey_Skin_(film)
https://www.criterion.com/films/28605-donkey-skin
Buying Options
https://www.criterion.com/boxsets/1055-the-essential-jacques-demy
Filed under: Film & TV: Potpourri, Film: Analysis/Overview, Film: Special Topics