by Tony Nash
(WordPress Followers Appreciation #2: Diary of a Movie Maniac)
(all opinions are of the author alone)
(Mild Spoilers)
(Review is of the original Italian language version)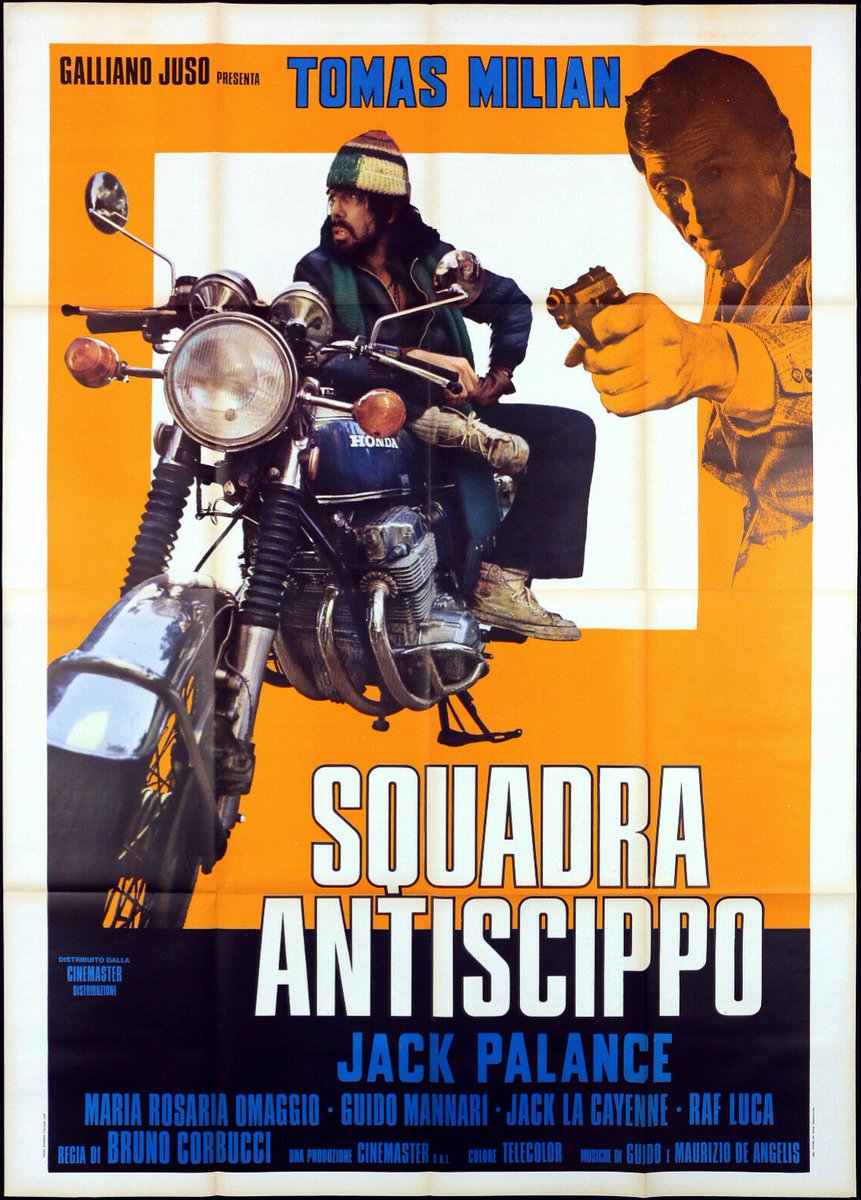 Tomas Milian: Maresciallo Nico Giraldi
Jack Palance: Norman Shelley/Richard J. Russo
Maria Rosaria Omaggio: Signorina Cattani
Guido Mannari: Achille "Baronetto" Bertinari
John P. Dulaney: Ispettore Ballarin
Marcello Martana: Maresciallo Trentini
Roberto Messina: Commissario Tozzi
Raf Luca: Brigadiere Gargiulo
Jack La Cayanne: Colombo
Written by: Mario Amendola & Bruno Corbucci
Directed by: Bruno Corbucci
Synopsis: Nico Giraldi, head investigator of the Anti-Mugging Squad, is determined to bring down the elusive gang leader Baron, whose broad daylight robberies have spiked ten fold. When Baron and his boys steal a briefcase full of smuggled money from an incognito American gangster, Giraldi now must save Baron's life when he and crew are marked for death the man.
Bruno Corbucci, the younger brother of Sergio Corbucci, made a clear break from the elder's shadow with the first in a series of tongue-in-cheek action cop films starring the great Tomas Milian that fast became one of the most popular franchise in the 70's. The film came about after Milian expressed admiration of Al Pacino's look and performance as real life undercover cop Frank Serpico a few years earlier. Milian had in fact wanted to do a sequel playing Serpico, but copyrights prevented this from happening, so Corbucci drafted a treatment with Milian playing a reformed hoodlum now working as a cop who models his appearance after the film about Serpico. The Poliziotteschi film genre was still at its peak by the time the first Giraldi film was written and being shot, but Corbucci, Milian, and writer Mario Amendola decided to make the film a little more lighthearted than its edgy predecessors and contemporaries, mixing the exciting action everyone expects of the genre along with witty dialogue from the protagonist. This allowed the film to stay true to its origins, but at the same time spice it up enough that it wouldn't be viewed as another generic entry.
Star Milian makes excellent use of Roman slang in this film, one of the earliest in his uncredited contributions to the films he made. While he was proficient in the usage of Roman street lingo, Milian's Cuban accent didn't fit, so he asked comic and film dubber Ferruccio Amendola to be his permanent Roman voice. Amendola and Milian already had a contract for this, but as Milian added more Roman slang for his characters with the directors and screenwriters permission, Amendola's voice fit what Milian had envisioned.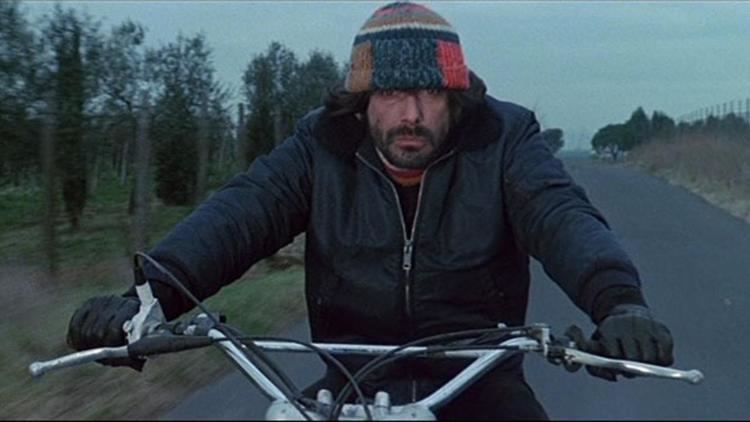 Milian delivers a unique performance in the role of Nico Giraldi. Normally very animated whenever he plays a character in a film, Milian keeps a straight face this go around, even when clearly delivering some amusing dialogue. Giraldi is an ex small time hoodlum who uses his street smarts in his new profession as a plainclothes motorcycle detective handling street crime. Giraldi feels the only way to stop the rampant stream of daylight robberies via crooks on motorbikes is to take down the head man, known only as Baron. His superiors aren't crazy about many of the methods he uses, particularly cuffing suspects via looping their one arm between their legs so they can't run, but because of his dedication to cleaning up the city and being knowing the mind set of criminals from having been one once, they allow him to operate how he feels best. It isn't long before Giraldi discovers he has to save Baron's life before he can arrest him when the hoodlum and two of his crew nab a briefcase full of illegally imported money from a corrupt American living in Italy, and the man orders his goons to hunt down and kill the thieves. What follows for Giraldi is an interesting and different journey through the world of fencing and smuggling, hoping to get to his long time quarry before an even deadlier criminal can get his hands on him.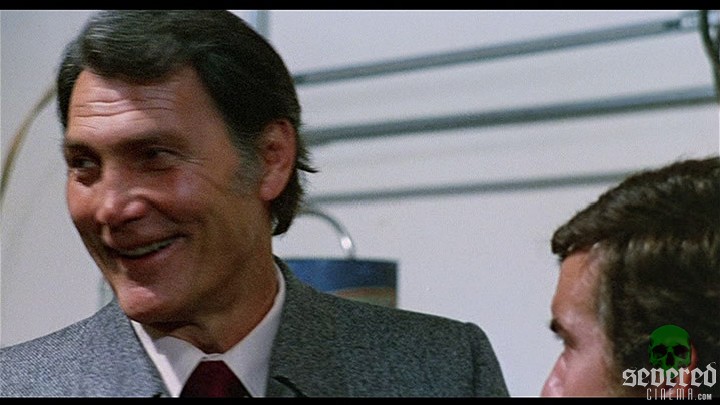 Jack Palance, an American character actor who had a 40 plus year career, enjoying success in both the States and Europe, appears sporadically, but effectively when on screen, in the role of Norman Shelley, sometimes called Richard J. Russo. Little is known of what Shelley does for a living, save that he's seen with some big business types, so he must be into something lucrative. In reality, he uses whatever he does as a cover for many an illegal activity, including laundering money and smuggling. Like a Mafia boss, Shelley doesn't take betrayal and deceit lightly and does whatever it takes to ensure loyalty. When one of his consignments is lifted from him by the gang led by Baron, Shelley, to keep his real dealings secret, orders his cohorts to track down and silence everyone involved in the theft. His cover is soon to be blown however, when Inspector Giraldi's Anti-Mugging unit suspects something big when the hoods involved with Baron start turning up dead.
The beauty of Milan is on display in the film, and unlike most other Poliziotteschi, the film shows the everyday areas of the city, not the seedy ends. The criminal element is still shown, but not in a way that would make those who've never been to Italy leery about carrying around anything valuable for street punks to steal.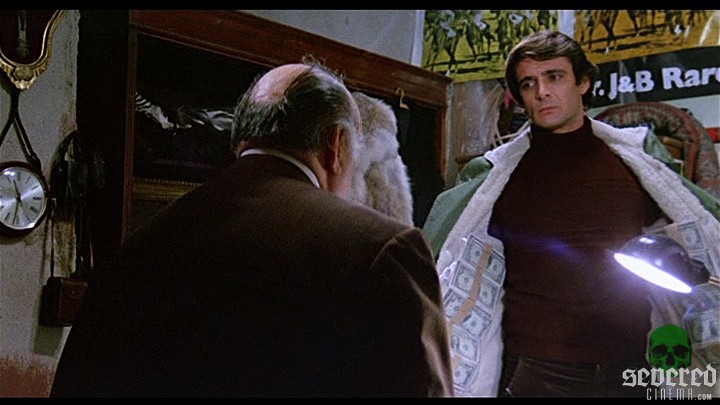 The mix of action and humor works very well in this film, and allows viewers to root for the cops to win via a lighthearted escapade that still pumps out the thrills all cop films are known for.
(Fans of Italian Crime cinema and fans of Tomas Milian will get a kick out of the film and find it very enjoyable from start to finish, and I highly recommend it. Those wishing to get started with the genre will find this film a good place to start as it has all the themes the Poliziotteschi offers, minus the heavy edges fans will want to slowly get into. The Blu Ray from Cineploit Records offers a solid transfer of both the audio and visuals of the film, almost pristine. An hour long interview with character actor John P. Dulaney who plays the small supporting role of Ballarin is the main extra on the disc, and very worth a look in its own right as an insight into the studio system in Italy from the point of view of an actor who worked there. This write up is dedicated to Eric Binford – Diary of a Movie Maniac, who does quite a bit of crime, action, and Noir on his blog. I will admit I had intended to include Squadra in my Italian Crime series, but seeing how it had a much more lighthearted and less edgy feel, than others of the genre, I felt this would be something right up Eric's alley and allow me to give the film a good expose.)
All images courtesy of Google.com/Google Images and their respective owners
for more information
https://www.imdb.com/title/tt0075260/
https://en.wikipedia.org/wiki/The_Cop_in_Blue_Jeans
https://it.wikipedia.org/wiki/Squadra_antiscippo
Buying Options
Filed under: Film & TV: Potpourri, Film: Special Topics, TV: Analysis/Overview