by Tony Nash
(Foreign Language Horror #5)
(Mild Spoilers)
(All Opinions are of the Author Alone)
(Review is of the Original Italian Language version)
Le Regine (Queens of Evil/The Queens) (1970) ****1/2 R
Ida Gialli: Bibiana (as Ewelyn Stuart)
Silvia Monti: Samantha
Haydee Politoff: Liv
Ray Lovelock: David the Hippie (as Raymond Lovelock)
Gianni Santuccio: The Mysterious Man/The Devil
Guido Alberti: The Priest
Written by: Benedetto Benedetti, Tonino Cervi, and Raoul Katz
Directed by: Tonino Cervi
Synopsis: A wandering Hippie stops to help a stranded older gentlemen on the road, only for the man to betray the Hippie's act of generosity. When the man dies during the Hippie's attempt to confront him on the act, the Hippie flees, thinking the cops saw him. He ends up in an isolated farmhouse owned by three sisters who welcome him warmly. Soon, the Hippie begins to experience a drastic change in his personality, and the sisters seem to exhort more control over him.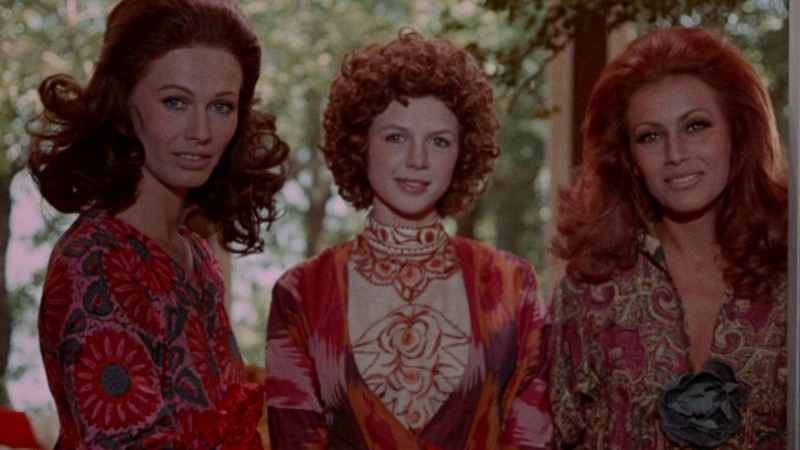 Lesser known Italian filmmaker Tonino Cervi brought the Fairy Tale back to its dark origins with the film Le Regine. Instead of doing a spin on one of the known tales, Cervi, along with his co-writers, crafted a totally original story that not only compliments on the stories that came before it, but adds new life to the age old concepts of magics. The three protagonists are sisters who share some kind of power, left open if it be natural power gifted from nature, or powers from otherworldly sources. When a Hippie fleeing from the police for a crime he didn't commit stumbles upon what he believes is their home, they offer him shelter and protection, with the secret intent of playing a game with him as the prey. Cervi also weaves in subtext of the nature of relationships between men and women, particularly in regards to sex, as during the film's progression the main male character slowly begins to lose his independent will while the seemingly shy women also begin to exhibit stronger signs of dominance and power over him, all while playing with his mind in ever increasing surreal moments. Each sister also shows her strong sexual prowess as they each at one point lure the unsuspecting young men into their beds for a night of passion.
The notion of magics are taken to a new level with Le Regine, reminding viewers that there's more to those arts than meets the eye, and the power behind them something that can't be fully understood. At varying moments of the film, the character David experiences what can only be described as lucid nightmares, seeing things that are out of the ordinary world that can't possibly be real, but are very vivid and lifelike at the same time. The question that arises for viewers is whether these visions are the result of David's own psyche as he's out in the middle of nowhere with three eccentric sisters who he assumes practice Pagan Earth rites, or are the sisters manipulating his mind with whatever kind of power they've learned or have been gifted. The camera and lighting of these scenes are very well done and are atmospheric, reminding audiences of pop art images.
Italian actresses Ida Galli (credited under her Anglo stage name Ewelyn Stuart) and Silvia Monti, and French actress Haydee Politoff give mesmerizing and sultry performances as the three sisters. While they share bonds over many things, the sisters are unique in their own ways. Galli as Bibiana is the oldest of the sisters. Bibiana is the mature, quiet, and matronly sibling, preferring to keep to her hobbies and the practices she and her sister engage in. Like any woman though, Bibiana has her sexual desires, and as the trio become more and more powerful over their prey David, she uses her sensitive and motherly wiles to lure the young man to her bed as her sisters listen from their rooms, a little jealous, but also respecting each other's wants and needs.. Monti as Samantha is the most adventurous of the siblings. Samantha doesn't have Bibiana's experiences, but she has a lust and zest for life, those passions exhilerated by the presence of David. She is in fact the fist sister to seduce David, impressing him and frightening him simultaneously while riding on his motorcycle, and then luring him to a secluded beach where she chases him into delirium before letting letting him caress her. Politoff plays the youngest sister Liv. Liv appears to be entering into the final stages of womanhood. She has the quietness and sensitivity of Bibiana and the curiousness of Samantha, but has her own down to earth personality. She is the first to meet David, but the last to seduce him, and in fact develops the kind of infatuation that first loves tend to produce. While jealous that her sisters can take David at will, Liv realizes it's an element of the game, and she'll have him soon enough.
British Italian actor Ray Lovelock (credited as Raymond Lovelock) gives a very interesting performance as David. A Wandering Hippie who believes in free love and freedom without constraint, David travels the world searching for his paradise. When he shows some good will to a stranded motorist, he gets an unusual lecture about the dangers of too many women lovers, and that settling into a proper marriage is the way to go. After the motorist betrays his kindness, David tries to find out why, only to watch in horror as the man crashes his car into a tree, dying on impact. Fearing he'll be accused of murder, David flees, ending up in an isolated barn in the woods. Initially, he suspects nothing amiss with the sisters he soon decides to live with, believing they practice a form of Pagan faith system that focuses on giving thanks to Nature in varied ways. It isn't too long before David notices a change to both his physical health and mental state. At the start he seems very viral and full of passions but as time passes, he begins to lose confidence in himself, becoming more and more dependent on the women in some way or another. When each sister takes him sexually is when he seems most alive, sharing carnal passions with each woman in different fashions. David has no idea what kind of change has come over him, but knows there's something not right in his well being, feeling free, but yet somehow at a kind of mercy to the sisters, alternating between periods of bliss and periods of near psychedelic visions/nightmares that may or may not be warnings should he continue to stay where he is.
Rarely seen outside of Europe and Japan until recently, Le Regine is fine rare gem of a film, boasting a fine mix of horror, fantasy, and trippy psychedelia. Concepts of sexual relations between men and women get tested, as well as the concept of what true freedom may very well entail, and what anyone is really willing to give up or compromise on in the name of life and love.
(I highly recommend this to anyone looking for something different in the Horror genre. While it does play more to the realm of Dark Fantasy than Horror, the film still offers the occasional creepy moment and atmosphere as the unwitting David is drawn deeper and deeper into the rabbit hole. Tonino Cervi succeeds ten times over in keeping audiences in the dark as to what's really going on, mixing eyepopping colors, and clever cinematography tricks. The Blu Ray from Mondo-Macabro, marking the film's debut in US Home Media, looks fabulous, the visuals very immaculate and gorgeous and the audio clear and crisp. I haven't watched the English dub, but did find the Italian original very even and clear, and superb English subtitle translation. Well worth a purchase)
for more information
https://www.imdb.com/title/tt0066980/?ref_=nv_sr_srsg_0
buying options
https://mondomacabro.bigcartel.com/product/queens-of-evil-standard-edition
Filed under: Film: Analysis/Overview, Film: Special Topics