by Tony Nash
Part of The Cycle of the Melodic Gialli
(Spoiler Free)
(All Opinions are of the Author Alone)
(Review is of the Original Italian language version)
Sette Scialli di Seta Gialli (Seven Shawls of Yellow Silk/The Crimes of the Black Cat) (1972) ****1/2 R
Anthony Steffen: Peter Oliver
Sylva Koscina: Francoise Ballais
Shirley Corrigan: Margot Thornhill
Giacomo Rossi-Stuart: Victor Morgan Ballais
Renato de Carmine: Inspector Jensen
Giovanna Lenzi: Susan Leclerc (as Jeannette Len)
Annabella Incontrera: Helga Schurn
Umberto Raho: Burton, Peter's Caregiver
Isabella Marchall: Paola Whitney
Lilana Pavlo: Wendy Marshall
Romano Malaspina: Harry, the Photographer
Written by: Sandro Continenza (as Alessandro Continenza), Sergio Pastore, & Giovanni Simonelli
Directed by: Sergio Pastore
Synopsis: Aided by his faithful butler/caregiver and a close female friend, a blind pianist film composer starts his own investigation after learning of the death of an old girlfriend who was blackmailing the husband of a Fashion House owner. As he digs deeper, the agency's other models, all of whom knew something, are slowly being picked off by the killer.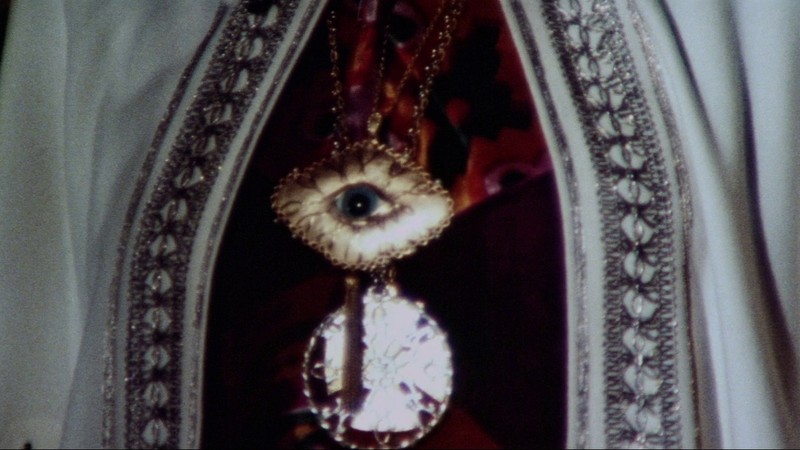 The little known Italian filmmaker Sergio Pastore offers up one of the more intricate and well crafted early Giallos of the early seventies with Sette Scialli di Seta Gialli. Early 70's Giallos had some very creative storylines and well played out camera tricks to hide the identity of the killer until the eventual big reveal, but Pastore takes this up a notch providing viewers with psychedelic style photography to heighten the sense of character emotions and having multiple red herrings and misleads, one of whom may or may not be a possible patsy. Pastore also ups his ante by having a good chunk of the film be like a police procedural as audiences are given fairly thorough points from the protagonist on the killer(s) motives, the method of which the crimes were accessed, etc., details that normally don't show up in the typical Giallo and make trying to find out who the culprit is all the more interesting. An interesting twist within the Giallo genre, where motive and reasons for the killing are revealed only within the last 10 to 15 minutes, is that viewers know within the first 20 or so minutes as to why the first victim was murdered and who was conned into aiding and abetting the killer, but what remains a mystery is why the woman was killed, and why who she worked at the agency with are being targeted as well.
The country of Denmark, the capital city of Copenhagen in particular, gets to be the setting of the interesting Giallo. Giallos often had exotic locations to compliment the story and atmosphere, and Sette Scialli di Seta Gialla is no different from its predecessors, contemporaries, and successors. All of the location scenes were shot throughout the beautiful city of Copenhagen, viewers getting a glimpse into the everyday life of the Danish people and the immigrants who decided to make Denmark their home. The city is very cosmopolitan, featuring a wide variety of restaurants, boutiques, homes, etc., even showing a nice mix of the upper and middle classes, all of whom get along in their own ways.
Manuel De Sica, a composer known more for doing comedies, dramas, and crime films, offers up a very cool score for his sole Giallo effort. Mixing Rock Fusion and Jazz, De Sica creates sounds and rthymm that puts audiences in the moment, and then give them the necessary breather yo ease up the tension.
Anthony Steffen, an Italian-Brazilian actor mainly known for his roles in Italy's Westerns, gives a surprisingly effective performance as Peter Oliver. A pianist who makes extra income composing genre film scores, Peter lives a fairly quiet and mundane existence, save for the fact that he's been blind for the majority of his life. His life ends up taking a unique turn when, while enjoying a drink at a favorite bar, he's certain he's overhearing a criminal blackmailing a woman into helping them commit a murder. Later learning the victim was his ex-girlfriend, he takes it upon himself to find out what happened and prevent the killer from striking again. That's he's blind is actually an advantage for Peter, as he can tell things by how people move and speak, as well as odors and other varied sounds, his other senses significantly heightened and stronger to balance out his loss of sight . Aiding him are his caregiver and another former flame, who are certain his hunches are correct.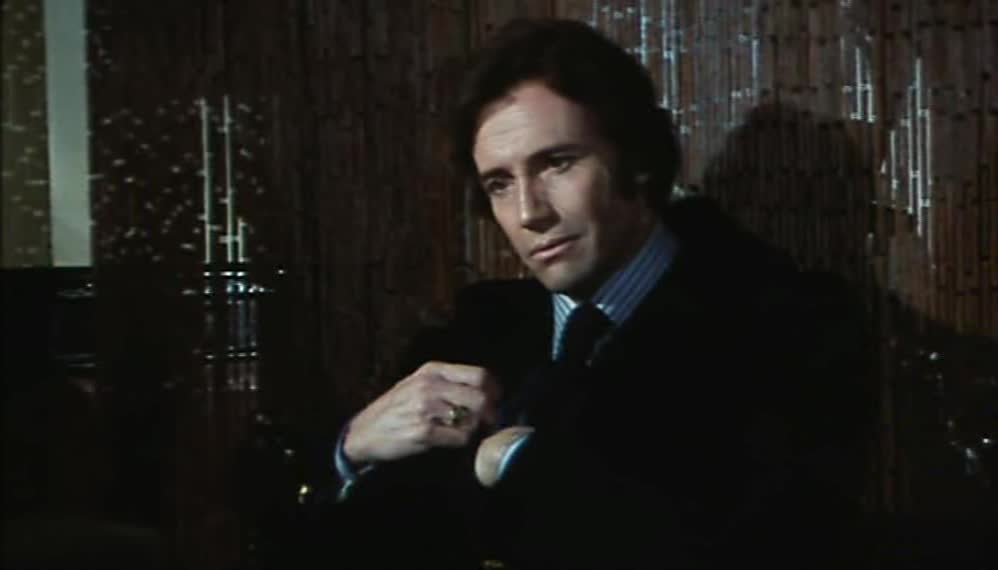 Steffen's career was beginning to teeter at this point in time. The Western genre had been milked dry and overly internally cannibalized by the early 70's, and Steffen had been named as one of the primary faces of it. While audiences enjoyed his presence, he unfortunately didn't have the range needed to function outside of the Westerns. Steffen did do very well in the role of Peter, particularly in having to always look like he was focusing on the sounds and smells around him, actions which the blind engage in everyday. While it could've led to him being typed as the blind crime solver of the Gialli, Steffen could've tackled playing similar characters that would've extended his career, which unfortunately fizzled not long after. Some critics panning him as wooden and a Poor Man's Clint Eastwood, as well director Pastore's misfortune of his genius directing abilities not being recognized in his lifetime helped add to Steffen's eventual retirement.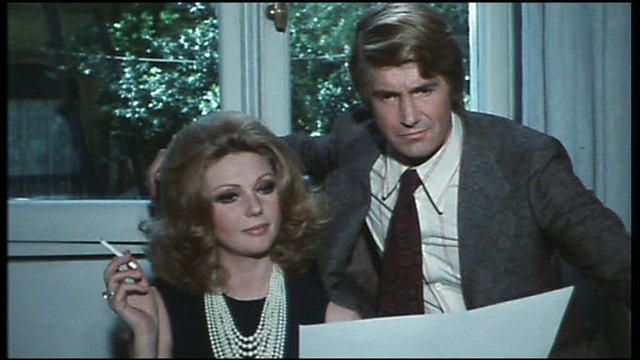 A stellar cast of characters including Sylva Koscina, Giacomo Rossi-Stuart, Shirley Corrigan, Annabella Incontrera, Umberto Raho, and Renato di Carmine all make up the varied suspects and police in the film. Carmine's Inspector Jansen has his hands full trying to figure out who had the best reason to kill the blackmailing Paola: devoted wife Koscina, ner'-do-well but straightened out husband Rossi-Stuart, or fellow model Incontrera. Corrigan and Raho provide the aiding sight to Steffen's blind pianist as he puts the pieces together and bring the killer to justice.
(Author's Note: I can't go too much into the other character's as it reveals possible spoilers to a well written Mystery story.)
The Limited Edition Blu Ray
Picture Quality:
Cauldron Films offer up a stellar restoration on their third ever release, treating audiences to the film's first ever 4K scan, also preserving the original 2:35:1 aspect ratio. The image is very crisp, every detail showing up on screen with definite clarity, not every fiber visible, but nothing blurry either. The opening credit sequence is very grainy, but in an interfering way, and in fact gives the film a nice amount of 70's drive-in charm. After the opening credits, the film's image is solid, with only minor damage visible twice. The colors are very vibrate and rich, reds, blues, browns, yellows, greens all pop with clarity. Day scenes are bright, but not too bright, and dark scenes are dark, but not too dark, allowing audiences to see everything.
Audio: Two main audio options are available – the original Italian and the English Dub. Both sound very fine, the Italian audio having about one or two instances of popping within the first half hour to 40 minutes, but still crisp and strong. The English dub is a little crisper. Strangely, a brief sequence reverts to the English dub when viewing the Italian Audio track. I can't tell if this was because the Italian Audio in that brief sequence was unusable or if the sequence was cut from the Italian print and used in the English Dub version. Two subtitle tracks are provided: English translating the Italian track, and English for the Hard of Hearing with the English dub. The subtitles translating the Italian track are spot on, minimal spelling errors, very impressive for a company still in its infancy. Same goes for the Hard of Hearing subtitles.
Special Features: Six items make up the Special Features – an Interview, a Mini Documentary, two Audio Commentary tracks, a Trailer, and an Image Gallery.
The Interview Remembering Sergio Pastore is with the filmmaker's oldest daughter Sara Pastore. She mainly recounts her relationship with her father, his bubbly personality, a general view of his career, and her happiness at her father getting the recognition he missed out on in his lifetime. She was unable to really speak on any of his films as most of them are lost and she never got to see them, but she was able to state she found Sette Schialli di Seta Gialli very impressive, calling it one of her father's best. She even recounts he planned on giving her a small role in a bio film about an early Opera Soprano, but that he sadly died before principal filming began. Since Ms. Pastore speaks only Italian, her interview has translated English subtitles, again very spot on translation with minimal errors. Interview runs 17 minutes
The Mini Documentary Sergio Pastore: Un Ammirevole Indipendente (Sergio Pastore – An Admirable Independent Director) is a short bio on Pastore, narrated by daughter Sara, and with opening on camera comments from Sara and her younger half-sister Laura Pastore. The Documentary gives brief, but very informative information on Pastore's career, and includes a clip of one of his last on-set interviews while shooting the never completed Mini Series The Return of Sherlock Holmes. Like Sara Pastore's Interview, the Documentary is in Italian with translated English subtitles, a fine translation as well.
There are two Audio Commentaries are available to choose from:
The first Commentary is with Troy Howarth and Nathaniel Thompson, two of the leading authorities on the Giallo film genre, recorded specifically for the Cauldron release. Their Commentary goes into an in-depth analysis of the film as a whole, how it was structured, the lives and careers of some of the people involved, including star Anthony Steffen, director & co-writer Sergio Pastore, and composer Manuel De Sica, and of course the themes and motifs Pastore explored.
The 2nd Commentary is actually from a Podcast called Fragments of Fear hosted by Giallo enthusiasts Jim Jilmstad and Rachel Nesbit. The Podcast was recorded two years prior to the announcement that Cauldron Films was going to restore and release the film on Blu Ray, so Nesbit and Jilmstad won't be discussing the release, or that the brand new company Cauldron is bringing the film back from obscurity. Ms. Nesbitt and Mr. Jilmstad discuss their viewpoints on the production after having watched the film on the full screen Italian DVD released some time earlier. Their Commentary is similar to the one by Howarth and Thompson, but done more from the viewpoint of fans rather than critics, as their track wasn't done for the Blu Ray.
Next up for the features is the US trailer.
The extras wrap up with an image gallery, done as a slidwshow, mainly showing off the films varied posters,
Bonus release items include some lobby style cards, featuring promotional/poster images, and Manuel De Sica's amazing jazz fueled soundtrack on CD.
Solid twists abound this nearly forgotten piece of Giallo cinema, giving audiences one of the most intricate and absorbing Mysteries to ever figure out as they follow the lead in solving a strange rash of killings. Director Pastore was certainly a visionary, and it's really a shame he didn't get the same accolades his contemporaries did during his lifetime. The resurrection of his sole entry into the Mystery Thriller offers up great insight into a master craftsman in his use of camera angles, photography, and the directing of actors.
(I highly recommend this nearly forgotten slice of Italian Thriller that utilizes amazing trick cinematography to heighten the suspense. Cauldron Films has done an amazing job with the restoration of this under seen and underrated gem.)
All images courtesy of Google.com/Google Images and their respective owners
for more information
https://www.imdb.com/title/tt0069253/?ref_=nm_flmg_com_92
https://en.wikipedia.org/wiki/Sette_scialli_di_seta_gialla
https://it.wikipedia.org/wiki/7_scialli_di_seta_gialla
Buying Options
https://www.moviesunlimited.com/the-crimes-of-the-black-cat/653166261824
Filed under: Film: Analysis/Overview, Film: Special Topics