by Tony Nash
(Foreign Language Horror 2 Part 2)
(All Opinions are of the Author Alone)
(Spoilers Ahead)
(Review is of the Spanish language version)
Al Otro Lado del Espejo (The Other Side of the Mirror) (1973) R ****1/2
Emma Cohen: Ana Oliveira
Howard Vernon: Senor Oliveira, Ana's Father
Robert Woods: Bill, the Jazz Trumpeter (as Robert Wood)
Ramiro Oliveros: Miguel Ferrera, Theater Director
Alice Arno, Carla, Ana's Friend
Philippe Lemaire: Pipo
Francoise Brion: Tina
Wal Davis: Arturo Braun
Written & Directed by: Jess Franco (as Jesus Franco)
 Synopsis: Ana, sheltered all her life by her strict but loving father, hopes to marry a budding archeologist documenting the original peoples of the island of Madeira. This hope is shattered when, believing seeing her in her bridal dress will soften his feelings, Ana sees through a large mirror that her father has hung himself. Painful memories force Ana to break her engagement
and leave her family's home to recover, only to be haunted by vivid visions of her father's suicide through mirrors, and bizarre compulsions to kill all men falling in love with her. Is her father still dominating her life from beyond the grave, or is there something forbidden looming in the air?
Jess Franco, cinema's erotic and exploitation auteur, gives viewers the closest thing he would ever get to arthouse style filmmaking with a unique blend of Erotic Drama and Psychological Horror. A young woman suffers a terrible tragedy when her loving but overprotective father kills himself days before she is set to get married. Deciding she needs a fresh start and a new perspective on her relationships with men, she breaks up with her fiancé, leaves the family's Madeira Island estate in the care of her aunt, and heads off to Lisbon where she puts her piano training to use as a jazz club's band singer and pianist. When visions of her dead father being appearing in mirrors, the young woman begins to wonder if the man is still dominating her life from the beyond, or if what she viewed as his secret tenderness toward her was really something far darker, something which could destroy her. Franco doesn't push his normal boundaries with this brief plot excerpt, but he makes up for that in giving his audiences snippets of subtext and ambiguity that makes viewers decipher what he's trying to tell them. The main question he puts to fans is whether the lead character Ana is suffering from a mental breakdown after seeing her father had killed himself, or is something sinisterly supernatural going on that no one has the power to put a stop to.
Madeira, an island off the coast of Portugal, and one of Jess Franco's favorite locations, gets shown off in great detail in this film. The island's architecture, greenery, lakes, etc., are all on display in all their beauty. What makes Franco's Erotic Horrors different is that he doesn't make his landscapes foreboding places where bad things can happen, but lush exotic environments that otherworldly forces invade to suit their own needs.
Emma Cohen, a sort of forgotten Spanish actress in spite of a fairly prolific career, gives a once in a lifetime performance as the central character Ana. Cohen plays Ana as a woman torn between the complex but loving relationship she enjoyed with her father and the desire to freely see the world her father protected her from. Her attempts at going about finding true love in a way that won't entirely hurt her father seem to work, only for Ana to receive a devastating blow when she finds the man has hung himself in his study. Cohen takes Ana into a brooding place, unsure if she feels guilty for not giving her father enough time to adjust to her getting married, or if something else is in the air. A move to the capital of Lisbon seems to lift Ana's spirits as she finds success as the lead singer and pianist of a Jazz Club band, and also finds an easygoing flirtatious fling with the band's unhappily married trumpet player. Cohen then begins taking Ana down the rabbit hole of the blurring of nightmare and reality when she sees a vision of her hanging father in a mirror and then sees herself murdering the trumpet player with an ancient dagger. At first thinking she's still feeling some effects of trauma, Ana shrugs it off, only to become more disturbed when she learns the trumpet player was found stabbed to death in the park they rendezvoused at the night before. While she recovers thinking the incident a mere coincidence, Ana soon worries her father might still have a hold of her when she has another vision of him and then sees herself killing her theater director friend after he asked her to play Medea in his revolutionary new staging of the Euripides play.
Upon finding out her director friend was indeed stabbed to death on the theater stage, Ana attempts suicide, but is saved by a friend. Relocating back to the island of Madeira, but not her childhood home, Ana seems finally on the mend. When the male end of a partying swinger couple genuinely falls for her is when she realizes the moment of truth: her father had incestuous desires toward her, and he's been possessing her body, forcing her to kill the men who would take her away from him, and finally beckons her to join him in the afterlife. Cohen gives the closest thing to a Method Acting performance that would be seen in a Jess Franco flick, giving her all in the part of Ana, and bringing a nice amount of depth and personality to the character. This normally isn't seen much in Franco's films though the actors could give signals in the simplicity of their performances, but Cohen adds a nice bit of spice that gives a special feel to the film.
Howard Vernon, Jess Franco's favorite actor, gives a short but memorable and important performance as Ana's father Oliveira. Little is known of the gentleman, other than that he's an expert on the history and people of the island of Madeira. On the surface he comes off as merely a very overprotective widowed father trying to keep his daughter safe, and thinks no man is good enough for his little girl. Unfortunately, the man's love seems to be nearing obsessiveness as he is against a fairly good young man who can make his daughter happy, and eventually hangs himself in his study, seemingly unable to handle his daughter growing up. Vernon shows his underrated talent at full force here, mimicking to near disturbing perfection the face of a suicide by hanging, bulging eyes and tongue included. Credit has to be given to Vernon for maintaining that look for long enough to use as still footage later. Days after his death, Oliveira begins haunting his daughter through visions of his hanging corpse through mirrors and his disembodied voice calling to her from beyond. What is initially thought of as him continuing to assert his parental nature from beyond the grave is really much more devious and perverse, as one of the visions reveals that Oliveira had secret incestuous desires for his daughter where he's shown holding her in a not so fatherly embrace.
Robert Woods, another of the many American actors who went to Europe and became stars, has a brief but necessary role in his debut Franco film as Bill, Ana's Jazz Band Trumpet Player. While a married man, Bill is unhappy because of his wife's substance issues and longs to begin a fresh new romance. Initially happy to have the occasional fling with Ana, Bill realizes he's genuinely falling in love with her, though tries not to push things as Ana has told him what brought her to the city. When Bill becomes the first victim of Ana's depraved father's beyond the grave machinations is when the ball begins to roll and tragedy looms over anyone who falls in love with Ana.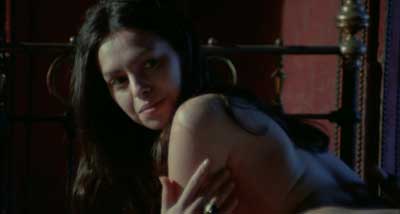 Like with much of Jess Franco's 1970's work, multiple edits and cuts of his films were made, one of the international market, and one to appease the censors of General Franco run Spain. Usually the international edited version, whether German or French language, was Franco's preferred cut of the film as it allowed him to do more he wouldn't have been able to do in his native Spain, but surprisingly Otro Lado del Espejo was Franco's favored cut of this particular film. The 2nd most popular edit is the French language version titled  Le Miroir Obscène, and features new scenes with Franco's 2nd Muse Lina Romay. Romay plays Ana's sister in the French cut, and it is her character, not Howard Vernon's father character, that secretly desires a sexual relationship with Ana. As with the father character in the Spanish cut, Lina Romay's sister character kills herself when Ana decides to get married, her method being to stab herself in the stomach and pelvis with a long poker. The French cut pretty much follows the pattern of Franco's preferred Spanish cut, the only difference being it's the sister, not the father, who calls Ana from beyond the grave to give in to their incestuous desires and possesses her to kill all the men who would try to steal her from her.
Surreal, Artful, Hypnotic, Erotic, and everything in between, Franco's Al Otro Lado del Espejo is the director at his most personal and artistic, successfully blending the materials that would make him famous/infamous world over and the visions he secretly wished to present onscreen. 
(As bizarre as this will sound, I actually recommend people check this Franco flick out. He doesn't go over the top in terms of nudity and sex scenes, and is more interested in the interactions of the characters and the surreal visions of his leading lady Ana. The core of the subject matter is pretty adult for sure, but he plays with it ambiguously throughout the film, only getting explicit briefly in one of the very last scenes of the film. Emma Cohen's performance is really worthwhile in the film and shows how underrated and underappreciated she is as an actress. I've seen the whole of the Spanish cut and some of the French cut, and while I understand why Franco preferred the Spanish version of the film as it kept more to the films he really wished he could've done more of, the French cut is still interesting in that it presents a sister/sister forbidden romance that was rarely touched in films dealing with Oedipal type subject matter. The French version I can't recommend as it contains quite a few scenes of Lina Romay having sex with various partners to lure Emma Cohen's character to the dark side, and of course such scenes are not for everyone's taste, but is worth seeking out if you're interested. Mondo Macabro did an excellent job with the restoration of the Spanish cut in visuals and audio, and is totally worth checking out.)
All images courtesy of Google.com/Google Images and their respective owners
for more information
https://www.imdb.com/title/tt0070396/?ref_=nv_sr_srsg_0
Buying Options
https://www.moviesunlimited.com/the-other-side-of-the-mirror/843276025298
For the French language cut
https://www.artusfilms.com/jess-franco/le-miroir-obscene-53
https://mondomacabro.bigcartel.com/product/the-other-side-of-the-mirror-standard-edition
Filed under: Film: Analysis/Overview, Film: Special Topics